First page handwritten on letterhead from
The MidTown Hotel, 220 Huntington Avenue, Boston, Massachusetts 02115 (617) 262-1000
PATRIOTS DAY 1982
Hopkinton, Mass. 11 AM
Dear Friends-and-Relations,
Number X972 is pinned to my shorts. It is warm and sunny and the wind is from the west. The tension among 7623 official runners mounts as we wait for 12 noon and the start of THE marathon. If all goes well, I hope to cross the finish line in front of the Prudential Building by 3:30 this afternoon.
4:02 PM I lurch over the finish line. All did not go well. Every muscle in my legs is sore and threatening to cramp. My breath is in gasps even though I haven't run a step of the last 5 miles. But a big smile is on my face, and my heart is filled with joy. I have conquered my soreness and I have finished. I have been cheered by a million (literally) strangers with cries of "you're looking good X972." (They lied in their teeth, but I loved them for it.) The screaming of the Wellesley students still echoes in my ears. Thea, my children, Phil and Lisa, and a favorite niece, Nancy, have leap-frogged the race, cheered me, and photographed me from 4 places, and Phil and Lisa even ran a half-mile with me. And as the legs stiffen and I slow from a run to a jog to a fast walk to a slow walk I know – not wish or hope or think, but know that they will not love me any less for falling so far short of my goal. And it was a goal. To share it with you I have collected highlights on the next few pages (if you've had all you can take about running, you can skip to page 6) all written before – some long before – today.
Following is what appears to be part of an article from a newspaper or magazine.
The First Marathoners
After a twenty-five-hundred-year hiatus since Pheidippides made his historic run in 490 B.C. the world would once again see a marathon. The twenty-six mile foot race* was to be the feature event of the revival of Olympic games:
It was now exactly two o'clock. The date: April 10, 1896. Colonel Georgis Papadiamantopoulous, an Olympic official who spoke to the runners about the historical significance of the Battle of Marathon, started the marathon. The race was designed to retrace the steps of the Greek soldier who, having helped the Athenians trounce the invading Persians at the stupendous Battle of Marathon in 490 B.C., ran twenty-five miles to Athens to proclaim the news. Upon arrival, he gasped, "Rejoice, we have conquered" and then died on the spot. Herodotus, the Greek historian who recorded the feat, did not identify the runner.
In America, on April 19, 1897 at noon on Hopkinton Green, fifteen men answered the starter's call for a race to Boston over dirt roads. The winner of that race was 25-year-old John McDermott of New York in a time of 2:55:10. This was the first running of the famous Boston Marathon. The man we all owe this to was the President of the Boston Athletic Association, George V. Brown, of Hopkinton.
* As a matter of historical fact the distance we know as the "official" marathon 26-miles – 385 yards comes from the 1908 London Olympics where the odd yardage was tacked onto the course to enable the race to start in front of Windsor Castle – it seems the Royal Family were marathon fans.
Nov. 9, 1920
I was born!
Daydreams when I was a mere stripling of 50:
Nov. 9, 1970
Hoyt Wilhelm at 47 is already called ageless in baseball, and George Blanda at 43 is known as the grand old man of football, so I must realistically conclude that I waited a little too long for that route. Even winning the Boston marathon seems impractical since last year's winner ran the 26+ miles in just over two hours and it takes me that long or longer to run 14 miles. A 65-year-old man who finished about 80th did it in 3 hours and I've never been able to keep running that long, and anyhow, if I run much more than 5 miles at a time I get tired.
RESULTS: TOM JOHNSON RUN FOR JUSTICE
Sunday, September 24th 1978 9:00 a.m. CDT
Race started on time.
Course: Parade Stadium up Kenwood Parkway. Turn right on 22
nd
Street to Sheridan to 24
th
to Sheridan to Upton & Thomas to Kenilworth Place. Left on Kenilworth, left around Lake of the Isles. Around Lake on footpath once +, back on Kenwood Parkway to Parade Stadium.
10km
Men's Winner: Dave Phillips of White Bear Lake
Women's Winner: Susan Nehotte of Minneapolis
my first award. 10k.
October 1978.
my first marathon. June 23, 1979
22 miles. Suddenly my toe starts to hurt. Try to change stride to relieve it. Not good. Think. It pushes against end of shoe with each step. Maybe shoe could be tighter. Stop at next hydrant to tighten shoe (at this point I do not bend as far as the ground!). It works.
23 miles. That's Alan Page ahead, the professional football player. He's struggling. I pass him easily and think I'm glad I'm not carrying a football to challenge him. He is big.
24 miles. 25 miles. I catch up with my former next-door neighbor Joyce. She and her husband passed me at about 10 miles. Doug is long gone but Joyce has a sore knee. I tell her "anyone can run a mile" and she proves it by sprinting ahead of me. Turn the last corner. There's Thea with a camera. Wave and smile. And run. A quarter mile to go. 100 yards. I can't catch Joyce. At the last minute an 11-year-old boy sprints past both of us. But I finish! 3:51:23.4. Under 4 hours which was my goal. Keep walking. Try to do stretch exercises. Find Thea. Put on warm-up clothes – suddenly I'm cold. Find car. Find hotel. Soak in tub. Drink. Eat banana. Drink. Soak. Dry. Dress. Put on my red "finishers" t-shirt and head for hotel restaurant. Lots of runners there. We all smile (grin). Wave. Easy to identify by the t-shirt or by the limp. We did it. I did it. 3:51:23.4!
Do I dare dream?
RUNNER'S WORLD / February 1979
BOSTON ATHLETIC ASSOCIATION (83rd). Boston, Massachusetts (start in Hopkinton, finish in Boston). April 16 (noon). Entrants must have completed another marathon under 3 hours (men) or 3Β½ hours (men over 40 and women) between 4/17/78 and 3/15/79. Entries close 3/15/79. Course: point-to-point, certified. Records: 2:09:55, Bill Rodgers '75: 2:42:33. Liane Winter '75. 1978 results: 4800 entries. 4058 finished under 4 hours. 161 men finished under 2:30. 2047 men finished under 3:00. 29 women under 3:00. 3478 men under 3:30. 127 women under 3:30; won by Rodgers, 2:10:13 and Gayle Barron, 2:44:52. Contact: Will Cloney. Boston A.A. P.O. Box 223, Boston MA 02199.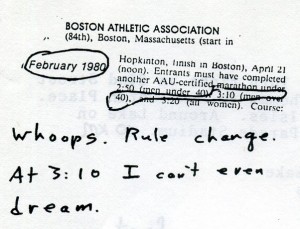 February 1980
BOSTON ATHLETIC ASSOCIATION (84th), Boston, Massachusetts (start in Hopkinton, finish in Boston), April 21 (noon). Entrants must have completed another AAU-certified marathon under 2:50 (men under 40), 3:10 (men over 40), and 3:20 (all women).
Whoops. Rule change. At 3:10 I can't even dream.
Feb. 81
Boston AA (85th). Boston, Massachusetts (Hopkinton), April 20 (noon). Course: point-to-point, certified, qualifying times are 2:50 (men under 40), 3:10 (men 40-49), 3:20 (men 50-59 and women under 40), 3:30 (men 60 and over and women 40 and over).
Another rule change. And now I am 60. But, can I run 26 miles at an 8:00 min per mile pace? I can dream, and I can try.

Page 5: handwritten on letterhead from RAMADA INN, 1824 Pembina Highway, Winnipeg, Manitoba R3T 2G2 (204) 269-7700
June 14, 1981. 10:28:44 a.m. BOSTON, Here I Come! The day had dawned cool and cloudy – perfect running weather. The course was flat. Because I had run a previous marathon and registered early I was seeded "H5" – fifth best previous time of the 60+ group – and got to start near the front, so no precious time lost getting to the starting line. I had trained well and consistently and free of injury. In other words, conditions were perfect for a new PR. And I took full advantage of them. A new PR by almost 18 minutes. An 8-minute per mile pace with a minute to spare. I passed H-7 about the halfway mark. Left H-3 behind at about mile 22, passed H-1 at mile 24, never saw the other H's, and finished first in my class. And, at 76 seconds under the magical 3:30 qualify in time for a 60+ to officially run Boston, you can guess my plans for next April. It's now 8 p.m., and any impression that I'm still riding a "runner's high" is strictly correct.
July 1 I'll start at Boston. But can I finish before they stop the clock at 3:30? Here's my training plan (and my reality):
Page 6
Highlights (and lowlights)
9/12
10k race. First in age group. New PR (43:06)
10/11
"City of Lakes" Marathon. New PR (3:24:50)
Jan, Feb
Lots of snow. Much running indoors. Boring.
2/6
"Torturous 26" Marathon. -9ΒΊ F at start (wind chill -22) (3:33:50)
3/18-29
California. Did 100 mi. one week.
3/24
10-mile run on long hill. Too fast. Leg muscle tender. Took next day off.
3/28
"LA Lite" Marathon. Felt great. Leg no problem (3:28:54).
4/4
10k race. New PR (42:43). But leg muscle hurt bad. Stupid!
4/17

BOSTON

Muscle better, but still a question. Only ran 9 miles in last 12 days. Biking helped BUT

Will my leg hold up for 26.21875 miles?
Is my training base good enough to offset the long layoff?

(ANSWERS ON PAGE 1)
[In the following paragraphs, Philip wasn't yelling. He was using a computer and/or printer that didn't have lower case. There is also a + between paragraphs since that was the only way to get a blank line. Another page of this letter resurfaced several years after the letter was first posted here, and I have typed it below in lower case – although not true to the original, it is easier to read. -ed.]
GROUND HOG DAY, 1982
. IT SEEMS STRANGE TO BE WRITING THIS TODAY AND KNOW THAT I WON'T MAIL IT FOR MORE THAN TWO MONTHS. IT'S ALSO A STRANGE DAY FOR A GROUNDHOG, SINCE AT WHAT SHOULD BE SUNRISE THERE WAS NOTHING BUT BLACK CLOUDS IN THE SKY, BUT BY 9 AM THE SUN WAS SHINING BRIGHTLY. SO WHETHER OR NOT WE HAVE SIX MORE WEEKS OF WINTER DEPENDS ON HOW LAZY THE GROUNDHOG IS. I'LL LET YOU KNOW …
WHILE WE'RE WAITING, I CAN BRING YOU UP TO DATE ON THE REST OF THE FAMILY. THE MOST IMPORTANT NEWS IS THAT THEA HAS RESIGNED HER POSITION AS ASSISTANT DIRECTOR OF THE COMPUTER CENTER AT THE UNIVERSITY OF MINNESOTA AND FOR THE PAST MONTH HAS BEEN A DEPARTMENT HEAD IN SOFTWARE DEVELOPMENT FOR CRAY RESEARCH. FOR THOSE OF YOU WHO THINK OF CRAY ONLY IN CONNECTION WITH SHELLFISH, YOU SHOULD KNOW THAT IT IS THE WORLD'S LARGEST AND FASTEST COMPUTER, AND THAT THE COMPANY MAKES A GOOD LIVING BUILDING AND SELLING ON THE ORDER OF ONE MACHINE PER MONTH. AND FOR THOSE OF YOU WHO, LIKE ME, HAVE LIVED ALL YOUR LIFE IN THE SHELTERED GROVES OF ACADEME, I AM LEARNING SECOND HAND THAT THERE ARE CONSIDERABLE DIFFERENCES BETWEEN INDUSTRY AND UNIVERSITIES. ONE OF THESE DAYS I'LL GET THEA, HERSELF, TO TELL YOU ALL SHE'S ALLOWED TO (ONE OF THE DIFFERENCES IS SECRETS) ABOUT WHAT SHE DOES AND WHY AND HOW IMPORTANT IT IS. RIGHT NOW SHE'S FAR TOO BUSY AND HAPPY AND EXCITED.
SKIPPING A GENERATION, DID YOU KNOW THAT TWO GRANDDAUGHTERS WITH THE SAME PARENTS AND LIVING IN THE SAME HOUSEHOLD CAN BE VERY DIFFERENT FROM EACH OTHER? I SUPPOSE I SHOULDN'T BE SURPRISED. AFTER ALL, MY THREE CHILDREN WERE CERTAINLY VERY DIFFERENT FROM EACH OTHER, AND I'M SURE NEITHER MY SIBLINGS NOR MYSELF WOULD BE PLEASED TO BE TOLD WE WERE ALL ALIKE. BUT THEY'RE STILL SO SMALL! I COULD EASILY GIVE YOU A HUNDRED AND SIX EXAMPLES, BUT I'LL SPARE YOU. IF YOU HAVE TWO GRANDCHILDREN OF YOUR OWN ALREADY YOU KNOW WHAT I MEAN; IF YOU DON'T YET, I WON'T DEPRIVE YOU OF THE JOY OF FINDING OUT FOR YOURSELF SOMEDAY.
Sue and David (parents of the above-mentioned granddaughters) are both assistant professors at UCLA. They seriously considered moving to St. Louis this past year, but Washington University and McDonnell-Douglas between them were unable to come up with a mutually satisfactory combination for the two of them. Meanwhile, an indication that UCLA sort of likes them is that they were one of a mere handful of new faculty who were offered a large (by my somewhat antiquated standards it's enormous!) loan to buy a house.
Although Sue and David both work in a field which is entirely different, I can share with them the pride and pleasure of having a paper accepted for publication. And Sue has just experienced the next step of having a paper of hers referred to in someone else's paper.
Lisa, however, like her mother, is a high-level member of industry: specifically a computer manufacturer (CDC). In fact, one of the strange things about Thea's new job is that now she and Lisa have to be careful what they tell each other.
As a break from running this past summer I returned to a previous love of mine which had been neglected for a couple of years and spent a week in the high sierras with Lisa. We slept under the stars at 11000 feet, climbed one little peak and didn't climb another, climbed up one side of a ridge and decided not to climb down the other. All quite leisurely, and we had lots of time to get to know each other again. She told me about the work she does for CDC in connection with the overall system they have sold to the State Universities of California. At the time, I thought I understood it pretty well, but instead of explaining it all to you, let me share, instead, this commendation she got from her company.
Philip T takes after both of us. He's in industry, but as an engineer, so I can understand some of what he does in designing structures. He's also like me in that he has strange ideas of what's fun to do outside of work. Only his plans are really strange. This past winter he decided to go winter camping. So he and his dog did just that in one of the coldest weeks of an unusually cold January. At one point Ginger (dog) half fell through the ice, but Phil was able to talk her in to safety without jeopardizing himself. But I ask you, isn't winter camping a ridiculous thing to do for fun? Quite different than running a marathon when the temperature is 9 below zero Fahrenheit (I did it and I'm glad!). But wouldn't life be dull if we all had the same form of insanity. I hope that your life, like mine, is still far from dull ……