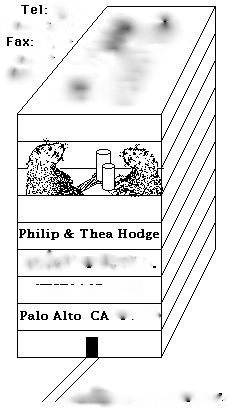 Ground Hog Day, 1999
Dear Friends-and-Relations,
| | |
| --- | --- |
| The time: | 11:45 AM, June 10, 1998 |
| The place: | Toronto, Ontario, Canada |
| The setting: | Meeting of the Committee on Planning and Organization of the American Society of Mechanical Engineers |
| The event: | Award of a "Certificate of Appreciation" |
"And why," you ask, "was all this worth writing about?"
I will tell you. This event marked the end of a significant chapter in my history. It was probably my final appearance at an ASME Committee. The first was nearly 50 years ago, and I couldn't possibly count the number between then and now.
Elsewhere I have written a multi-page history of my involvement with ASME, but I will spare you the details. Suffice it to say that I served on many committees of the Applied Mechanics Division and of the more inclusive Basic Engineering Department. I served on the Society-wide Technical Editors Committee and the Policy Board Communications. And I served on four different committees which reported directly to the Society's highest governing body, including a year as chair of the National Nominating Committee.
Writing and organization were my specialty. For many of the committees I wrote By Laws, Procedure Policies, and/or Nomination Manuals. Much of what I wrote has, of course, been superseded, but it is gratifying that some of my ideas still remain.
And ASME has been good to me. The committee service had its own rewards in the meeting and solution of challenging problems and the association with many fine people. But in addition, ASME has given me both of their two highest awards: Honorary Member and the ASME Medal. Both awards cited my published papers, but they also mentioned my service to the engineering profession in general and to ASME in particular.
It has been a wonderful half century, but now it is time to move on. And moving is what we have been doing.

As I wrote in last year's abbreviated Ground Hog note, we have moved permanently from Menlo Park to Palo Alto. Our new apartment is wonderful. It's called a three-bedroom apartment, but for us that means a one-bedroom-and-two-offices. After our 56 years of marriage, we can still happily share the same bed, but we each need our own office (and our own bathroom). We also share a living room, dining room, and kitchen. There are closets galore and the kitchen is twice as big as the one in Menlo Park. There our problem was how to find a place for all of our living room furniture. Now we have room enough that we might consider buying a couch. But meanwhile we revel in the feeling of spaciousness. Which feeling is enhanced by 9-foot ceilings and floor-to-ceiling windows which look out on distant mountains from our seventh floor vantage point. Finally, as our legs grow older, it becomes much easier to ride an elevator to the seventh floor than it was to walk to the second – and this also gives us a greatly increased sense of security. Come visit us! The address etc. are on the letter-head. If you keep track of such things, you might note that the fax number is new – all else is the same as last year.
And we've been doing a bit of short-term "moving", aka traveling. Last year I promised to catch you up on two years worth, so here you are (or rather there we were) from March 1997 through January 1999:
| | | | |
| --- | --- | --- | --- |
| | When | Where | Why and/or Who |
| 97-1 | March | New York | ASME and see Sue and family |
| 97-2 | May | Washington | USNC/TAM |
| 97-3 | May-June | Providence | GDAM 50th celebration at Brown |
| | | Atlantic City | family and memories |
| | | Washington | ASME |
| 97-4 | July | Des Moine | opera |
| | | Minneapolis | friends |
| 97-5 | September | Tennessee | Philip and family |
| | | New York | ASME and see Sue and family |
| 97-6 | November | Dallas | ASME |
| 97-7 | December | Calif. deserts | with Lisa and family |
| 98-1 | Jan-Feb | Maui | vacation |
| 98-2 | March | New York | ASME and see Sue and family |
| 98-3 | June | Toronto | ASME |
| 98-4 | June-July | Gainesville | NCTAM |
| | | Tennessee | Philip and family |
| | | Des Moines | opera |
| | | Minneapolis | friends |
| 98-5 | Aug-Sep | 54-40 or fight | with Lisa and family |
| 98-6 | | Germany | IUTAM |
| | | Austria | hiking & sight-seeing |
| | | 4 German rivers | river cruise |
| 98-7 | Dec-Jan | Maui | with Lisa and family |
And this doesn't count various one- or two-night stands in nearby Walnut Creek, San Francisco, or San Jose. As night driving tends to get less and less desirable, we will usually try to spend the night at a hotel after an evening affair more than a few miles from home.
You want details of all these trips? Surely you jest. Well, maybe a highlight or two. Since you insist:
97-1 (See also 97-5 and 98-2) One thing I will miss about no longer being on an American Society of Mechanical Engineers committee is the semi-annual visits to New York and the chance to see daughter Sue and her family. Of course, we could go to New York without the excuse of a meeting?

97-3 In 1947 I entered an exciting new graduate studies program called the Graduate Division of Applied Mathematics at Brown University. Ours was essentially the first class after World War II, so our group was concentrated – normally, we would have been distributed over three or four years. The Golden Anniversary was a wonderful opportunity to revisit old sites and meet with old friends – some for the first time since we had left Brown.
Then a leisurely drive to Atlantic City where Thea was born, and where some of her relatives still live. Atlantic City has changed from the one she knew far more than Providence has! But we photographed some of the old buildings, including the one where she lived when we first met.
97-7 Death Valley and Joshua Tree. A fascinating part of the country, particularly in the winter. Lisa, Bill, and children mostly camped – we stayed in resorts and motels. A great combination for a family vacation!
98-1 Maui is to be experienced, not to be written about!
98-4 After the National Congress on Theoretical and Applied Mechanics in Florida, son Phil met us at the Gainesville airport and flew us back to his landing strip in Tennessee in his own plane. We flew through a storm front that was more than a little exciting. Better than any of the rides at DisneyLand! After we had regained calm skies, Phil confided that if he had known how severe it was, he would have changed our plans. Everything was fine, but there wasn't much margin for error or mechanical failure. Our little boy has grown up to be quite a guy.
98-5 Relaxed family fun. This time we all stayed in h/motels. Highlight was staying at the Ocean Pointe Resort in Victoria and taking a water taxi everytime we wanted to go into town.
98-6 This was the big one. I had to attend a two-day meeting of the International Union of Theoretical and Applied Mechanics in Stuttgart, so naturally we couldn't take less than 3 weeks for the trip. We had saved up our Frequent Flier Miles to go Business Class non-stop from San Francisco to Amsterdam and on to Stuttgart for my meeting.
August 31 we took a delightful 4-hour train ride to Innsbruck for a week of loafing, sightseeing, and hiking. Highlight for me was an all day hike in the mountains. Innsbruck offers a program, paid for by the hotels, where every day at 9 am anyone who wants to go hiking assembles at a fixed point, meets their guide, and boards a bus for a short ride to a good starting place for a hike. About a dozen of us, all good hikers.

Next, a 90-minute ride on a local train brought us to Garmisch-Partenkirchen where we joined an INTRAV tour that left two days later for a week's cruise on four German rivers: Nekar, Rhine, Mosel, and Saar. It rained some almost every day, but that didn't spoil our fun. Seeing the river scenery, going through countless locks, visiting the quaint and the modern towns, hiking the wonderful German mountain trails – it was a marvelous week. A memory that sticks is walking round and round the top deck in a drizzle, with the view changing every circuit – sometimes nothing but mile after mile of grapevine-covered hillsides along the Mosel- other times a town or a castle would come into view over the bow, get slowly closer as I walked and the ship plowed upstream, come abeam as we passed it, and eventually disappear over the stern as we rounded a bend in the river.
98-7 See 98-1.
And now we are home again to stay – or at least to stay until April when we plan to take an ElderHostel cruise on the Mississippi, visit Phil and family in Tennessee, and drive to Washington for a meeting of the United States National Committee / Theoretical and Applied Mechanics. And then another opera trip to Des Moines and Minneapolis. And then . . . .
And whether you travel or whether you stay put, may you, too, find the things in life that will make you happy.