July 17 to August 13, 1944
Monday, July 17, 1944
Back in the present again, Thea. The above is I assure you, purely fiction and not very good fiction at that. But 'tis of such things I sometimes think on watch. Remember the last time I wrote a story in a letter?
I've forgotten when I wrote last (seriously, that is). I told you we came from Bari down the coast 60 miles to Brindisi, didn't I. We just anchored in the harbour–no shore leave and not a very good port for swimming. I went in once but it was kind of dirty.
Saturday we worked until about 3:30 or so cleaning up the deck. We had to just pile all the rubbish and junk (and garbage) in a pile on deck, since we were in the harbour. They didn't waste any time getting it overboard when we left!
Then I played some deck tennis. Having no more deck cargo (no more cargo, in fact) it was easy to set up a court on one of the hatches and make a rope ring. And what a game! Everybody has their own idea of rules. Saturday we played anything goes. Only rule was the serve must be underhand. But any other shot could be overhand, and the serve could wobble. To add to the fun the canvas match cover was a bit slippery. But I lived through several games of doubles. Yesterday we played no overhand and a new rule that partners had to take turns catching it. It made for lots of running around.
Yesterday morning I was a boatman. That is, I started to be one. A boatman is someone who rides ashore with the officers and stays with the boat while they go ashore.
First of all we had a long wait for the captain. Finally he descended the ladder and we were off. As fast as the current carried us, that is, since the motor didn't work right. Every once in a while we (meaning the second engineer) could make it go astern for a bit. After about half an hour of drifting away from the ship and backing back to it we were off at a rapid crawl. The motor worked for almost ten minutes. Then we started all over again. To make matters more interesting, a signal was raised telling the captain the convoy orders had come, so he decided to go back to the ship. He ended up by running it in reverse all the way, since it never did work forward again. But it was a pleasant enough way to get an hour's overtime.
The rest of Sunday morning we spent battening down number 2 hatch. We'd left it just covered since we had thought we might take on some cargo in Brindisi, but the orders said different. Sunday, the day of rest!
In the afternoon I wrote the foregoing fantasy, and played a little deck tennis to work up an appetite. Then after dinner I took a shower and went to bed around 8:30 or 9:00. When we're at anchor watch standing is very informal. Just so one man of the 3 is awake and can be found easily in case anything goes wrong.
This morning we lifted anchor at 10 and are now under way. Where to, everybody's guess–nobody knows. We're a small convoy right now, but we'll probably pick up more ships as we go along.
This afternoon I slept again. It's now evening and I'm sitting on my cot on deck. It's windy, but otherwise very pleasant.
I spent some time after supper last night talking to the bosun and Chips. The bosun is in his late 30s–has been following the sea since a kid. He's very easy to get along with, but he still seems to get the work done. He usually sails as an AB, and still considers himself one in a way. That is, he never exercises his authority unnecessarily.
He's the one I'm teaching math to. And he's really working at it. I think he'll have some difficulty, but he should come through the school OK. And he's got enough sea time to take a Second Mate's exam and license.
Bosun's been around plenty. He gets drunk about once in each port and he's kind of cute when he does. Very friendly rather than belligerent or morose. And he usually gets a woman or two in port. (Remind me to tell you about the violin.) But he's engaged to and apparently in love with a girl in South Wales! Plans to get married when the war's over. He joined the union for two reasons. He doesn't like Negroes and he doesn't like communists. But aside from that, I like him.
Chips is a 60-year-old Scotchman, with something of a burr. He and I get along famously, telling each other stories. He really likes to string a story out and get every ounce of humor from it. I should guess he was a moderately strict Methodist. He disapproves of getting drunk, of intercourse outside of wedlock and of Negroes. Of course, I disapprove of the first two, but I think the difference is that I just don't want them myself and feel that most people would really be better off without them, while he seems to think there's something morally wrong about it. He's not as strict as I make him sound, however, a man can't follow the sea all his life without being pretty tolerant of everything he meets with on a ship.
I really like them both. Along with Bill and Les they're the only ones I care anything about ever seeing anything of again.
You've got more faith in June than I have. It always takes 9 months for the second baby, but the first can come anytime. Aren't I nasty!
You hurry up and finish school and I'll hurry up and win the war and then we can start having babies of our own. (Get that leer off your face, Philip!)
Tuesday, July 18, 1944
We're now back in Port Augusta. P.A. is the distributing center for Mediterranean convoys. We arrived about 3 this afternoon–for how long nobody knows. Today has been beautiful. Sunny and warm. Went swimming as soon as we dropped anchor.
I'm reading Nietzsche's Ecce Homo now. And finding it quite interesting. He certainly doesn't mince words:
"I do not reckon these so-called 'first' men even as human beings–for me they are the excrements of mankind, the products of disease…: they are so many monsters laden with rottenness…";
or about women: "The perfect woman tears you to pieces when she loves you…what a dangerous, creeping, subterranean little beast of prey she is! And so agreeable withal! …Woman is incalculably more wicked than man, she is also cleverer."
Or, "Preaching of chastity is a public incitement to unnatural practices. All depreciation of sexual life, all the sullying of it by means of the concept 'impure'…is the essential crime against the Holy Spirit of Life."
Christian priesthood he refers to as a "perfidious order of goblins." "What meaning have those lying concepts, those handmaids of morality, 'Soul,' 'Spirit,' 'Freewill,' 'God,' if their aim is not the physiological ruin of mankind?"
Those are just a few quotes to give an idea of his capacity for invective. I'll say more on my interpretation of his ideas later. Right now I must go on watch. We're leaving P.A. already, after a stay of about 4 hours. I'd sort of like to stay longer, in a way.
If every star that's in the sky on moonless nights so clear
Were worth a million dollars each, I'd not accept it, dear.
For to my mind each star's a kiss–and when to sea I roam
Those countless kisses in the sky will help to speed me home.
If every drop of liquid foam that sparkles in the sea
Were turned to gold, I'd not rejoice though it were offered me.
For gold won't sail me home as fast as will the ocean blue,
And all the gold on land and sea won't pay for half of you.
I've just come off the wheel and have a few minutes before I go on lookout. I was at the wheel while we were forming convoy and it was kind of fun. Usually all one does with the wheel is try and hold a steady course–which, while it takes lots of practice to do well– is rather boring. But tonight the captain was giving out hard lefts and half rights and the engines were doing everything from full ahead to stop. All of which made things kind of lively for a while. I must have done all right because he didn't say anything.
Wednesday, July 19, 1944
Me vs. Nietzsche. Although he never would admit it. By our present standards he would necessarily be judged insane. For he says on several occasions that he is so far superior to everyone else that he does not expect anyone to understand him. Therefore none could ever convince him he was not perfect. It would be like someone who speaks but does not understand English.
However, one cannot just call him crazy and forget him. For his ideas have influenced many. His concept of the "Superman" is quoted by the proponents of fascism. Although I do not think it is correctly quoted. I don't understand just what his Superman is, but I'm sure he's not a Nazi. I interpret him more as a person who satisfies all physical needs regularly (Nietzsche is rather specific on that) and is an intellectual Superman. He does not despise people any more than we despise cattle (in fact he often refers to them as cattle). He would use them in any way without compunction, but he has no use for them. He would wage war on them with words and ideas.
That's not a complete understanding, but it's about the best I can do. It seems closer to the Indian yogi (although he would ignore the flesh by satisfying it rather than mortifying it) than it does to the Nazi. In fact, he specifically condemns German culture time and again, and deplores the rise of Nationalism.
Nietzsche claims to deal with reality. He says that all ideas are lies–that people are afraid to face the truth. Morality, free will, eternal life are all signs of the decadence in people. I'm not too clear about what he envisages as the truth. It seems to be sort of a joyful fatalism–an open acceptance of life as it is with all its sorrow and tragedy. He calls it a "yea-saying approach to life."
I believe he antedates most modern materialists, and I admire him for one thing–for his consistency. So many of the authors I read in philosophy class proved conclusively that free-will, etc., could not possibly exist. But then they were afraid of their own children and tried to establish a code of ethics on top of the materialism with pitiful results. The textbook we used by Drake is the most ludicrous example of it. But Nietzsche carries it right through to the end.
There is, however, a weakness in his very consistency. He does not go into any detail about what kind of society we would have if his ideas were accepted. Obviously a world of Supermen would be impossible. For who would raise the food and run the machines necessary to keep the Supermen alive. Therefore, by implication, he demands both men and Supermen in the same world. Well, we have both laborers and intellectuals in our world. But there is a difference. They both live by the same rules (I'm speaking, of course, about an idealized modern society. In reality there are many faults but they are all capable of change within the existing framework) and it is comparatively easy to change from one condition into the other. But, almost by definition, the cleavage between men and Supermen must be unbridgeable. For they must live by different rules. For some kind of morality is necessary for the men–just as immorality (I think ammorality would be more accurate) is part of the make-up of the Superman. And there I will not follow. Any system which does not give approximately the same chance to every individual is imperfect in my language.
I believe it is the above that has been seized upon by our modern fascists. Although they are in no wise similar to Nietzsche's Superman, they derive from him the justification of any Superman. Looking back, I would be willing to lay odds that Lawrence Dennis has read a good bit of Nietzsche.
In-so-far as Nietzsche argues against the established church, I will agree considerably. In fact, I must follow the logic that places free-will and morality in an untenable position. But at that point I will admit I am afraid. Rather than build my morality upon an insecure base, I will admit that it does not exist. But I maintain that for life to have any meaning to me I must act as though it does exist. But I've gone over all that many times before.
"It will always remain my private persuasion that Nature was absorbed in making cabbages when Mrs. Vesey was born, and that the good lady suffered the consequences of a vegetable preoccupation in the mind of the Mother of us all."
"The sky was without a cloud, and the dawning mystery of moonlight began to tremble already in the region of the eastern heaven."
The above quotations are from Woman in White by Wilkie Collins. You don't mind, do you, if when I read something beautiful or clever I copy it for you? If I were reading at home I'd interrupt to quote them to you. And with home so far away in miles this is one of the little things I can do to bring it closer in spirit.
Whenever anything touches me–whether with its beauty or grandeur of surprise or even terror–I think of you. Is that because you and only you have touched me so deeply that you have become a permanent part of me? On the surface I am just an ordinary seaman, performing my job to the best of my ability and sufficient unto myself. But when anything gets beneath that surface it meets not me alone, but both of us.
Like the sunset last night. I was in the crows nest at the time. There wasn't a cloud in the sky. When I first noticed it the sun was already started over the horizon. So big and red and unbelievable. And as I watched, as I saw it with mine own eyes, the horizon slowly, steadily, inexorably rose and engulfed it. With each little wave the sun, the red enormous sun sank a little lower till naught was left but a tiny red sliver which hung on and on. Then it too disappeared "down, down–to doubt and darkness below." I was almost exhausted. It sounds silly now, but it was almost terrifying then.
I've finished Woman in White. I started it last night when I made those quotes. It's such an engrossing and swift moving story that I couldn't put it down. That's the trouble with me when I read a good exciting book.
It is interesting to note the treatment given to love in all the books I can remember having read of a generation or more ago. Remember how perfect and pure the heroine was in The Last of the Mohicans? And the love between the hero and heroine? The same attitude seemed to be present in The Scarlet Letter. And it was very evident here. Compared to the rest of the story Laura seemed a little unreal. Marian was a much more alive character.
Another complaint I have is with the ending. Not the very ending, which was entirely traditional and satisfactory, but the pursuit of the two villains. A book with several villains such as The Count of Monte Cristo is good–or the many books with a single villain. But the both of them, with so little real relation between them seemed to throw the story a little off balance. In fact the Count seemed a little superfluous throughout. Not but that he was an extremely interesting and well-done character. But he entered the story so late and yet was so important at the end. Sir Percival was the natural villain. Had the Count played a little less important part–in fact if only he had been disposed of first and left Sir Percival as the final ink instead of the other way around it would have been a more balanced story. Of course, one may argue that true life doesn't always balance. Which is true, but this story isn't true to life. It is too full of portents and coincidences. Which is not meant as a criticism. The story is all the better of it.
However, that is really a minor point. I recommend the novel to you heartily if you have not already read it.
We are sailing along the coast of Africa now. It is very comforting to have land again in sight.
This afternoon we slushed down some rigging. And is that a messy job. Les did the real dirty work and he looked like a native African when he was through.
We signed for our overtime to date today. I had 131 hours–more than anyone on the ship except the first assistant engineer. That will make a nice little addition to the bank balance. Your worry about adding a little to our savings amuses me. I should have somewhere in the neighborhood of $400 free and clear over allotment and taxes to put in the bank when we hit New York. So don't worry on that score.
My writing seems to come in bursts. Maybe I'll have another one when we hit Oran (our next stop). If we have gangway watches, that is. I really had time to write then. I've got time now, but no ideas. So for the present, goodnight. I'll try and get a nap before going on watch.
Saturday, July 22, 1944
I have been thinking. Not very intelligently, but I've been thinking about the future. About what I want to do. Or rather, what I don't want to do. I have no burning desires and it's a question of trying to find some means of making a living not too objectionable.
In the first place, then, I have a great brain. That is, I've got a pretty high IQ and a lot of education has been thrown at me, so I shouldn't waste it. Therefore I must eliminate all manual or physical jobs such as factories, farming, etc.
The job I am most nearly qualified for is to teach math at a college level. And yet I can't persuade myself that teaching college math isn't just as big a waste. I want to exert my energies towards creating a better world. So I must teach required algebra to social science majors–and advanced math which they'll never use to science men and women.
If I could teach agriculture or mechanics I might feel I was teaching something useful. If I could teach history or philosophy I might feel I was influencing young minds to an appreciation of a better world. But math is neither. It is a remote tool, some small part of which may be applicable, but whose direction can be anything. From the point of view of usefulness I'd rather teach in high school–or better still 6th grade arithmetic. But I'm even less qualified there than to teach some other subject in college.
I wonder if there's any possibility there. If with my college record I could get a master's degree in any other subjects. But I doubt it. One year of physics–a wee bit of engineering, no chemistry to speak of–and what has math to do with any of the social sciences.
Next we can eliminate the sea. First of all because like any private business its aims could be called questionable. The idea of distributing goods about the world is a worthwhile one, though. I would put that point in its favor. But anyhow, it's out because it would keep me away from you.
Agriculture? It would be a gamble. If I had my college life to live over again I would major in it. Either to farm myself or to teach or to work with a farm bureau. But I'm not qualified at all for any of those. And 3 years would be a minimum of qualifying at all for the last two possibilities. The idea of agriculture itself–well, we discussed that before. It would be a big risk. There's no other game where you are so much at the mercy of both natural and human elements. It would be a long hard job, for we'd have to learn as we went along–and mistakes could well prove disastrous. Besides I'm not at all sure I would like the life–and I'm fairly sure you wouldn't. And I could not be at all happy doing anything my darling, unless you were happy too. I'm not being noble and self-sacrificing–I really mean that.
So what does that leave? Teaching navigation in the USMS? If something good came up in that like I'd seriously consider it. But the field is too narrow. I couldn't possible build a future on such a specialized possibility. And I'm not at all sure I'd like the idea of living in uniform after the war.
Statistics? I've got a lot of it on my transcript, even if I don't so much on my brain. But one can't be a statistician per se. One must be a statistician in something. Again I'm not qualified. Besides, I'm too much of a socialist to be happy working for AT&T (for instance). And small businesses don't need statisticians. Another blind alley.
Civil Service? A possibility I'd almost forgotten about. Statistics in the department of Agriculture, or maybe Labor or Interior. Not that I'm enthusiastic about Civil Service. Security there is too important. Too much does advancement depend upon length of time rather than on ability. Too many people with mediocre mentalities and no ambition are attracted to it. Efficiency is not sought after particularly.
And yet its very disadvantages have a fascination. If I can't find any work I really crave, wouldn't those very drawbacks be an advantage? In other words, a man in Civil Service can focus his life outside of his job better than a man in private employ. A mediocre government worker is far better than a mediocre teacher.
What have become of all my high sounding ideals? How am I influencing posterity as a statistical worker deep in the archives of the Department of Agriculture? How can a direct usefulness be found for the mass of figures I'm working with? Guilty on every count. I admit it. But where else have I found it? And my ideals are fickle things. I honestly think they would trouble me less in an office than in a college. I don't know. It should be the other way around. Even the janitor in a college can exert an influence on impressionable minds. There are extra-curricular activities which can make up for the teaching of any subject.
I should get bored in Civil Service. It wouldn't challenge my abilities. But sometimes I think I can be happily bored. If I have outside interests such as my home would be.
Oh damn all my thoughts! Sometimes I wish I were like other people. If I could just get any job and stick to it and not always worry whether or not I was happy! I don't really. I'm infinitely glad I'm me and married to you.
I don't think I'd like Civil Service. I've presented about as strong a case as I could. But even as I've committed it to paper my enthusiasm has waned. For a year, maybe yes. But for ten or twenty years? I'd get awfully tired of being bored. What I'm awfully afraid of is that my attitude towards my work will greatly influence my attitude towards my home. If I'm bored at work I may just seek escape at home–and an easy escape rather than a real one.
I don't know. I don't know. I don't know. Math teacher, farmer, navigation teacher, statistician? Look 'em all over. Try 'em all. Spend 10 years on each. And another 10 at sea if you're still alive. You can't raise a family that way. Families cost money. Money, money, money! Not to have, but to spend. Money for a house, money for taxes, money for children, money for food, money for your wife, money for your children, money to get sick, money to keep happy, money–money–money.
You say you must study and work and wait for something you want. True, true. But if you don't really want it, what then? The study is twice as hard. There is almost a will to fail.
Think, Philip, think. Of all the things that man can be is there not one you can do and like? Rich man, poor man, beggar man, thief; doctor, lawyer, Indian Chief. To teach or not to teach? That is the question. And if not to teach, what then? Little man, what now?
Bah! The above style is accomplishing nothing practical. But in case you haven't gathered it I'm a wee bit confused! You married a problem child when you married me, Thea.
Sunday, July 23, 1944
We're now in the harbour at Oran. We dropped anchor at about 9AM and will raise it at 11:45 to steam back to Arzew about 30 miles east. What a system! I was too tired to think any more last night. I'm too tired to think now!
WOMAN (from the Hobo News)
Woman–She's an angel in truth, a demon in fiction–
A woman's the greatest of all contradiction;
She's afraid of a cockroach, she'll scream at a mouse
But she'll tackle a husband as big as a house.
She'll take him for better, she'll take him for worse
She'll split his head open and then be his nurse;
And when he is well and can get out of bed,
She'll pick up a teapot and throw at this head…
Monday, July 24, 1944
The name of the town is Arzew. We arrived here about 7 last night and are moored alongside another ship. That means that in addition to mooring lines we have fenders to worry about. They keep us from actually scraping paint from our next door neighbor.
But they are something of a bother. One is never sure of the best place to put them until after the ship is moored. So one puts them one place and then shifts them. And they weigh considerable.
More interesting than that, though, one of them broke away last night. Bill, Les, and I tend to the belief that the line chafed against the rail and broke, but the consensus of opinion seems to favor an act of destruction with a knife. However–this morning one was gone. So we spent the morning making new ones: first we dragged an old mooring line from the forepeak and cut it in one 16-foot and several 12-foot lengths. We bent them all double and assembled them something like this,

the idea being to form a fairly rigid bundle 6-feet long and about 1½ feet square. Each piece of line was tied in place with rope yarn, and then the whole was wrapped around tightly with 3″ line. The end of the big loop was secured to the side of the ship and the fender dumped over the side. Worked pretty well, too, but the whole took much longer to do than to tell of.
Another quaint feature of this arrangement is that we have no gangway, but must first board the other ship to get ashore. Fortunately we are still on friendly terms!
I'm not sure whether we're here or not. So far we're just tied up and doing nothing. The two logical theories advanced are: (1) we are waiting for deck space here in Arzew to load, or (2) we are waiting for deck space in Oran and will go back there and load. In either case what we'll load and where we'll take it are profound mysteries.
In the meantime we're still standing watches in the day and sitting them at night. That is we work 4 hours for the bosun in the morning, but at night only one of us has to be up. And he only has to walk around the ship once in a while. Once we load, of course, we'll go back to standing gangway watches, which is an even softer job.
This afternoon Les and I went ashore. It's very different from Bari. There are two distinct permanent elements here: the French and the Arabs. The French we saw very little of, and what we did see was much more like Americans than the Italians were. In Bari you could almost always tell the natives from the British and Americans, but here it's much more difficult.
The Arabs are much more interesting. The costumes are just what you read about. Sheet like affairs with God knows what beneath them. Sloppily draped sheets or red fezzes or gaily colored straw hats on their heads. Feet bare or encased in wooden sandals. Strange looking beards. Large eyes, often with a mournful look. Women showing nothing but their eyes and bare feet.
The children are similar to Bari, and yet not so nice on the whole. I think it is because the white man (the French) have ruled over them for generations. Their begging hasn't as much of the friendly give and take as the Italians. If you give them 5 francs they look at you sort of like a Waldorf waiter with a 10¢ tip! We had our shoes shined for a prearranged 5 franc fare–but when we refused to pay 10 for the finished job we were nearly stoned. (A franc, by the way, equals two cents).
Another sign of the white man's influence: it took us over half an hour to convince our various self-appointed guides that we didn't want a woman (and they used a four-letter American word instead).
We finally got one little ten year old who went all around with us. And there wasn't really much to see. I did get a glass of beer. It was too warm and a little flat. But it was beer. And we had a cup of boiled coffee with too much sugar which was "interesting." We wandered in and out of a few stores–somewhat hampered by lack of money. We ate some plums and a delicious melon.
But it was the country itself which was really new (to us!). It's Bible land. It isn't really, but it looks like it. A strange combination of desert and growth. Cactus and giant palms give an impression of green luxuriousness that the dry, sand like ground denies. By contrast some of the houses have beautiful flower gardens–some familiar, some strange.
The buildings are mostly of pale yellow or pink with right angles. But inside some are mosaic laid halls. And even the sidewalks have an imprinted pattern.
Behind the town rise red hills spotted with a dull green, or jagged where they have been mined. The scenery seems neutral. It is neither the beautiful hills of Pennsylvania nor the dreary wastes of New Mexico. Although the weather is no warmer than Italy, the effect is ever-so-much more tropical.
We didn't get a chance to know any of the people the way we did in Bari. I hope we may get a chance to tomorrow. Some of them are great linguists, speaking English, French, and Spanish, in addition to their native tongue. So far I haven't had any chance to use my little French.
Some of the boys spent a few hours in jail this afternoon. It seems they were apprehended in a house of ill-repute off-limits. It's a strange set up. There are houses in-limits, but they cost more. Sounds suspiciously like a racket–I don't know. They're out now, but they're restricted and fined.
Tuesday, July 25, 1944
Well, I have the rest of the sordid affair now. Those involved were 3 members of the mess department, 2 Puerto Rican members of the engine department, and our friend Drydock. The SPs were out for blood, since they didn't stop the boys until they were already in being taken care of, thus increasing the seriousness of the offense. But then they were all whisked down to jail and the fun began. Drydock had had too much to drink and had fallen into bad company. And the 3 messmen knew they were guilty and were quiet. But one of the firemen–a little, half-crazy called "Poncho" jumped on his bed and broke it–then used one of the pieces to try and break down the door. They eventually put him in chains.
The brig was pretty bad, they say. No windows and dirty. They kept the boys there past supper time giving them no food and only warm, bad-smelling water. But, as I said, they eventually took them back on the ship minus their shore passes. Later that evening, however, Poncho and Chico, the two Puerto Ricans, get ashore somehow with blood in their minds, looking for the SPs responsible for their incarceration. Fortunately they were re-arrested before they could do any damage, and spend the night as guests of the constabulary. This morning they were returned to the Francis Marion and this afternoon the entire bunch received their sentences. Drydock, being a Navy man comes under the jurisdiction of our own Navy officer who, I imagine, will be lenient. The mess contingent all got standard fines of $50 and the two repeaters got $150! Ouch! I imagine they'll be restricted the rest of our stay, but I don't know.
Let me tell you about last night. I was on active watch from 10 to 12. We didn't black out the ship (being in port) but we were sort of afraid of some action. A couple of reconnaissance planes had been seen Sunday night. The watch had a whistle and if he saw the pier lights go out or heard a siren he was to blow his whistle to the engine room who would throw a master switch–blacking out the ship. About 10:30 I was sitting on the number 4 hatch shooting the breeze when suddenly the pier lights go out. So I races to the engine room door and blows a long hard blast. I almost collide with the officers coming out of their saloon, and I follow them to the bridge. And as we get there the lights on shore go back on! We expressed our mutual surprise and after a few minutes the captain phoned the engine room to restore our illumination. He commended them and me for prompt action. And I returned to my perch to discuss the explanation of the phenomenum.
Then, to add to a quiet evening, the entire performance was repeated shortly after 11! That set us to wondering, although the general opinion was better a thousand false alarms than one missed real one. However, inquiry of the next ship informed us that the pier lights were tested thusly every hour. So from then on we watched a signal tower in town as a more reliable omen, and the remainder of the night passed uneventfully.
I was gratified, though, by my reaction. There was only a very brief second of hesitation before I acted. And not the least bit of fear. I hope I'm never in an attack, but everything so far seems to show that I'll be able to do my job without fear. I hope so.
––I don't know if I can sleep tonight. 11 PM our time–5 PM in New York. I've just heard from the purser that Russia and Germany have stopped fighting. No source–no details–but he's the second person who mentioned it. I hope with all my might it isn't true. It shouldn't be true. It foreshadows an extremely pessimistic future if it is. But from two independent sources–I'm afraid there's truth in it.
(This darling is definitely not another attempt at fiction. The news itself may be false, but what I've written above is the absolute truth. I may have a good laugh over it in the morning, but I want to record my reactions now, anyhow.)
The first thought that comes to mind, of course, is what will the consequences be? In outline form we have
(Bill has just come in with the following information: Chief Engineer says he just came from Oran and the city is wild with the news; third mate says he just heard half an hour ago over the radio that they were still fighting. Therefore more doubt is cast on its truth.)
The possibilities are:
| | | | |
| --- | --- | --- | --- |
| POSSIBILITY | OBJECTION | EXPLANATION OF OBJECTION | CONCLUSION |
| A. It is true | 1. Common Sense | a. Analyzed later on | ? |
| | 2. 3rd mate | a. Stringing us along | Unlikely |
| | | b. Misunderstood radio | Possible |
| | | c. Radio lying or mistaken | Unlikely |
| B. It is false | 1. Testimony of 3 persons | a. Sources not really independent and story cooked up | Unlikely |
| | | b. Magnified rumor | b. Possible |
| | | c. Radio mistake (remember fake invasion) | Possible |
So I still don't know, but I'm a little more doubtful and think point B-1-c may be the explanation. But my mind is still concerned with the possible consequences if it is true:
Immediate consequences

Britain and U.S. will continue to fight
Britain and U.S. will also sign peace

Long range consequences under (1)

Allies will win easily
Allies will win a long exhausting war
Germany will win a long exhausting war
Germany will win easily

Long range consequences under (2)

Peace will leave Allies and Germans both strong
Peace will leave Allies strong–Germans weak
Peace will leave Allies weak–Germans strong

Position of Japan

Russia will fight and lick Japan
Russia will fight Japan unsuccessfully
Britain and U.S. will beat Japan easily
Britain and U.S. will beat Japan in a long exhausting war
Britain and U.S. will lose to Japan in a long exhausting war
Britain and U.S. will lose to Japan easily
Britain and U.S. will sign a peace leaving both strong
With that in mind, why did Russia do it? Obviously she is looking out for Russia and no one else. In the event that Britain, U.S., Germany, and Japan fight each other to death (or to weakness anyhow) Russia would be on top. It seems to me a precarious top. But Russia perhaps would rather trust in that than in America and England. There's certainly a great deal in both countries to excite her suspicions.
Another explanation would be that Russia considers herself strong enough to wage a defensive war against any possible combination of enemies. Then she would obviously stop fighting when she had what she wanted. But I think she is counting on the first alternative.
If we make peace with Germany and Japan (or even with Germany. Let's assume point D3. Under any other possibility the future would be of the same kind, but worse) the world will have 4 great powers: U.S., Germany, Russia, and Britain. Britain and U.S. will probably act as one unwieldy unit. So the result will be 3 forces evenly enough matched so that any two could probably lick the third. Then will ensue an era of power politics which will make past ages look childish. Each unit will try to play off the other two. Not only will a war be the inevitable result, but hate will become a major part of our lives. For in each country some will try to swing it to one alliance and some to the other and –. I'd rather not think of it.
If we did lick Germany easily? It seems very unlikely. If Germany weakens, Russia may well join them against us. And Germany, freed from the Russian front, is not very likely to weaken.
So assume we battle each other to weakness. Then Russia would be the one major power. How would she use that power. Big unknown. Perhaps, if she used it wisely, the future wouldn't be too bad. But if she didn't? Well, we're fighting for our lives to keep Germany from a similar situation. Even if she tried to use it wisely how would we react? Would not our national pride make us try and make ourselves strong again. And Russia might well be forced to choose between harsh repression or a future war.
I hope to hell it isn't true!
Wednesday, July 26, 1944
Well, the next day has arrived and the war is still going on. Thank goodness it was just a hoax or mistake on somebody's part. My writings and thinkings last night were a little blurry because there was a continuous conversation in the room and it was late at night. I still don't know the explanation of it all.
I've sort of neglected writing about my activities haven't I? Yesterday morning Tex and the Bosun were a wee bit too soaked with alcohol to report for work so that left just Les and myself. The mate didn't feel ambitious enough to keep us busy so we just loafed around the deck for 4 hours doing very little to keep us out of mischief.
In the afternoon Les and I went swimming. We walked around to a beach and breakwater. The beach was extremely interesting. Sharp, jagged rocks in strange shapes and arches and caverns with the surf booming and cracking against and through and over them. We scrambled over them barefoot for quite a distance exploring and admiring. The rocks were all different shades of red, with other stones set in them. And on the beach all sorts of stones and shells–the stones all thoroughly rounded by the incessantly pounding surf.
Finally we went back to the breakwater and went surf swimming on a small sand beach there. It was loads of fun. The surf was barely big enough to ride in once in a while, which is fun. Not what you'd call taking full advantage of the foreign attractions, but it was much more enjoyable and comfortable.
Came the evening and I lay on my bunk and read and sweat and wrote. Until about 11 the bosun said there were some stores to be brought aboard. So we put in an hour's overtime carrying crates of plums, tomatoes, melons, etc., up the gangplank, across the other ship, and to the Francis Marion. The night was hot and sticky, but the work wasn't too bad.
This morning I was hard at work cleaning the heads when the bosun said a third ship was to join our happy throng, and tie up alongside of us, so we had to get fenders overboard. So–we dragged our heavy fender down the deck and put it over the side. Only we forgot to hold tie it to the runner — sp–lash. The fender was still floating being made solely of rope, so while they lowered one of the cargo runners down your heroic husband swiftly removed his sandals, pipe, and gloves, and clad only in his all-purpose, self-constructed shorts clambered down the runner and the ship's side. By dint of much treading of water and more puffing than breathing he at length succeeded in attaching said runner to said fender. 'Twas but a moment to pull both fender and husband from the briny deep–fender to be properly secured and husband to stand panting on deck to the plaudits of the admiring crowd.
In the afternoon I went shoreward with no other company than my cigarettes. I had a set goal in mind–a coffee house where we'd been Monday. But all along the way I was pestered by would-be purchasers. I finally arrived safe and hot and completed my business–trading 35 packs of cigarettes, 1 carton matches, and 5 cakes of soap for 725 francs. Meanwhile I was sipping a cup of coffee and mine host was enjoying a cigarette.
I next ran into Mr. Lewis, our chief mate who was looking for the Post Office. I helped him try to find it and on the way back he bought us each (him and me) a glass of wine. He paid for it with a 20 franc piece and carelessly left the two five franc notes change on the counter, probably planning to order another round. As usual, we were pestered by the customary assortment of urchins, begging, etc. Several of them had seen me with the cigarettes and were threatening to expose me to the Shore Police–but I soon established this as an empty threat. Others were forcing us into a tap dance to avoid having our shoes shined. After a bit one of the little juveniles dashed in and grabbing one of the 5 franc notes raced for the door. Mr. Lewis deftly inserted his leg between those of the speeding enfant and said enfant sprawled face down in the street. He arose shortly muttering Arabic imprecations at me. The imprecations were soon followed by more concrete illustrations of hostile feeling. For some reason he associated me with his precipitate descent so in the next few minutes the nerves from my back carried a sensation of impacting stones and fruit. But 'twas not serious–his strength was less than his desires. We soon made our escape to the ship.
Later Bill and I went swimming.
I don't like this town. In Italy I felt I was among friends. Here the French are aloof–it is hard to get to know any of them. I would much rather get to know the Arabs. But they have seen so much of the white man that they are suspicious. I think the way they understand their religion makes anything ethical when dealing with infidels. Whatever the cause, the result is unpleasant. The Arabs are out for anything they can get–they beg and if you give them something ask for more. They force a service on you and throw stones if you don't pay. They threaten. Offer them a cigarette–they'll grab for 3. Externally it may not look different from Bari. The Italians begged too–but I had the feeling they meant it sort of as a game, but here–they beg as though they feel it's a right. Of course I'm just speaking of the children–but as the twig is bent–. And it's only through the children that we could get to know anyone else. I wasn't scared in Bari–but here I wouldn't want to be out after dark alone.
Thursday, July 27, 1944
I'm sitting out on deck in the evening and listening to music. The new ship in our little entourage has a good radio out on deck. The present program is one of the AEF stations with recorded swing. I'll probably disillusion you, but right now I'd rather hear it than symphonic music, although I've heard almost none of either since I left.
There's a dance ashore tonight, but I'm not going. The way I feel tonight I don't want to dance with anyone but you. Soon, I hope.
It's a funny thing living aboard ship. You start off as mere acquaintances. The life is free and easy. Everyone is everyone's friend. Then personalities begin to come in. Some people begin to become good friends, some remain friendly acquaintances, a few you try to avoid as much as convenient. But then a third stage of tension starts. Little traits of character assume undue importance. Some men gripe at everything. Others grow into themself. It's not too pleasant.
Long close association with only the same men–men with totally different backgrounds. A monotonous routine of work. No women. That's the situation at sea. In port–too much liquor not enough sleep. Emphasis on differences in a more varied environment.
I hope when we get back to sea it will ease up–I think it will. Meanwhile, I don't mean to imply that we go about with drawn knives or anything like that. It's just that everyone has a gripe against almost everyone else. My chief gripe is the excess of griping. I'm governed more by reason than emotion and though I can find plenty of faults in my fellow passengers I see nothing to be gained by airing them. We're all in this, and stuck with each other's company, so why not try to make the best of it?
Page t-37 (missing). It was already missing when PG collected the retyped version of these letters, I think around 1990. – ed.
Monday, July 31, 1944
Weather is an amazing quantity. The human body can survive over such a wide range of temperature–and yet is so sensitive to a few degrees change. The weather here is hot. Just how many degrees I don't know. But it is hot. And yet it could be so much worse. For the night's at least cool. But in the daytime work and thought are each made more difficult by the heat. Any activity at all brings perspiration in profusion, and even to sit in the focsle is to sweat. That is my only explanation of my failure to write more since we have been in Arzew. I have had an infinite amount of free time–but its very quantity has made it easier to squander. When one has but one hour free in the day, one plans what to do in the hour. But when one has 10 hours one always figures there's plenty of time later. And with you so far away, dear, it is easy anyhow to slip back into a drifting life. But I am so grateful that you are there for me to come back to. For I will do nothing that I will not tell you about–and knowing that helps me to do only those things I really want to. For instance I really want to write. I have several reasons. I want to tell you and all my friends (but especially you) about this new life I'm leading. Also, I want to keep my mind alive. It is difficult aboard ship. Les and Bill are the only men I've found so far to share my thoughts with and that's not enough. To really crystallize my thinking I need an intelligent and sympathetic critic such as yourself. And the next best thing is to write my thoughts down. But perhaps the most important reason is to help you know me. I can't see it, but I'm probably changing here at sea (you're probably changing too, but not as much since I thoroughly know your environment). And if I try to put down from day to day what my life is like, internal and external, it will help you to recognize me when I get back. Also, when I'm gone again, you can have a better picture of my life.
I'm finally working out a letter system. I have been very guilty of not mailing letters to you. I have written a great deal–much too much to send through the mails. And rather than recopy parts of it I have just let the matter slide. But now I shall try and write letters more often when here in port. And when I fill up an envelope I'll return to my big letter which I'll bring home.
The weather here is somewhat stifling. If my letters seem something less than inspired blame it on the heat rather than any diminishing ardor on my part.
You asked me in one letter was there anything I wanted you to get for me. My wants are simple, but I would like another thin lead automatic pencil like you once gave me. With lots of leads. Also, find if you can, an inexpensive pocket atlas and get 2 copies exactly alike. I'll explain all when I get home.
Bill and I go swimming almost every day. There are two breakwaters within easy distance of the ship. On the nearer one there's a diving board and still water–by the other there's a small beach where a moderate-sized surf comes rolling in. On beyond that are all sorts of interesting rock formations. Les and I went exploring one day last week. The breakwaters make ideal sun bath locations. The water is very clear and just the right temperature. Since there are no women there you'll be surprised by where your husband has a little sun tan!
Yesterday evening Bill and I and Mr. Metzget, the third assistant engineer walked up a steep hill right opposite the dock to an old French foreign legion fort. It's quite a climb. We walked up 100 steps, then about twice the distance up the steep hill, then another 40 steps. And then it was still a 5-minute walk up rising ground to the fort. But there was a cool breeze atop the hill, and once we had reached the fort we were able to purchase glasses of cold beer for 2½ francs. Rarely has beer been more appreciated. We were shown around the fort although there really wasn't really much to see. It was surrounded by a dried up moat where they kept pigs and peacocks! Mules and rabbits were the other livestock residents of the fort. Besides the soldiers, of course.
We were shown the jail. A small concrete room with little light or ventilation. On our way out Bill wanted to see what it was really like so he went in and we bolted the door. As we were opening it up a French soldier came by and tried to stop us. Fortunately we got Bill out before he could. He thought someone was really locked in there and we were helping him escape. We certainly seemed to get mixed up in escapings!
I read Somerset Maugham's British Agent this afternoon. Sometime I'll have to read one of his novels, although I don't expect to like it. This was sort of a cross between a novel and short stories. A series of episodes about one man in the secret service. Some were good–some not. I thought that there was material for about 4 good short stories in the book and the rest was just trimming. But his short stories really do intrigue me. I jump at one any time I get a chance. He handles the macabre so skillfully.
I've also been wasting time reading several bad to worse mysteries, etc. One conclusion I've reached. That is, that plot is one of the least important parts of a book. For instance, I read one war story–Without Orders. The hero there is taken prisoner in Italy (when she was still fighting us). He is smuggled into an insane asylum by friends of the Allies and released with another man's identity. In bare plot that's as ingenious a scheme as Assignment in Brittany. But the story is only third rate. I'm not literary enough to put my finger on why, but it falls so far short. The same with mysteries. Some of the worst have very ingenious plots. It's a hell of a way to spend all my time, but honestly it's too hot to do much else.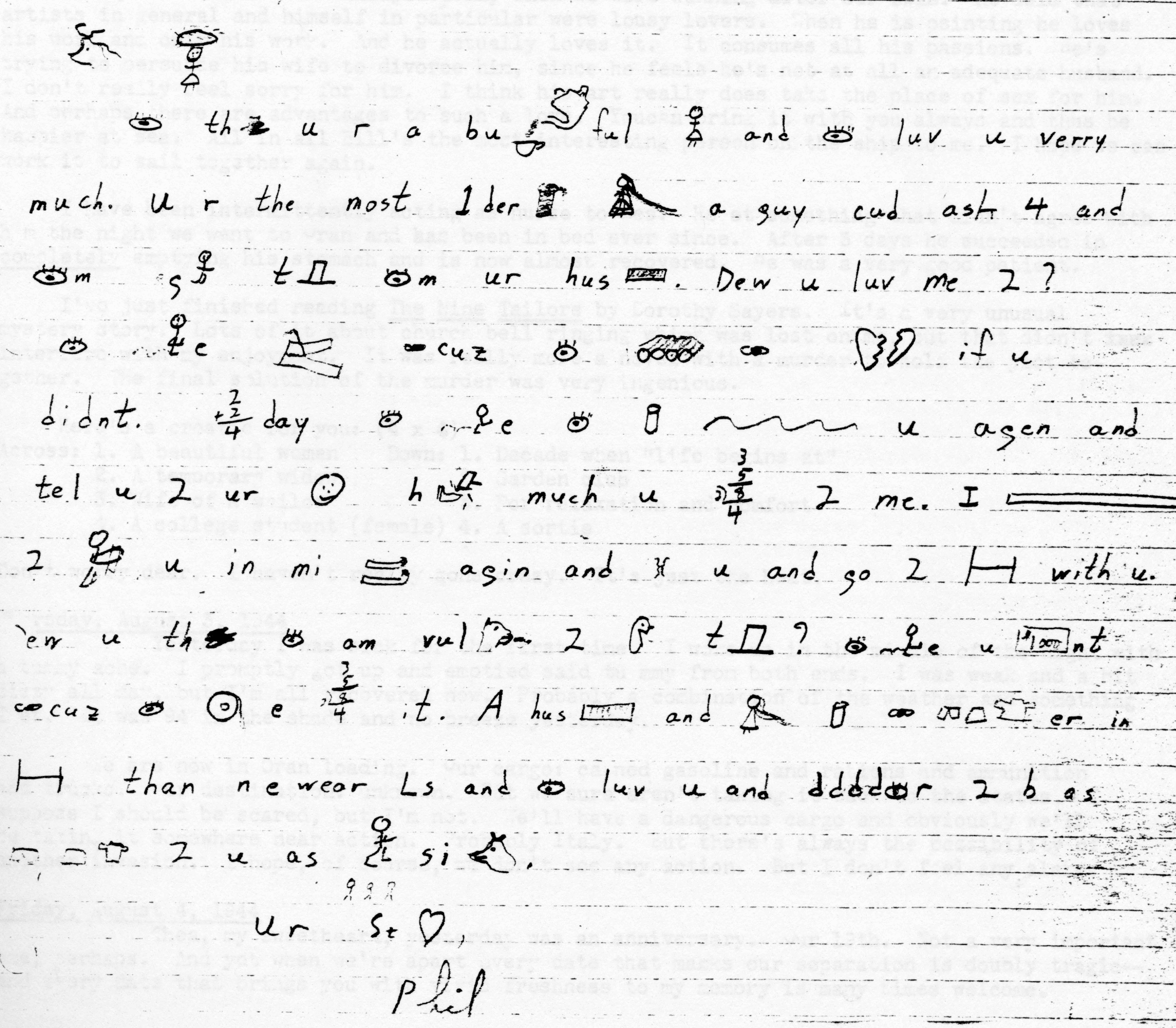 Tuesday, August 1, 1944
All sorts of things went on here last night. I slept through it all, but I heard about it in the morning. The first disturbance was when the ship beside us blew her top. Or blew something, anyhow. A great cloud of sooty particles rose from her stack and descended like a Stygian snow upon our decks. They were a mess this morning. We cleaned it up as best we could, but lots of it was tracked all over the ship.
The second incident was the captain and Sparks. As near as I can piece it together both were pretty drunk, and they got into an argument over a bottle. I don't know which came first, but Sparks told the captain that he could take care of the radio shack (I don't know why it's called a shack–it's really a room like anything else) and the captain handcuffed Sparks. I got most of this information from Bill. He was on watch when Sparks came down with the handcuffs on and sat on the hatch smoking a cigarette. I've no idea what the outcome was. I haven't seen Sparks all day, but that doesn't prove anything.
And the companionway was cluttered with assorted drunks from our own and neighboring ships. As I said, I slept through it all, but apparently I was the only one aboard who did.
Had quite a talk with Bill yesterday when we were running after our swim. He said that artists in general and himself in particular were lousy lovers. When he is painting he loves his work and only his work. And he actually loves it. It consumes all his passions. He's trying to persuade his wife to divorce him, since he feels he's not at all an adequate husband. And perhaps there are advantages to such a love. You can bring it with you always and thus be happier at sea. All in all Bill's the most interesting person on the ship to me. I hope we can work it to sail together again.
I have been intermittently acting as nurse to Les. He et something that didn't agree with him the night we went to Oran and has been in bed ever since. After 3 days he succeeded in completely emptying his stomach and is now almost recovered. He was a very good patient.
I've just finished reading The Nine Tailors by Dorothy Sayers. It's a very unusual mystery story. Lots of it about church bell ringing which was lost on me, but that didn't interfere with my enjoyment. It was really more a novel with a murder to hold the plot together. The final solution of the murder was very ingenious.
Here's an acrostic for you: (4 x 4)
Across:

A beautiful woman
A temporary widow
Wife of a sailor
A college student (female)

Down:

Decade when "life begins at"
Garden club
For relaxation and comfort
A sortie
Don't worry dear. I haven't really gone crazy. It's just the heat.
Thursday, August 3, 1944
Yesterday I was sick for the first time. I woke up in the middle of the night with a tummy ache. I promptly got up and emptied said tummy from both ends. I was weak and a bit dizzy all day, but I'm all recovered now. Probably a combination of the weather and something I et. It was 94 in the shade and no breeze yesterday.
We are now in Oran loading. Our cargo: canned gasoline and rations and ammunition and trucks. Our destination: unknown. But we sure aren't taking it back to the states. I suppose I should be scared, but I'm not. We'll have a dangerous cargo and obviously we'll be taking it somewhere near action. Probably Italy. But there's always the possibility of another invasion. I hope, of course, we don't see any action. But I don't feel any alarm.
Friday, August 4, 1944
Thea, my sweetheart, yesterday was an anniversary. Our 19th. Not a very important one, perhaps. And yet when we're apart every date that marks our separation is doubly tragic–and every date that brings you with vivid freshness to my memory is many times welcome.
I tried to write last night, but I couldn't. I felt too lousy. Part of it was probably physical. It's been beastly hot and I had a little tummy upset a couple of nights back (but I'm all recovered). And part of it was having too much free time. You know how it is. If you have one hour a day to yourself you make good use of–if you have six you waste them all. And I'd been having lots. Where we were we hadn't broken watches which meant I worked 4 hours in the morning and sat on deck 90 minutes in the evening. The rest of the time was free with nothing to do but sleep, read, write, or swim. And all made more difficult by the oppressive heat.
And then a final factor was discouragement. Not with the physical progress of the war, but with the things I think worth fighting for. I can't say much here because of that censorship clause about "morals." But you know my views on general tolerance and on the chances of enduring peace, etc. I don't mind being in a minority, but sometimes being in such a small, hopeless minority to an utterly unreasoning majority gets me down.
However, I'm all out of my depression now. It's another day. I spent most of yesterday evening talking with Les and getting what I could off my chest. He and Bill feel somewhat the way I do and we are fortunate for each other. Well, enough said.
We are now in the Port of Oran, Algeria, loading. What we are loading I cannot say and where we are going I do not know. Which is not a very complete catalogue, but–c'est la guerre.
I'm now on gangway watch, which is even more of a farce here than before. All it means is that I have to be somewhere approximately on deck 8 hours a day. The only disadvantage is that we have to stand it on our regular watch which means I'm in every evening. But I can get ashore every afternoon which is worth more.
This afternoon I actually saw an American movie: See Here Private Hargrove. And it was thoroughly wonderful. The early army scenes I thought were laid on a bit sticky. But the humor was just right. It was funny, but never slap stick. And the love affair. Gee, darling, but I thought of you. The way he walked away after his first date with her with his feet on the breeze and his head in the clouds was exactly the way I walked away from Willett house many a night. Remember? I left the movie with a song in my heart for my thoughts were of you, Thea.
Monday, August 7, 1944
I feel good today. I've been working. Yesterday we worked from 8 AM to 9 PM with time out for meals, and then I stayed on watch until 12. We were re-rigging the jumbo booms. At the end of the day I was really dirty and tired. But I'd eaten more dinner than for weeks and I really slept good at night. After all the loafing of just standing watch it really felt good to work hard for a change.
Saturday I went to town again. Didn't do much though. Just window shopping and another movie: Street of Chance with Burgess Meredith. It's above average but nothing terrific. The idea is ingenious (I'd read the book–The Black Curtain–before) but not too well carried out in detail.
I read some G.K. Chesterton Father Brown mysteries the other day. They're quite amusing although they're not mysteries in the same sense that modern detective stories are.
Our animal kingdom aboard is considerably enlarged. I believe I told you about Blackie, didn't I? And we also have a rabbit and a cat. Blackie and the rabbit ignore each other for the most part.
But the interesting additions are 2 monkeys. Purchased entirely independently by 2 different crew members for 60 and 100 dollars. The first is a red male and the more expensive (as usual!) a grey female. They're small and lively, although I don't know their particular species.
Red came aboard first. The messman who delivered him was very drunk and it was comical to see them swearing at each other–at least I assume the squawks emitted by the monkey were meant as cuss words. Red started off quite friendly. He would ride on anyone's shoulder willingly. But since he was filthy and no telling what he transported in the way of bugs, I kept clear. So many people teasing him have altered his disposition a bit however. Now he swears at all who come near.
Grey came aboard a couple of hours later in the custody of a sober but exceedingly unintelligent Navy boy. She was better looking, but not quite as lively. However, they were cute together. If anyone teased Grey, Red would spring to her defense. With typical sailor delicacy and reticence the boys tried to encourage another generation of monkeys, but so far they haven't gotten to first base.
However, I don't think we'll have them long. I understand the captain has commanded the owners to leave their pets behind when we leave. And a good thing to my mind. Monkeys are cute for a while but once they get tame they'd be a damn nuisance (show that sentence to an English teacher!).
No telling when I can see you again. The way things look it won't be before our 21st anniversary. Believe me, it can't come too soon. I'm enclosing a bit of native color I found on one of my trips to town. Isn't he handsome!
Tuesday, August 8, 1944
It is now evening, and I have had two tiring days. Yesterday I worked on my watch in the morning, and Les and I went mountain climbing in the afternoon. I don't dare say too much about our mountain or they'll censor it as giving away our position. Suffice it to say that we climbed up rocky paths, roads, and open country. We spent over 2 hours in the ascent, but the view was well worth it. We could see the entire surrounding countryside in spite of the haze. I'd like to be there on a perfectly clear day sometime. Coming down we just scrambled in an almost straight line, and our chronometers showed the elapsed interval to be 30 minutes.
It was too late to go back to the ship for supper, so we took a cute little trolley into town. Our total repast consisted of half a watermelon (each) a piece of delicious but unanalyzable concoction referred to as date-bread, and 3 cold beers. Needless to say this was supplemented when we finally regained the Francis Marion.
If I haven't written more about how much I love you it isn't because I haven't thought about it. It's simply the same old but oh-so-true excuse that even under the most auspicious circumstances words fail me. And ship board is not ideal circumstances. For writing in general one must first combat the distractions of other people, of flies, of heat, of unhandy writing places. All these must be overcome before I can write anything. And how much more difficult to combat them when I write to you–when with every word I want to express such profound thoughts–when every curve of a letter reminds me of your curves. To keep my mind on your charms–on each little detail which is so precious to me. Add to that the general coarseness of the crew in regards to women. My only defense is to withdraw my mind from women. And yet you are a woman and I want to think of you.
My mind is as confused as the above. The flies drove me inside. Now I'm trying to concentrate against a 3-way conversation and music and poker in the next room. And the conversation is about women. Fooey!
But I do love you Thea. Desperately. I cling to your love when I am blue as a hope for the future. And I glory in it when I am happy and regret always that you cannot share my happiness. All my actions I judge by you. I have done things I am ashamed of, but I do nothing I will not tell you. And knowing that I will tell you everything–not because it is my duty but because I want to share every particle of my life with you–helps me to be strong in the face of temptation.
Sometimes I think–oh if only Thea were here to see what I see–to feel what I feel. Other times it is more a tender memory of the past (and with it a repetition of that memory in the future). It may be a full moon–or a song or a story or a movie–or some chance remark–or only an undeniable feeling within me.
Other times when I feel blue I long for you to comfort me. Then I go to my locker and reread your letters. And you are with me. Perhaps it's because our life has been so happy, but I miss you most when I am happy. When I am sad, thoughts of you, your pictures, your letters–can cheer me up. But when I am happy the happiness is always missing some little corner because you are so far away.
And sometimes at night there is a totally different kind of missing. Then I long for your presence most of all. My surroundings are forgotten. I am not happy nor am I sad. I am just incomplete. In fact that word sums up my life on ship board. It is a good life on the whole. But any life I lead without you is incomplete.
But thinking of you helps to counterbalance it. When my thoughts are only of you, then I can feel more complete. Or rather I feel a different kind of incompleteness. For only when my thoughts and actions can both be with you can I be entire.
Light of my life
Disturber of my desires
My woman, my wife
Feeder of my fires
Divine in my dreams
Heaven in my heart
Sweeter it seems
Though pulled far apart
Wednesday, August 9, 1944
Yesterday I was blue, today I am gay,
All my poor troubles are taken away.
I was sad, I was lonesome, and sick in my mind–
Today I have left all that sickness behind.
For two weeks before no mail did arrive–
I was nervous and cranky and hardly alive
But today came a long one–5 V-mails as well
So now, dearest wife, I'm as happy as hell!
All of which may not be poetry, but who cares. It wasn't your fault about the mail. They're all postmarked different dates and I carefully read them in order. No one on the ship had had any mail since July 27, so mine was not the only happy face aboard ship. The mail arrived at coffee time–10 AM. I couldn't wait. While the coffee-drinkers coffee-drinked, I ran to my focsle and read. Tears filled my eyes and a lump and a song competed in my throat. Remember the air from "Mr. Lucky"–"Oh, Give Me Something to Remember You By"….
I went back to work with a new spirit. The sun was shining more brightly–even the flies were less annoying. Wheeeeeeeeeeeeee-e-e-e-e-e. Then we finished work and I showered and shaved, just as though I were going on a date. That's really the way I felt. And feel. I'm on a date now. Together we are riding up to town on the funny little trolley. Look back and see the ship. How far away it is. Now we get off in the middle of town. Let's have a beer. There's a nice place right here where we can sit and watch the passing scene. Here comes a kid selling souvenirs. Want any? Wait until we get back and I show you some I bought last week. That beer isn't bad, is it? Some pretty girls passing by now. But they're ugly compared to you. And such a variety of costumes. Say, here come Les and Bill. "Thea, meet my roommate, Les, and Bill, the other Sheepshead O.S.–Boys, this is my wife, Thea." They didn't stay. I'm glad, 'cause this is my date with you. Want another beer? No? Let's walk around and see the town. There's the Red Cross canteen. We can come back here and listen to some classical music later if you want. And you can explain it all to me. Up this way is the square where I had my picture taken. Didn't I look ferocious with my mustache? But you like me better without it, don't you? Here's some native ice cream. Rather good, isn't it? There's a little bar down this street where we can dance to an accordion. And listen to the girl sing "Shoo Shoo Bebi." See, it's been a long time since we've danced together. And isn't it wonderful.
"Imagination, it's thrilling!"
Really I'm sitting here on my bunk with nothing on but my pipe. The focsle is quiet. Everyone else is working. I'm surrounded by your letters. And by thoughts of you, my wife.
Seaman's Institute has our bank book. It was at Sheepshead Bay and in the rush I forgot to get it. You can probably pick it up if you want, or you can leave it until I get back. It's probably as good a place as any.
Did the baby ever figure me out? I hope we won't have any confusion like that with our own.
I can't tell you how happy I am that you and Mother get along so well. You're both such swell women. I would write more to her only I want to spend all my time writing to you.
It's also nice to know you're making friends so easily. Especially girl-friends!
What is euphoria?
How comes the sunburn? I am all different shades because of the various costumes I wear. All the way from nothing on up.
Sweetheart, I shall teach you willingly all that I know. But some of it isn't nice. But when I think of you I forget all the parts that are not nice and remember only the heavenly things. Never shall I forget the enormous red sunsets from the crows nest. Nor the full moon rising unbelievably from the sea. But mostly it is the music in my heart and the dancing in my feet and the throbbing in my soul. Mostly it is love.
So you want to write about pragmatism? In fact by the time you get this you will have written about pragmatism. So that any thoughts I have will come too late to affect your paper.
You say you are bored by Descartes and other philosophers. That is unfortunate. One's own thoughts can be complete only in proportion to the other thoughts which have passed through one's mind. I agree with you about the absurdity of many arguments. I can illustrate with two beautiful examples proving opposite things about God:
God is perfect (by definition)
To exist is more perfect that to not exist
Therefore, God exists.
God can do anything (by definition)
Therefore God can build a stone too heavy for him to lift
But God can lift any stone
Reductio ad absurdum
and so on.
However, to be a pragmatist one must understand the other philosophies. This is desirable in any philosophy, but it is a necessity in pragmatism. For no matter how convinced you are of the fallacies of the other systems, you must realize that other people do believe in them. Therefore, pragmatically, they have a certain amount of truth.
From another viewpoint, pragmatism is not a complete philosophy. It is only a manner of approach to philosophy. Pragmatism is the yard stick by which one can evaluate other philosophies. To say "I am a materialist" or, "I am an idealist" has a definite meaning. To say, "I am a pragmatist" has limited meaning until one adds "I believe in…." Pragmatism is unique in that it allows for individual variation.
Philosophy in general can serve 3 purposes. The first, and all too common, is as an intellectual exercise. Philosophy should be this, but it should be more.
The second is as an aid to understanding. Philosophy is the all-inclusive science. The learnings of all sciences–of all knowledge–of all beliefs–all these are a part of philosophy. It is philosophy which can cement into a whole the microscope observations of the chemist and the imagination of the artist. It is philosophy which can go beyond an exact science and speculate on the origin of life, or on the nature of the universe.
The final use is as a guide to the future. If we have any hand in determining our future, philosophy must tell us which way to direct our energies. "If you don't know where you are going, any road will take you there." Philosophy or religion, which is really a particular philosophy, is the only guide to where you want to go. The word is underlined, because philosophy gives no assurances on where you will go. Philosophy is like a compass. It does not steer a ship, it merely enables you to steer it. A compass will not take me home, but it will help me as soon as I have used logic to figure out the right way to use it.
It is this third use that is the most important. And it is here that so many philosophies fall down. The materialist philosophy is backed by almost unassailable proof, but carried to its logical conclusion it offers nothing at all for the future. With the complete denial of free will I can't see any basis for planning a life. Nietzsche is one of the few men who seems to have followed it to its conclusion and made something from it–although what I can't quite make out what. But most advocates try to tack on some sort of what I call "moral motivation" and succeed only in making themselves foolish.
A non-thinking person, of course, has no difficulty disregarding the proofs of materialism and it is on such a basis that most religions are founded. The necessary beginning for any religion is faith in something beyond the individual human, and I would define faith as a belief unsupported by logic.
For myself, I cannot believe. My mind is by nature too logical. So I am placed on the familiar thorns of a dilemma. I am led logically to a conclusion that I cannot admit.
Pragmatism offers a possible solution to this. For I can follow my logic to the point where there is no free will, and then argue that in order for me to live I must believe in free will. Therefore I admit that materialism and predeterminism may be the basis of some true reality, but that in terms of my life such true reality is meaningless. And to me, my life is more important than a hypothetical reality.
Another case is the composition of matter. Science tells us that all matter is just a mass of electricity. But when I sit on a chair it holds me up just as if it were solid. So that for purposes of sitting I can treat it as solid matter and the chances are I shall never be disappointed.
All of this is really introduction to establishing a philosophy of life. It is merely an argument in defense of the existence of such a philosophy. The great majority of people will regard such an argument as foolish and unnecessary. But to me it is vitally important. If I do not establish it I cannot be satisfied with the foundation of any philosophy I may build. And not being satisfied with the foundation I cannot be satisfied with the result.
What then, are the elements of a pragmatic philosophy? Basically, I demand two things. It must be consistent with experience, and it must be internally logical. The best way to develop it is to start with basic assumptions which appear to agree with experience and to follow these assumptions to logical conclusions. If the conclusions do not agree with each other or with experience, then the assumptions must be changed (assuming the logic is not at fault). One thing that a pragmatic philosophy does not have to be, and that is complete. It must cover all topics which are important to the individual developing the philosophy. But it does not, indeed often it cannot, include everything else. And as things change in the life of the individual, the philosophy must change, or expand with it. A pragmatic philosophy cannot be a static one.
And with that I shall leave the subject. But I will be more than interested to know what conclusions you are reaching. There is material for much discussion in the field of philosophy.
I hate to think of you staggering off to the big city at 1:30 AM. For that's the time in New York when I'm being called for my morning watch! Or did you forget the difference in time? I often think of it. When I get up in the morning you are in the best part of your night's sleep. And shortly after I get up from the dinner table you sleepily roll out of bed. And while I'm eating supper you're in the middle of your morning's study. While you're working beneath the hot sun on the farm I'm watching the moon rise on my lookout. And you don't sit down to supper until after I'm sound asleep for the night. Interesting, is it not?
I wish you'd send me copies of the pictures. I'm pretty sure it's legal, but you can check with the P.O.
Of course you may give to the blood bank darling. I only wish I were there to hold your hand. Did you ever investigate that Chinese blood bank?
We all made out applications for a state absentee voting ballot. I don't know whether anything will come of it, or not. I hope so.
I also am reading parts of the Bible. I skipped many of the early books, because they're so much easier to read in the Simon and Shuster edition, but I've read a good deal of the later ones. Tell Dad I'm very glad he let me take his Bible. The print is easy to read and that makes a big difference.
My chief impression of the Old Testament so far is its bloodthirstiness. I don't particularly like their God, and David is the first man to strike a responsive chord in my heart. Their God seems to treat the people as a spoiled parent does his children. They've got to trust in him and do just as he says, without reason or he bops off a mess of them. And sometimes he bops them just on general principles to see if they'll still trust him. I hope it'll get better as it goes along.
I'm getting to be more of a seaman every day. We topped booms again recently and I'm pretty sure I could direct it myself now. Let's see how well I can explain it on paper:
A boom is a long cylindrical bar, based in a gooseneck which allows it to move up and down and also in a circle. From the head of the boom are various lines used to put and hold it in place. The topping lift runs through a fairlead on the top of the mast, down the mast, and through another fairlead to the winch. It is a wire cable and controls the up and down movement of the boom. By winding it on the winch the boom is pulled closer to the mast, and thus more upright. By unwinding it the boom falls of its own weight to a more horizontal position. It is wound up or slacked off on the niggerhead (a round drum which works with the winch) and is then secured by a chain.
Running parallel to it is the cargo runner. The runner, however, is not secured to the head of the boom, but passes through a block and down to the deck. Once the boom is in place the runner is the only movable part. When in use there are always two booms. One is set over the hatch, and one over the side of the ship. To load cargo, both runners are shackled to the cargo hook. The inboard runner is slack and thus the hook hangs straight down over the side of the ship. The cargo is hooked up and the outboard runner pulled up until the cargo is above the level of the ship. Then the inboard runner is pulled up and the outboard slowly slacked off until the cargo hangs over the hold supported only by the inboard boom. And finally the inboard runner is lowered (the outboard remaining slack) until the cargo is in the hold.
The booms are each supported by two guys which keep them from swinging back and forth. Each guy is of rope with a 3 to 1 mechanical advantage so that the boom can be set by hand. There is also a preventer guy of cable on the side which gets the most strain in case the guy should break.
To top the boom means to secure it in an upright position to the mast. The first step is to be sure one guy is on either side of the ship (sometimes in using them they may be anywhere). Next step is to take the cargo end of the cargo runner and shackle it to the top of the mast. The runner is then wound up on the winch which pulls the boom into the mast with a 2 to 1 advantage. (The topping lift could be used for this, but when the boom is almost vertical it might be too much of a strain on it). Meanwhile one person is at each guy (the preventer guy has been cast loose and just drags along the deck) slacking off evenly so the boom will go in where it's wanted. Two men are on top of the mast (on the crosstree to be exact, which are is plenty wide to stand on) waiting for the boom. When it is pulled in they secure a band around it which holds it in place.
Then the guys are unshackled and brought in parallel to the boom where they will be out of the way. They are secured there and the remaining line hung up out of the way. The preventer guy is wound around a pleat, and the topping lift likewise. All of which takes a lot more time to do than to tell about. All clear to you, sweetheart?
The jumbo booms are quite a different story. They are much bigger and stronger, and are used singly like a derrick. The runner and topping lift are each connected directly to a winch and are each cable with a 5-fold (10 to 1) advantage. The guys are line with a 5 to 1 advantage, and are led to niggerheads by means of fairleads. It takes at least 5 men to operate the jumbo and it's used only for extra heavy loads. Some docks have their own heavy shore derricks and they are used instead whenever possible.
Chips said to send you his love, and when I said I wouldn't he said to send you his sincere regards. Here they are.
I have been enjoying the luxury of cigars recently. There were none in the slop chest all trip, but we finally got some here. So sometimes after supper I lie up on my bunk and read and smoke with a beatific smile of contentment on my face. P.S. A box of same would be a wonderful going away present for my next trip!
All sorts of things happen at night on this ship. But always on Bill's watch (12-4). So I only hear about them secondhand. The first incident last night was Sparks (he's out of his handcuffs by the way, but doesn't seem to want to talk about it so I don't know the outcome). He was carried aboard by some MPs with the following story:
He was walking peaceful along late in the evening when an Arab attacked him. He put that Arab away with his fist, but about six more jumped him and they were too much for him. First they knocked him down a steep hill. But for the fact that he used to be a tumbler he would have broken several bones. As it was he reached the bottom not badly hurt, but so did the Arabs. Next thing he knew MPs were fixing him up.
He still looks pretty bad. His face is all cut up and one eye badly blacked. But he's up and around.
As I said, that's his story. Knowing however, his contempt for foreigners and his violent temper especially when tight, I retain some doubt in my mind as to who hit first.
Sparks had an episode in Bari I forgot to relate. He and a Navy boy and a couple of army lads stationed there were in a cafÉ where there was an accordionist (or whatever you call the one who plays the accordion). The navy boy had played an accordion professionally in the states, so soon he was entertaining. It was a good instrument, and Sparks told him to make a run with it and he'd hold off the crowd. He did and Sparks held them off for 10 minutes and made his own escape just as the MPs arrived. Meanwhile Navy had hired a horse cab and he picked Sparks up. But they got mixed up in direction and drove back near the cafÉ and were apprehended.
But the worst part of the story is that the MPs pretended to believe their story about having bought it. They made them give it back, of course, but told them "they'd try and get their money back." A fine example of Allied justice! And Sparks' only regret was that they were caught.
And the funny thing is that he's a likable fellow aboard ship.
A couple of days ago Bill told us about a fight aboard ship. The little Puerto Rican called Poncho and one of the Navy boys were slugging it out just like a cheap western movie. All over the messroom. Lots of blood. Footprints on the wall. Finally they were separated and the mess cleaned up.
A few nights previously Poncho had narrowly missed another fireman with a hurled ice pick. Nice fellow!
But such happenings are really rare. And they all seem to happen after I'm safely tucked in bed. The most recent episode is not bloody although it could well have been.
It seems they were raising up the boom and somehow got their signals mixed. For they took the topping lift off the niggerhead before they had shackled the chain which was to hold it. The result is elementary. But aside from wrenching the boom and denting a ventilator no damage was done.
It did, however, provide us with some work in the morning. The boom had been replaced with a new one by the time we were on deck, but we had to rig it from scratch. It involved quite a lot of work, but it all comes under the heading of good experience. So far all our excitement has been of a peace time nature. I hope it continues that way!
Let me tell you more about the fort we visited. It was really an impressive affair. Made of thick stone and situated on a hill 1800 feet above the harbour just below. There were just a couple of soldiers guarding it and one of them showed us around. Or rather he followed us around and every once in a while said no when we started to explore something.
It's about 5 stories high, but that was nothing after the mountain, so we ascended to the tip top observation platform. The last lap was up a short rickety flight of steps held in place by a couple of rusty nails. We could see far out to sea despite the haze. Beneath us lay the city. Off to one side we could see a lake or reservoir and on the southern horizon was the beginning of the Sahara desert.
Then we went through part of the fort. It's full of tunnels, parts of which are pitch black and we had to light matches as we climbed down stone steps, our hands against the moist rock walls and our "guide" stoutly bringing up the rear! Quite an experience.
Thursday, August 10, 1944
I'm in the middle of a most exciting book. The Robe by Lloyd C. Douglas. I'd seen it on the best-seller lists, of course, but I had no idea what it was about. So when I found a copy on the ship I just started it idly for something to read. But now I'm hard put to lay it down and write. Have you read it?
The Robe is the garment Jesus wore when he was crucified. The Bible states that the Roman soldiers gambled for its possession but its true history beyond that point is unknown. The story is the story of the soldier who won, and how it affected him. But it is also the story of Jesus. It is told simply and sincerely and gives a picture of a man who was more than a man.
I wrote yesterday that only non-thinking people could be satisfied with religion. But as I read this story I wonder if perhaps non-thinking in that respect is not a higher thing than thinking. The scene of Jesus on the cross calling to God to forgive his crucifiers. The description of the sad lonesome look on his face when the multitude try to make him the Messiah: "The meditative eyes…seemed to carry a sort of wistful compassion for these helpless victims of an aggression for which they thought he had a remedy…The eyes calmly appraised Demetrius…in some indefinable manner they held Demetrius in a grip so firm it was almost a physical compulsion. The message they communicated was something other than sympathy, something more vital than friendly concern; a sort of stabilizing power that swept away all such negations as slavery, poverty…"
It's beautiful writing, but it's more than that. It's a description of a beautiful scene. Of a beautiful person.
The miracles, the resurrection all play a part in the book as they do in the Bible. I don't believe them to be literally true, but what difference does it make. People believed in them–that is the important thing. And I think Douglas hints at how they could be explained on a psychological basis. He very skillfully doesn't commit himself one way or the other.
G.K. Chesterton said, "Christianity has not been tried and found wanting; it has been found difficult and not tried." There is much truth in that.
I don't know where this all leads. I cannot be a Christian (in the true sense of the word). I am too bound by myself to be one wholeheartedly. And I am too honest with myself to pretend to believe. Do I want to believe? I don't know. There is a certain inner peace and contentment to be gained. But is that peace real? Is it not a negation of life? After all, the ultimate peace is death. But in death we are not conscious of our achieved peace. Would belief be different? It probably would. But could it last? Would not a continuation of peace be boredom? The happy moments of my life are so by contrast. It is variety, different kinds of happiness, and even of sadness, that makes my life so worth living.
It's late now, and I've just finished reading the book. Darling you must read it. It's a book I want us to own. Please buy a copy as a present from me.
I won't tell you any more about it now. I want you to read it yourself and see if you agree with me. Whenever I experience anything beautiful I love you more than ever, Thea.
Friday, August 11, 1944
Yes, darling, The Robe is really quite a book. I got interested in the subject and read a bit from the New Testament last night, but the picture of Jesus wasn't nearly as inspiring. There's something in the way Douglas writes about it that makes it all seem more personal. You not only feel the reality of Jesus, but you feel the reality of the people around him. In comparison, the Bible is just a dry history.
But the most inspiring part to my mind is Marcellus' experience among the Arpian melon growers. The way he puts Jesus' precepts to work and they do work! I know, it's just a story. But it's encouraging that such a story can be written.
There is, however, one serious question in my mind. And that is the assumption that "one need not worry–for everything–will come out–all right." Because if one really believes that, much of the force behind moral living is gone. If I believe that no matter what my actions are everything will come out all right, what motivation do I have for right living? Of course, if I believe in an individual heaven and hell, that's a different story. But I don't. Therefore the only conclusion about my own actions would be that they might hasten or delay the establishment of a better life on earth, the better life is coming anyhow, so it's not really very important.
However, if I believe that man is capable of achieving a better life, but there is no assurance that he ever will, then I am on my mettle. For it is then conceivable that my actions would be the difference.
When Demetrius and Marcellus are first becoming interested in Jewish history, the slave brings up some interesting objections to the 10 commandments:
"'But, sir, they are so unfair! Thou shalt not steal. Very good, but there is no commandment enjoining the man of property to deal generously with the poor, so they would have no wish to steal. Thou shalt not covet! Good advice; no doubt. But is it fair to tell the poor man he mustn't be envious of the rich man's goods–and then forget to admonish the rich man that he mustn't be so selfish?'"
At another point Demetrius interprets the hope of progress the same way I do: "'No, he [Jesus] expects to come into power another way; not by demoting the Emperor, but by inspiring the people. His rule will not begin at the top. It will begin at the bottom–with the common people.'"
And on the next page he says something about the faith in Jesus which also applies to a belief in pragmatism: "'This faith is not like a deed to a house in which one may live with full rights of possession. It is more like a kit of tools with which a man may build him a house. The tools will be worth just what he does with them. When he lays them down they will have no value until he takes them up again.'"
Well, enough of such philosophizing. I don't really believe much, if any different than I did before, but it just made me feel good to read about it.
Yesterday Bill and I visited a Mohammedan church. We weren't allowed to go in the Mosque itself, but we did look in. Its basic difference from a Christian Church was its shape. Where the Christian idea is a high narrow edifice, this mosque was very large but not terribly high. It was quite elaborate. Beautiful mosaic patterns all around. The floor was covered with overlapping Oriental rugs. Countless chandeliers hanging from the ceiling. The Muslims have to take off their shoes and wash their feet before entering. And then they pray. It looks more like a prolonged setting up exercise, so I'm sure prayer does their bodies good, whatever the effect on their souls.
However, we were guided up the Minaret. It's nothing but a straight high tower. Steps winding around the edge and a solid pillar in the middle. The walls are very thick and there are slits for firing through on every side. We circumambulated the pillar 7 times in climbing a total of 145 steps. But it was well worth it when we came out on the platform on top and saw the city stretched beneath us. Really quite a view. The minaret was built in 299 Moslem time. That's 921 A.D. And of course on the walls were carved initials and even a couple of naked women! Oh civilization–ye have made great progress.
The present conversation in the focsle is hardly the sort that I would write to my wife even if the censor would pass it. So I shall try to ignore it.
One of the participants is a Navy boy–Adam Hyduk (often called Drydock) by name. He seemed to have formed an attachment for Les. He's amazingly ignorant in many aspects which is sometimes annoying, but usually amusing. Les and I are unmerciful in seeing just what we can make him believe.
Tex has a guitar which is always in the focsle and Adam often comes in and plays at it. Although he's been struggling at it all trip never have I heard a more ungodly sound than when he plinks away. The funny part of it is that while he's just mutilating the same chord for an hour he thinks he's making music. We tell him he's playing Bach and he says, "Gee, I didn't think I knew any Bach!" The only way I can keep from going crazy is to tell him I don't like music.
He was one of the bunch who got in trouble with the SPs in Arzew. As a result he was restricted and very remorseful. I just told him I was writing you about him and he said not tell you about that or he wouldn't be my friend anymore. He said just to tell you I met him on the ship and he was a nice guy and things like that. He also said I could tell you he was a musician. (!)
About a week ago he wanted a girl to write to so I gave him Sally Ackerman's address. I hope she isn't too surprised.
Les and I make puns and jokes and they go completely over his head. It's amazing the things he'll believe. We told him the Italian girls can't get venereal diseases because they have a different anatomy. And he thinks our next stop will be an invasion of Switzerland! Every once in a while he fools us by catching on. It's really quite relaxing.
Did you ever read Socrates' advice about marriage? "Every man should marry. If he marries a good wife he will be happy; if he marries a poor one he will become a philosopher–and that is good for any man." So I guess I'm not really a philosopher.
I was really a sight this afternoon. First I worked up a good sweat. Then we had to handle 100-pound bags of flour–which stuck! To make matters still worse we sat down for a coffee-time. And when I tried to get up the sweat-flour combination made it very difficult to stretch! But we soon finished work and I managed to wash it off in the shower.
Got some extra sleep last night. The fellow who went off watch at 8 forgot to call me. I'd gone to bed about 7 for a nap, but the first thing I knew was the mate waking me up at 10:30 wanting to know why I wasn't on the gangway! Needless to say I wasted no more time before getting out there, although it wasn't my fault I hadn't been called.
It's now a bit later and I'm sitting out on the gangway. Or rather on the steps leading to the gangway which make a very good post as no one can possibly come up or down without my knowing it.
I've just been reading some Sam Small stories. They should really be read aloud to be appreciated, but they're still plenty good. It's the same book Dave and Gen had. Remember that wonderful party at their apartment. I feel very grateful to them. Seeing how happy they were helped give me the courage to say, "yes" when you asked me to marry you (Brrrrr).
A lovely phrase that's hid within a book,
The sultry heat that's in a French girl's look,
The yellow moon that shines down from above,
A crooner's voice that drawls out words of love,
The silent myst'ry of a foreign shore,
The seagull who to dizzy heights does soar,
The cool salt breeze that floats in from the sea,
The brilliant sun that goes from me to thee,
The rippling waves that pass beneath our bow,
The taste of something good to eat for chow,
The letters which I read with tearful joy,
The knowledge you're my girl and I'm your boy–
All things which make me happy in this life
Take me to you in spirit, dearest wife.
Saturday, August 12, 1944
It's now 6:45 AM. An ungodly hour to be up. But we are leaving at 7. Or so they say. I'll believe it when we actually cast off our lines. However, we're probably just leaving the dock and will anchor here somewhere. We're fully loaded with cargo, but we've got a place fixed up to carry troops. And as yet, no troops. Rumor has it 'twill be another week or more before we finally set sail. And where for is anyone's guess. Our cargo is gasoline, rations, little equipment, and lots of trucks and cannon, so we can be pretty sure we're not heading back for the states!
(Later) I am enjoying, and I do mean enjoying, a well-earned rest. It seems to be an axiom of the Seas Shipping Company never to do any work on Monday, Tuesday, Wednesday, Thursday, or Friday if it can be done just as well over the weekend. Which of course means beaucoup d'overtime, but interferes sadly with the rest usually associated with the Sabbath and the afternoon preceding. Today, for instance, counting penalty hours at breakfast and supper (if one is not allowed one unbroken hour for each meal one gets an additional hour's worth of overtime) I have 11½ hours overtime plus my regular 4 hour's work this morning.
However, that is over now (except my evening watch which I am on now). I have showered and napped and smoked a seegar. I am filled with an indolent contentment. I am in a mood to read Lucretius, but having no Lucretius, I shall write once more to you, my ever-loving wife.
My mind turning to quite a different subject has composed the following pome. I don't know if our friend the censor will think it a proper document to send to a young lady, even if I could explain to him that the young lady in question is my wife. But I shall make another copy and so if you do not find the aforementioned literary masterpiece I shall bring a copy home to you. I hope it won't shock you unduly.
There was once a young lady named Kitty
Whose face and whose figure were pretty.
She worked in a show
Where the men only go
And there she would shake her big
Shaker of drinks like a lass
Who is noted for plenty of class
She would then turn around
With a gesture profound
And show you she had a bare
Arm which she used in a dance
Which could easily lead to romance
She'd go out with a boy
Who was thirsting for joy
And soon she would take off his
Hat which she did for a stunt
For the boy was exceedingly blunt
They would sit in a car
Which was not driven far
For he soon had his hand in her
Purse. He had plenty of guts
The car had got stuck in some ruts
She by this time
With a touch most sublime
Was playing around with his
Dog, which he loved quite a bit
(They were drinking and he was half lit)
He sat by her side
As though she were his bride
And guzzled a while on her
Bottle which still held some ale
(For he was a thirsty young male)
He spoke in her ear
So that no one could hear
And said that he wanted some
Popcorn which cost but a buck,
Or some lemon drops which he could suck
But she with a smile
Which she'd had all the while
Said, "Really, dear, I'd like to
"Sit here beside you some more.
I know what you brought me here for
Now, don't think it funny
But don't give me money
For really, dear, I'm not a bore."
Sunday, August 13, 1944
It's now the next night, sweetheart. I got involved with a bull session with Les last night and my letter suffered. He was talking about his last trip which was very interesting. His account of the men and officers made me realize that in spite of my complaints I'm pretty lucky to have this for a first ship.
This morning, being Sunday, was spent very quietly for a change. I was quite domestic, in fact. My only regular duty was to clean the heads and the rest of the morning was spent in fixing my shoes, doing my laundry, and repairing the ravages of a caught nail on my shorts.
Of my 3 pair of shoes the heavy ones are too heavy and one of the black pair are the ones that kill my feet in hot weather. Which leaves me, in effect, one pair of shoes. And said pair have unfortunately been trying to develop a schizophrenic personality. To be specific, the sole has shown alarming tendencies to go in a different direction from the rest of the shoe. Now variety is the spice of life, to coin a phrase, but in shoes I sort of like all parts of each shoe to be consistent in their destination. And truth to tell, when I'm wearing them at least, I expect the right and left shoe to remain on friendly terms.
But I am digressing. I first noted this disease a few days out from the states and endeavored to correct it with a few judiciously placed tacks. But the shoe apparently decided it was a case of tacks-ation without representation and I was back where I started. But nothing daunted I repeated the experiment using more tacks. And this time my footwear responded and lived happily for several weeks.
But then came the mountain climbing expedition referred to a while back, and the altitude seemed to go to their heads. At least it went to the heads of the tacks, for at the return from my climb I discovered the sad truth that my shoes were in grave danger of losing their soles. But by treating them very gently I was able to save them. And today I restored the ravages, after giving them time to recover. But the course receiving so many tacks is leaving its effect, and if such adventures continue I fear they will become so hole-ly that their soles will depart for a better land.
Speaking of footwear, did I ever tell you the saga of the slippers? It is a sad story, but a couple of weeks after I last kissed you goodbye my alpergatas finally gave up. Now you know as none other how devoted I was to them and for days I was desperately disconsolate. When the slop chest next opened I bought a pair of "scuffs" which was the nearest I could come to a replacement. They are a concoction with a tarred rope sole covered by canvas, with two crossed straps in front to keep them somewhere near one's feet.
But those straps. They were so situated that four toes on each foot were well protected. But the fifth toe had plenty of reason to cry wee, wee, wee, all the way home. For it stood forth unsheltered between two straps and there received the buffets of an unfriendly world. If it wasn't a pad eye it was a cable and if it wasn't a cable it was a door sill and if it wasn't a door sill it was a…but why weary you with the details of this sad tale. Suffice it to say that soon the organ in question looked more like a tomato than a little toe.
And then the strap broke. The misery of it. With decks too hot to go barefoot and days too hot to go shod more than absolutely necessary! My first free moment I endeavored to repair the damage. And what a job that was. First I couldn't thread the needle. Then the thread broke. Then the needle broke. Finally the job was done.
But I was not yet out of the woods. Two days later the same thing happened on the other scuff. By now I was desperate. I had a whole afternoon to myself. I borrowed a palm and needle and twine from the bosun and did the job right. For I could see that there were two straps on each strap, so my mathematical calculation (2 x 2 x 2 = 2³ = 8) I deduced that if I continued to repair one part at a time my labors would be terrific. Also looking ahead to the not-so-distant future, I could predict that soon the canvas would become detached from the rope sole and since even by breaking needles the best I could do was sew the straps to the canvas I would soon…well, anyway:
I took my materials. I ripped out one of the strap ends and reset it so as to envelope my much abused pinky. And painfully, stitch by stitch, I circumnavigated each sandal and when I was finished strap, canvas, and sole were all connected in a fashion most agreeable to my oversized feet.
But enough of feet. Next comes laundry. I think I told you the system of doing it here, but in case I didn't I'll repeat. First you find a pail or bucket. That in itself is often difficult. However this morning there was one in the gear locker. Next step is to clean said pail since the last person to use it undoubtedly neglected to. Then one fills it almost full of cold water and a generous amount of soap powder. Mix well and add the dirty clothes. So far the procedure is just as you would expect anywhere. But now comes the great improvement.
Circulating in thin pipes with various outlets is live steam. So one takes one's pail of water, soap, and dirty clothes and places one of these outlets inside of the pail and turns on the steam. Thus, in no time at all the water is hot beyond expectations and with the aid of a stick to wops them around a bit the dirt soaks out with little effort on the part of the washer, in this case me.
Of course for those who insist on having their clothes spotlessly white there is a wooden table on the after deck where with soap and brush one may scrub to one's heart's content and really work wonders. Or so they say. I just rinse 'em in the shower and hang 'em up to dry.
As to the pants, the less said, the better. Except that I am definitely not a seamster. However, they stayed together all afternoon!
Have you read the Song of Solomon yet in the Bible? Guess who it reminds me of!
| | |
| --- | --- |
| Here's an easy division problem when you've nothing better to do. I made it up that Monday when I was waiting to be checked out of Sheepshead Bay, but it was too easy to solve, so didn't fully serve the purpose of keeping me out of mischief all the time I was waiting to see people. | |
Puzzle problem: If I am standing over a concrete floor how can I drop an egg 5 feet without breaking it?
Identification problem: Who loves you more than anyone else in the world?