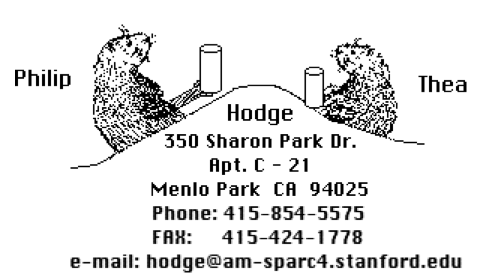 Groundhog Day, 1996
Dear Friends-and-relations,
NOVEMBER
Three quarters of a century! A respectable, nay, a venerable age. One should celebrate the attainment of this milestone by sitting back in a lounge chair and sipping at a mint julep while adoring children, in-laws, and grandchildren crowd around you, seeking pearls of your wisdom. A pretty picture. But not exactly accurate for the day of my sixty-fifteenth birthday. Instead, I was on the roof of my son Phil's new house, deeply involved in ripping off the old asphalt shingles and installing new ones. The new shingles were of two different colors, and Phil had printed out a beautiful 17 x 22 diagram showing which color went where. My job was to keep track of Phil, his new wife Margie, and his three new children, Jason, Lisa, and Eli and see that each of them put the proper color in the proper location. Also, where the pattern called for less than a full tile of three shingles, to make the necessary cut and bring them the desired size. All this to be done before the end of the brief November daylight, with a forecast of rain the next day. We made it, and despite the fact that a mini-tornado two days later sucked out a newly installed ventilator fan, the roof itself had nary a leak. And next time you are flying over Spring City, Tennessee, look down and you can easily identify Phil's house and see how well the pattern came out.
JUNE
"Philip Tully Hodge, you have been my son since the 1950's; Marjorie Theresa Hodge, you have been my daughter since two o'clock. I love you both very much, and I wish you many, many years of happy married life together."
With these words I concluded the official toast at the dinner following Phil and Margie's wedding in Connellsville, Pennsylvania on June 10, 1995. They first met about six years ago. Their relation began with the firm understanding on both sides that they enjoyed each other's company, they would have good times together, neither one would ever get serious about the other. We liked Margie from the start and were pleased (and amused) as their initial agreement was gradually eroded, culminating in June's ceremony.
Said ceremony was impressive and different. Our two daughters had both had outdoor weddings. Sue and David were married by a rabbi in Minneapolis, complete with a chupa (designed and built by Phil). Lisa and Bill were married by a judge in a Japanese garden in California (some years later they had another ceremony in a synagogue, but we were not there). And now Phil and Margie were married by a priest in a Roman Catholic Church, complete with holy water to bless the rings.

Like me, Phil feels no need for any kind of religion, formal or informal. Also like me, he is very much of a pragmatist. This was the kind of marriage ceremony Margie wanted, and he was happy to go along enthusiastically without reservation. He and Margie had talked about religion early on and had decided that the great difference in their beliefs in that area was not important to either of them.
In addition to gaining Margie as a daughter-in-law, we have instantaneously acquired 3 new grandchildren. Jason is 19 and has just joined the Navy; he was still in boot camp from which they don't give leave for anything as trivial as marriage of one's mother. Lisa is a delightful 15 and starting in a new high school next fall; she was charming as the maid of honor. Eli is 13 and remembered the ring and all of his lines as best man. The children, incidentally, are retaining the last name of Kubelick. My son has always been a happy person, but I have never seen him as excited about the future as he is now.
This was the first time in almost a decade that we have been together with all three of our children, so it seems like a good time to bring you up to date on all of our descendants. Our elder daughter Professor Sue Hodge brought her three children to the wedding (her husband Professor David Greenberg is allergic to family gatherings). April and Miriam were both beautiful as ushers and saw to it that no one occupewed the wrong pie and had to be sewn to another sheet. April is 18, a talented artist and cellist and a good driver who will enter Columbia University next fall. Miriam is 15 and in high school; she and Lisa K. both seemed to be pleased to have each other as new cousins. Adam is an intensely vocal young male of 5½. At the reception he raced around with other young children, but every time he careened into an adult he would stop and say "excuse me," before darting off in a different direction.
Our younger daughter, Lisa Hodge Kelly and her husband Bill, came to the wedding, but left their three children at home in Palo Alto. Rebecca is 5 and starts kindergarten this fall, Joshua is three and a half, and Eve is 22 months-going-on-2 years old. Lisa has gone back to work 40% time at NASA-AMES, and Bill has been made a director of Cisco.
FEBRUARY
Who would have thunk it? Here was I, a confirmed, non-practicing agnostic, not only attending church on a Sunday morning, but actually on the podium conducting part of the Service. Me, whose only church attendance in the past 67 years (I did attend a Presbyterian Sunday School before I was old enough to know better), had been at weddings and funerals. How did this come to pass?
I suspect that there is a certain amount of "ham" in all teachers. After I retired in 1991 I found that I didn't miss preparing lectures, I didn't miss grading exams, I didn't miss department meetings, but I did miss "performing" in front of an audience. An obvious outlet for this craving was to get involved with the theater, but I was hesitant because I have no illusions about my ability as an actor. So, last Spring, when Thea told me that the Performing Arts Council at the Unitarian church was interested in expanding from just music to other art forms, I was easily persuaded to attend their next meeting. Several people there seemed interested in getting together regularly to do something theatrical, and various ideas were desultorily suggested, but it looked as if nothing definite was going to happen. Rather than let things die, I said, "Would anyone like to come to my apartment a week from Wednesday, read a play, and discuss what to do next?" And thus was born the UUCPA Thespians.
We meet once a month to sight-read a play and we occasionally put on a few short skits for an audience. Last January we were asked if the Thespians could do something appropriate to help "kick off" the canvass, the annual soliciting of members to pledge large sums to the church. The

first play we had read was Clarence Day's Life with Father and I recalled the hilarious scene where the minister tries to get Father to contribute to the building of a new church, so I agreed. Only after we were committed did I discover that the kick off was not a stand-alone event, but that it would be the regular Sunday service!
So, there I was this morning, sitting with Thea and Karl (a fellow Thespian) in
the front row of folding chairs, wearing a suit and tie for only the second time since we moved, and threatened by Thea with dire consequences if I fell asleep. Fat chance! I am, of course, the last person in the world to be an authority on church services, but Thea tells me that this one was unusual, even for Unitarians. The minister had us on our feet clapping for everybody and everything and chanting responses to rhetorical questions. It only needed a few "Hallelujah's" to be an old-time revival, but, after all, this is Palo Alto! By the time we reached the item labeled Thespians in the Order of Service it seemed perfectly natural to move our chairs and a tea table onto the podium, for Thea to offer Karl a cup of tea and say, "Mr. Day should be here any minute, now," and for me to mount the podium with an aside, "Oh, damn! I forgot he was going to be here." The audience, (excuse me, the congregation) laughed at all the right spots – at Thea and me bickering over whether talking about the price of a pew was just "Dollars and cents" or "Close to blasphemy," – at Karl's trying to recall whether the value of the present church property was "$85,000, or was that $185,000?" – at my closing line to Karl: "I hope God doesn't ask you any questions with numbers in them!" And we got a big round of applause as Thea held up the cardboard sign labeled "CURTAIN".
JULY
Yesterday was the final day of an ElderHostel at the Pioneer Playhouse in Danville Kentucky. For the past week 18 of us seniors had been an intimate part of a non-profit professional theater. We had seen their current production, The Nerd by Larry Shue, at least once (I saw it three times). We saw daily rehearsals of their next play, Tom Jones, and observed the vast improvement from Monday to Friday, but still found it hard to believe that it would be a polished production by next Tuesday.
We heard directors, producers, stage managers, designers, and members of the cast talk about their part in the theater while we interrupted with questions and comments. We ate two meals a day with them; theater people and hostelers randomly scattered at tables for six. We folded programs and passed them out; we took tickets; we wiped rainwater off the seats; we ushed. One night, when it started to rain halfway through the first act, we helped the cast carry props and costumes from the outdoor theater where we had started, through the wet and dark, to the emergency indoor theater where the play continued without a hitch.
Part of each day we split into self-chosen groups to paint scenery, sew costumes, do office work, or prepare a "show". Thea chose to sew. I and 5 other hostelers chose to perform. We did various bits, and ended with three short scenes from Harvey in which I played Elwood P. Dowd.
How can I describe the feeling? Here I was, on a real stage, with real stage lights in my face (and heating my whole body), and knowing that professionals were sitting out front. But I forgot all that. I was Elwood Dowd, explaining to Dr. Sanderson how the Pooka had said to me, "What a coincidence! My name happens to be Harvey." And they applauded. Enthusiastically. And later one of the actresses gave me a hug and said she thought I had done a real good job as Elwood. I don't trouble myself with asking if she really meant it or if this was just another demonstration of her acting skill. I just say to myself, "Wow!"

SEPTEMBER
Luxury. That is the only accurate word to describe it. Every night we had a fabulous meal (i. e. wild boar followed by Sacher Torte with two wines and espresso) and then to our room at the Seven Gables Inn complete with canopied bed, oriental rug on the floor, and real oil paintings on the wall. We are a group of only three couples and two naturalists. Kurt is the boss naturalist from the Nature Conservancy, and Judd is the local expert on sea otters. They were both very well informed, and Kurt in particular was a great conversationalist.
This was a Nature Conservancy expedition. For five days we were steeped in sea otters. We had a gourmet "picnic" lunch each day and ate at a different gourmet restaurant each night. And all at one fixed price. Granted, it's not a cheap price. This five day trip cost as much as some of our ten day trips have. But the way I look at it, this vacation didn't cost any more than other longer ones did, and we were home sooner to all the things we enjoy there! Here are a couple of the highlights:
Behind the scenes at the aquarium. They have a 7-week old otter, Joey, who had lost his mother. They are feeding him and trying to prepare him to return to the wild. They have pretty good success with very young pups, but Joey is having trouble accepting his surrogate mother – one of a half dozen aquarium people who don wet suits and take Joey in the tide pool and try to teach him how to be an otter. They have to strike a delicate balance between giving him the loving care and instruction that he would have gotten from his birth mother, and at the same time being sure that he knows he is an otter and not a human.
Sea-kayaking; first time for either of us. We started with excellent and thorough instruction on land, before we even set foot or seat in the kayak. And we were given proper gear including a "skirt" that was held up to chest height by straps and fit snugly over the cockpit opening so that we were nearly watertight. Our two-person kayaks each had a foot-operated rudder which made direction control much easier, at least for Thea and me who were bow-persons in different kayaks. Given some tips on the proper way to hold the paddle, I found it not at all tiring. Harbor seals and sea lions looked at us with curiosity and sometimes swam along to show us how water travel should really be done. We avoided collisions with each other for the most part and with anything else totally. We got somewhat closer than the legal 50 feet to a raft of three otters, who still ignored us as we gaped at them.
Fantastic sea lion rock off the 17-Mile Drive. It was a couple of hundred yards off shore, had quite steep sides, and was about a hundred feet high. It was literally covered with hundreds of sea lions. Many of them found perches along the side, but others would come out of the water and climb all the way to the top ridge. When another sea lion was in the way, the climber would just climb right over it. For every sea lion that climbed onto the rock, another one would decide that he had had enough sun for a while and would climb down the rock, flopping equally well on bare rock or other sea lions, and plunge back into the water. With the naked eye it looked as if the rock face itself was in constant random motion, but with the binoculars it was easy to follow individual seals on their upward or downward paths.
A memorable trip – – and a memorable year. May your 1996 be as fun-filled as was our 1995.