PHILIP G. HODGE
Palo Alto CA 94306
Dear family and special friends,
Suddenly the perspective is different. All at once I am in a different HALF CENTURY. Different from the one inhabited by my wife, my siblings, . . . . From here on it's all downhill? Maybe so, maybe so. But the slope is so gentle . . . .
Yes, dear Friends-and-Relations, this special edition of the Groundhog Letter is the last one I shall write. Now, when so much else in my life is changing, seems like a good time to free myself from the tyranny of a deadline. From now on, I shall write when I am in the mood to write. My next "annual report" might be Christmas – no, anything but Christmas – Boxing Day or Easter or Pesach or Flag Day – or just the umteenth of mumblemumble. But first, I will write again to all you wonderful individuals and families who have written such kind words to me over the past couple of months. Er, strike that. FIRST, I shall do my taxes. THEN, I will write again to all you wonderful . . . . So don't hold your breath.
But I dither. All I really want to do is to wish for each of you that however much or little wine be left in your cup of life, may that wine be as sweet for you as mine is for me – –
Philip
FINAL CHAPTER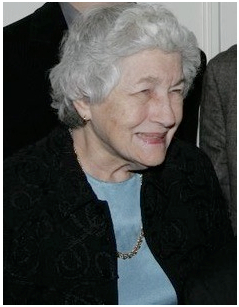 October 26, 2000
SELF MEMORIAL
She lived her life fully and much as she wished it to be.
She married young (at 20) and happily. Her husband was 22, handsome and well-educated, kind and loving and healthy. She was lucky and he was lucky. They defined "luck" as being in the right place at the right time and being ready and adventurous enough to take advantage of that juxtaposition, even when it was not easy or comfortable to do so.
They had three wonderful children and she lived long enough to know her beautiful grandchildren. She has done some research into her family's genealogy and is proud of that heritage as well as being proud of her progeny.
She contributed to the computer age and she contributed, as she was able, to her husband's successful career.
For several years she has been saying that she has had "a good run for her money." Every year for the last few has been a gift, for which she thanks the fates, whatever gods there be, and her husband.
Thea Drell Hodge Palo Alto, California
Friday, February 16, 2007
AUF WIEDERSEHEN
Today is the first day of the rest of my life. For 64 years, 1 month, and 13 days, Thea and I had the same permanent address. To be sure, we had periods of separation, but they were always finite and we always we looked forward to resuming our normal life when we would eat at the same table and sleep in the same bed.
Now, it is different. This evening I will sit alone at our kitchen table, knowing that Thea has already eaten her supper at Canyon House. Tonight I will crawl alone into our double bed. Knowing that Thea has already been tucked into her new single bed at Canyon House. Tomorrow morning I will wake up alone and eat breakfast alone. And this pattern will be repeated day after day for the rest of my life.
At eleven o'clock this morning, my daughter Lisa and I drove Thea to Canyon House, her new home for Senior Assisted Living. Her Alzheimer's was progressing, i. e. getting worse. It had reached a point where I no longer felt confident handling it alone. She will be happier there, and I will be happier knowing that she will be well cared for by a tender loving staff. Most important, I will be able to visit her every day.
Philip
February 11, 2008
THE LONG GOOD BYE
Life is finite. Life is infinite.
Tears of sadness. Tears of joy.
It is almost midnight and I am alone with only myself to hug. Only myself to talk to. It's almost 3 am tomorrow in New Jersey where my older daughter Sue lives – unless she's on a plane headed for California. Who knows what time it is in Kenya where my son Phil is vacationing. My younger daughter Lisa is in Santa Cruz where she can help Myriam (Lisa's niece, Sue's daughter, my granddaughter) with her brand new baby daughter, Hadassah.
Tears of joy. Life may or may not be infinite, but at least my genes and Thea's genes live on in a fourth generation. My heart is overflowing. And how wonderful to receive this earth-shaking wonderful news today, just hours after . . .
Tears of sadness. No, a life did not end today. But this afternoon Thea's doctor and I agreed that it was time to call in Hospice. We are cutting back on her medications as we refocus their purpose – from Curing to Caring. There is no time scale; it may be months – it may be years. But our goal is to keep her as comfortable and as happy as we can. She will continue to live at Canyon House, and I will continue to visit her.
A new life begins.
An old life draws to a close.
It is good.
I am at peace.
Philip
OBITUARY
Palo Alto Daily News, March 10, 2008
HODGE, Thea Drell – passed away peacefully in her sleep March 3, 2008 at Canyon House in Menlo Park. Her husband of 65 years and youngest daughter were holding her hands and quietly singing to her as she drew her last breath. Despite being afflicted with Alzheimer's Disease during her final years, she maintained her sweet and loving disposition until the very end.
Thea was born November 8, 1922 in Atlantic City NJ to Tully and Rose White Drell. She attended Antioch College in Ohio, where she met her husband, and graduated Magna cum laude from Hunter College in New York in 1946. In addition to raising three children, she had a 30- year career in computer science, supervising and heading computer centers at Illinois Institute of Technology, University of Chicago, Northwestern University, and University of Minnesota, and departments at Cray Research and University of Minnesota. She founded the Minnesota chapter of the Association for Women in Computing, and mentored countless young women in pursuit of their careers. The Association for Computing Machinery bestowed on Thea a lifetime achievement award in 2004, and inducted her into their Hall of Fame.
She is survived by her husband Philip Gibson Hodge, Jr; brother Sidney Drell; three children: Susan Edith Hodge (and David Greenberg), Philip Tully (and Margie) Hodge, and Elizabeth Hodge (and Bill) Kelly; nine grandchildren: April Hodge (and Tessa) Silver, Myriam Hodge (and Mikey) Cohen, Adam Hodge Greenberg, Jason Daniel Kubelick, Lisa Marie Kubelick (and Anthony Essex), Eli Nicholas Kubelick, Rivka Rose Kelly, Joshua Philip Kelly, and Eve Maya Kelly; and three great-grandchildren: Isaac James Essex, Ruth Tamar Silver, and Hadassah Cohen.
Thea was active in the Unitarian Universalist Church of Palo Alto, serving on several committees and participating in Thespians and Elder Journey. At her request her body has been donated to the Stanford University Hospital.
A memorial service to celebrate Thea's life will be held at Unitarian Universalist Church of Palo Alto, 505 East Charleston Road, Palo Alto, CA 94306, 650-494-0541 on Sunday March 23 at 2:00 pm. Everyone is invited to share in the love of Thea's memory. In lieu of flowers donations may be sent by check to The Nature Conservancy, attn Thea Hodge Memorial, 201 Mission St, 4th floor, San Francisco CA 94105 and footnoting "Thea Hodge Memorial" on the check itself, or to the Unitarian Universalist Church of Palo Alto memorial fund.
I had 65 years of living with this wonderful woman. Let me correct that. I had 64 years of living with her: sharing the same bed and the same table. If I single out one day of mourning, it would be last February 16 when I took her to Canyon house and returned home to sleep alone and eat alone. In a sense, that was the day she died.
But I had a bonus. I could still spend an hour or so with her every day, knowing that her material needs were all being taken care of better than I could do; I could concentrate on enjoying that quality time with her. We looked through old photograph albums, I read old letters we had written and old letters we had received, I reread Winnie the Pooh and other wonderful children's books, we sang old songs, I recalled exciting or humorous events from our past. – such as:
I had joined the Merchant Marine right after we got married in 1943. My first trip lasted 4 months and my ship came back to Baltimore . I had to be on the ship daytimes for a few days but my evenings and nights were free. I immediately called Thea in New York and told her to catch the next train to Baltimore.
Next morning as I came aboard at 8:00 AM, my watchmate met me at the gangplank with news that a shipmate had come aboard last night and told him, "You know that guy Hodge, thinks he's better than the rest of us? Well, I saw him walking down the street with a broad on his arm, just like anybody else!"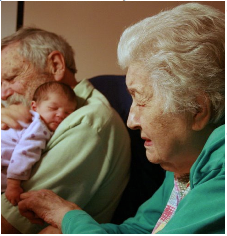 Thea laughed loudly when I told her that evening; she smiled amusedly when I recalled the incident last year. She didn't "get" every-thing I said on our visits, but she got something – and I got a lot. . . . A year passed. . . . Thea became less aware of her surroundings. Her physical condition became worse. On February 11 we called in Hospice. And that same day, her Great-Granddaughter, Hadassah Rose Cohen, was born. On March 1 Hadassah and I visited her at Canyon House.
36 hours later she died quietly in her sleep as Lisa and I sang to her and held her hands. The end was inevitable. It came quietly and with merciful rapidity. It was beautiful.
Today, I think of you, my family and my friends. I feast on the memories you have awakened in me. I think of Isaac and Ruth and Hadassah and I see the future. Truly, there is no one on earth with whom I would willingly trade places. I am a happy man.