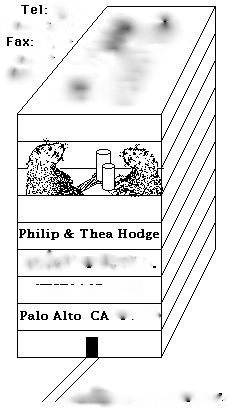 Ground Hog Day, 2003
Dear Friends-and-Relations,
As of last month Thea and I have been a
sex
agesimal couple.*
(And now that I have your attention, a Very Happy Ground Hog Day to all of you and yours.)
* sexagesimal
SYLLABICATION:

sex·a·ges·i·mal

PRONUNCIATION

:

sks-js-ml

ADJECTIVE:

Of, relating to, or based on the number 60.

ETYMOLOGY:

From Latin sexagsimus, sixtieth.
January 3, 1943
. My father and I are sitting in the minister's study in Roslyn, Long Island. It is a few minutes before twelve, but I am totally relaxed. When Dad and I left the house half an hour ago to walk the short mile to the church on a beautiful sunshiny day, there was no way that the women were going to be ready on time for the scheduled noon start of our wedding ceremony. And I can use the relaxation. It has been a rather hectic week.
December 28 Thea and I had gone for a long walk in a Winter Wonderland and discussed the future of our two-month old engagement to be married. There was a war on – – it was one year after Pearl Harbor. It was not an easy time for me. I could not see that we had any alternative to the war against Hitler and Japan; but I could not see myself killing another human being. I had just finished my last course at Antioch College so I was due to be drafted. And there was "us". In the sublime certainty that is only possible in one's twenties, we knew that we wanted to spend the rest of our lives together. But should we get married now? Or wait until the war was over? What about children? So we didn't Build a Snow Man. We talked.

When we returned to Conspire as we Sit by the Fire, these are the Plans that we Made to Face Unafraid: I would join the Maritime Service, we would get married, and we would wait until after the war to have children. So, in the space of a week we found a church and a minister, got marriage licenses, took blood tests, bought wedding rings, invited family members and close friends, made train and hotel reservations for a brief honeymoon in Boston … and I enrolled in the U. S. Maritime Service to be trained as a sailor in the Merchant Marine. …
Omigosh! The clock is striking twelve. The organ is playing Here Comes the Bride. We're on! – – And a few minutes later we are Mr. and Mrs. Philip Hodge. Sixty years ago.
Ages are Relative.
I was born on November 9, 1920. On July 5, 2002 my age was 81 years 238 days. A similar computation for Thea plus addition shows that our total age was 161 years, 112 days. That's us. Now, we have 9 grandchildren and we know the birthdate of each, so it was easy to figure out how old each one was on July 5, 2002 and to add those nine numbers together. The result was 161 years, 111 days. Therefore on July 5, 2002, as on all previous days, Thea and I were older than our grandchildren.
But on July 6, 2002 everything changed. Each one of our grandchildren was 1 day older so that in total they were 9 days older. We, on the other hand, were only 2 days older. Therefore, on July 6, 2002, the score read:
Grandchildren: 161 years, 120 days – – Thea and Philip: 161 years, 114 days
And, day by day, the gap grows. Already they are more than 4 years older than we. Therefore, relative to our grandchildren, we grow younger every day. They, on the other hand, are now rushing madly ahead towards senility.
QUIZ. Each of the 11 lines below is the start of a song from a Gilbert and Sullivan operetta. Identify the operetta and name the character who sings the song. Answers are on the next page (Hint: the order of the lines is not random):
When I, good friends, was called to the bar, I'd an appetite fresh and hearty. But I
My name is John Wellington Wells, I'm a dealer in magic and spells, In blessings and
I am the monarch of the sea; The ruler of the queen's navee; Whose praise Great
Softly sighing o'er the river comes the gentle breeze; setting nature all aquiver
Prithee, pretty maiden, prithee tell me true (Hey but I'm doleful, willow willow waley)
When all night long a chap remains on sentry go to chase monotony, He exercises of
Ah, don't the days seem lank and long when all is right and nothing goes wrong, And
The sun whose rays are all ablaze with never dimming glory, does not deny his majesty
Sir Rupert Murgatroyd, his leisure and his riches, he ruthlessly employed in persecuting
Is life a boon? If so it must befall That Death whene'er he call must call too soon.
In enterprise of any kind when there was any fighting, He led his regiment from behind,
A Special Moment. I was raised on G & S. Scores and libretti were around the house when I was growing up. The D'Oyly-Carte Opera Company came to New York one season when I was in high school, and we took the train into the city every Friday for 10 weeks to see all of the above operettas. In college I sang in the chorus for Mikado, Yeomen, and Gondoliers. Since then, I've seen performances of all of them in theatres all over this country. I not only constructed the quiz without using any references, but I can go on and sing all of the words to many of the songs above. I say all this not to brag (it is a rather inconsequential achievement), but to try to give you a clue as to my feelings on Wednesday, August 21, 2002 when we walked into the Savoy Theatre on the Strand in London's Soho district to see the D'Oyly-Carte Opera Company perform the Mikado.
We also saw a couple of plays, took a boat ride on the Thames, and had a wonderful tour of the Globe Theatre in London. Everything was within walking distance of our hotel in Leiscester Square, right next to the Half Price Ticket Booth. And before London we had spent a few days in Cambridge, including a night in "The Judge's Rooms" where Queen Victoria had slept. Oh, and I attended a two-day meeting of the General Assembly of IUTAM in my new capacity of Member at Large which was our excuse for the whole trip. Since we had had enough frequent flier miles to make the plane trip in business class, the whole trip was relaxing and fun. But there's no question that the high point for me was seeing the original G & S opera company performing a G & S Operetta in the original G & S theatre! It was like, WOW.
Other travels. This summer we were able to return to our annual Fourth of July trip to Iowa and Minneapolis. As usual the Des Moines Metropolitan Opera Company put on three great performances (Turandot, Candide, Salome), and as usual we had great visits with old friends in Minneapolis.
In October we flew to Portland, boarded the "Sea Lion" (a 70-passenger Lindblad Special Expeditions ship) for a week's cruise on the Columbia River, and then took the Coast Starlight train back home. The cruise focussed on the Lewis and Clarke expedition – lots of history and pointing out significant geographical features. It was a great combination of energetic things to do ashore and lazy things to do aboard the ship. Guess which of us did which the most. It had been many years – decades, in fact, since Thea and I had last spent the night on a train and I had a couple of unwelcome reminders that I am older now than I was then. Then, I could take one big step on the ladder and swing myself into the upper bunk – and stay there until morning. Now, it was a slow step-by-step up the ladder and a cautious maneuvering around the safety harness, the whole process to be reversed and repeated more than once before daybreak. Next time we'll have to figure out a way to get two lowers!

And more Opera. Close to home, in the past twelve months we have seen 21 performances of 18 different operas by 5 different opera companies. These included 5 operas I had never seen before: Puccini's La Rondine, Offenbach's La Pericole, Xerxes and Alcina by Handel, and Mark Adamo's modern opera Little Women. But three of the other performances are worth commenting on.
We all have our horror stories of directors who have done their best to louse up a great opera by changing the locale, the time frame, the characters, even the music. But every once in a while someone comes along and does it right. Berkeley Opera has a resident librettist, David Scott Marley, who is the exception. For one thing, he has the sense to change the title so you aren't taken by surprise. The title, The Riot Grrrl on Mars, is probably new to you, but the music is note-for-note identical with Rossini's The Italian Girl in Algiers. The outline of the ridiculous plot is exactly the same in both, but all of the details are different. I found it thoroughly delightful. I'd love to see it again, and I'd also love to see Rossini's original again.
I can't count the number of times I've seen La Boheme, but last February Pocket Opera opened their season with it in a way that was special to me. Early in the second act, Musetta, enters ostentatiously on the arm of the elderly, wealthy Alcindoro. Trying to regain the painter's attention, she sings a waltz about her popularity. In most productions I've seen, she visually flirts with one of the spear-carriers standing near the wings while singing it, but Pocket Opera can't afford spear-carriers, so Sasha Motalygo flashed her eyes and beckoned with her arms at a distinguished looking octogenarian sitting in the middle of the front row of the audience. After the performance I had a chance to talk with her and she said she hoped I didn't mind her flirting with me. Mind? I loved it!
Finally, I have to tell you about Julia Kierstine as Tosca with West Bay Opera last October. I may have mentioned before that my ear is incapable of distinguishing between great singing and very good singing. There have probably been stars in big companies who have sung the role even better that she did – I wouldn't know. But no one could possibly act it better. The plot of Tosca has no surprises for me by now. In the second act I know she is going to pick up a knife and stab Scarpia. But I was on the edge of my seat watching and listening to her. Every line in her face, every muscle in her body showed her going from horror at having to accept Scarpia's proposition to the final resolve to kill him. Her eyes moving like those of a trapped animal passing over the knife on the table without seeing it; returning to it. Her two hands, white-knuckled, gripping the wine glass as she takes a desperate sip; again; reaching towards the knife and withdrawing; reaching again; putting down the glass and picking up the knife. . . Even now, I get goose bumps writing about it.
Memories. But I don't get goose bumps thinking of that eventful day 60 years ago. No, I get a warm happy glow as I recall the wonderful woman I married then – the same wonderful women to whom I'm married today. May all of you have lots of warm happy glows as you travel down your own memory lanes,