Ground Hog Day, 2000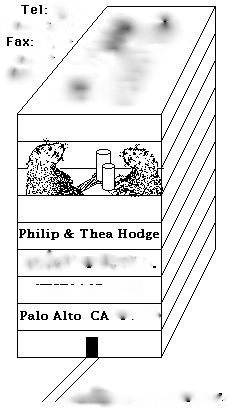 Dear Friends-and-Relations,
BARGIN' TO WALPURGISNACHT
Our trip began with a barge-boarding in New Orleans and ended at a Pagan wedding on Walpurgis eve under a full moon rising over the Illinois prairie.
barge (barj) n. A roomy, flat-bottomed boat, used usually in harbors and on rivers and canals for the transportation of goods; as a coal barge. It is usually towed.
barge v. i. To use, or travel by, a barge.
But what does Webster know? Last April we spent a week barging up the Mississippi from New Orleans to Memphis on an Elderhostel aboard the R/B River Explorer. There were 188 of us on a floating luxury hotel, three stories (ahem, "decks") tall and 735 feet long. The part actually in contact with the water had originally been a couple of oil barges which had been totally stripped and seamlessly put together end-to-end.
The 97 passenger cabins were on the two lower decks of the aft barge; the forward barge had a spacious lobby, an even more spacious dining room, bar, a game room, and a two-level theater. The full top deck had an outdoor bar, two hot tubs, a large canopied area suitable for barbecues, a well-equipped exercise room, and a 15-laps-to-the-mile carpeted jogging track. Coal barge, indeed!
Our Elderhostel was called, "Music on the Mississippi." A different musical group, sometimes two, would come on board every day. There was usually a lecture by the leader, and then there was music. Oh, there was music! There was New Orleans jazz, country music, Civil War songs, classical music (as sung by Jenny Lind in Natchez), spirituals, gospel, Cajun, and a genuine Jug Band. They played and they sang in the theater, in the lobby, in the dining room. Or, if you preferred, you could lie on the bunk in your stateroom and hear them over the barge's speaker system.

Some days we lazily cruised the river. Other days we had shore excursions in Baton Rouge, Natchez, Vicksburg, and Memphis. The whole barge had been chartered by Elderhostel, and there was an over-all coordinator. But we were split into four teams, each with an Elderhostel leader, so we had most of the intimacy one usually associates with Elderhostel.
The last night aboard the barge was talent night, and we had a competition between the four teams. Our team produced a stirring drama to which I contributed a song. Needless to say, we won! ("Needless to say" because if we hadn't won, I wouldn't have mentioned the subject.)
All too soon the week was over and we disembarked in Memphis. Resisting the lure of Graceland, we spent the day and evening with my cousin Sarah and her husband Len, and with our son Phil who flew his plane there from his home in eastern Tennessee. Next day Phil flew us back to his place (no adventures this time – last year we bulled our way through a severe thunderstorm front).
At the other end of that trip we attended the wedding of our niece, Wink, in Urbana, Illinois. This was a three-day celebration which began on Friday, April 30 (Walpurgis Eve) and ran through Sunday breakfast. As a non-practicing atheist, whose near-and-dear include Heathens, Orthodox and Conservative Jews, Roman Catholics, Mohammedans, Born-Again Christians, Friends, and Evangelical Missionaries, I refrain from religious commentary and merely enjoy the love and good-feeling of my various children, niblings, and in-laws. And this Heathen wedding was wonderful in that respect. We were welcome, and we were free to participate, observe, or wander off as suited our spirits. Wink is a lovely person, and I wish her and Dean great happiness.
Sandwiched in between these two highlights were a great visit with Phil and Margie, some genealogical research at the National Archives, and (my nominal excuse for the whole trip!) a meeting of the USNC/TAM in Washington DC.
FROM GRAND OLE OPRY TO GRAND OPERA
One day in August our mail delivery included two interesting announcements. First, program of ASME annual meeting. No longer on any ASME committee, but several friends receiving high professional honors. Always glad to see former engineering colleagues. Nashville Tennessee, week of November 12. Put down for a possible.
Next, program of Metropolitan Opera. Mefistofole with Samuel Ramey. Wow. Look at "trios" – a set of three operas on consecutive nights with out-of-towners getting a bit of ticket priority. Hey, look at this lineup:
Thursday,
Friday,
Saturday,
November 16
November 17
November 18
Back to ASME program. Two events I want most to attend:
Applied Mechanics Dinner
Honors Assembly
Ever since Phil and Margie moved to Tennessee, Thea has been saying, "Sometime we should combine a visit with going to see Grand Ole Opry in Nashville." Get on the Web. Grand Ole Opry plays Friday's and Saturday's. Are Phil and Margie interested? Yes. Go:
It was a wonderful week. We also included visits with Phil and Margie at their Hundred-Aker Wood place, and with Sue and her family in New Jersey. Five different hotels in ten nights. Full evenings, obviously, but we slept late and took it easy during the days. And we had some upgrade coupons, so all six of our flight segments were first class.
AND MORE OPERA
Actually, we slept in seven different beds in twelve nights. After spending the night of Monday, November 20, at home we spent Tuesday night at the Crowne Plaza in San Jose:
The Tale of the Nutcracker
This latter was a world premier performance of a new opera commissioned by the San Jose Opera. Not bad, for a new work, but . . . . In theory, I'm all in favor of giving modern artists and musicians an opportunity to be heard, but in practice I must admit that I've yet to hear anything in the same league as Otello, Tosca, or Mefistofole. Or with Barber of Seville, Don Giovanni, Madama Butterfly, Romeo et Juliette, Carmen, Ernani, King for a Day, Daughter of the Regiment, Orpheus in the Underworld, Mary Stuart, Il Trovatore, or Tales of Hoffman, all of which we have seen in the past year.
I take that back. There is one exception: Bernstein's Mass. Decades ago I saw the original production at Kennedy Center, and ever since then it has been on my list of things that are worth going a long way to see again. Finally, last August we traveled all of twenty miles to Santa Cruz to see a marvelous, moving production.
I know, it doesn't make sense. How can "a non-practicing atheist" (to quote myself) regard a Catholic Mass as interpreted by a Jewish composer as one of the great works of art of all time? But then, the plots of most opera don't make much sense when subjected to the cold light of reason . So what? All through my career as an engineer I had to be logical and make sense. Now I'm retired, I like almost all classical Grand Opera, and I regard Bernstein's Mass as one of the best. Next question?

BAY TO BREAKERS
Sunday, May 16. Hyatt Regency San Francisco. 8 AM – One eye on TV to see first runners burst over starting line. Other eye out window to see solid mass of people inch long block towards said starting line. Drink last swallow of coffee. Make last pit stop. Check shoe laces. Amble towards elevator. Descend. Join pack now strolling towards starting line. Rebecca (age 8) holds my hand. Joshua (7) holds on to Daddy (Bill). Eve (5) and Mommy (Lisa) make a pair. Thea guards the fort in hotel, waiting for updates from Bill's cell-phone.
8:32 – Six of us cross starting line.
8:34:11 – Winner of race crosses finish line. Hey, we got started before the race was over!
11:56:18 – Rebecca was the 42,322nd person to cross the finish line, followed by Eve, Grampa, Lisa, Bill , and Joshua. Each of us had walked every step of the way. Walk another mile to the shuttle bus back to the hotel. And out of the thousand or so people waiting in line for the bus we spotted granddaughter Miriam (Sue's second child, now living and working in the Bay area).
It's called a "race", and I'm sure it is for a few of those at the front. But it was a 7.46 mile long block party for us, for the 172 people that finished after us and about forty thousand of those that finished before us. Some people ran, some walked, some were in wheel chairs, some were tied together as centipedes, some were in baby back packs, some rode in floats, some pushed those floats, some pushed shopping carts loaded with beer kegs (full at start, empty at finish – kegs, that is), some wore elaborate costumes with masks, some wore only shoes and body-paint. People ran alone, in couples, or in theme-groups. Plus, crowds lined the sidewalks, the lawns, the bridges, the windows, and the balconies along the route – all part of the festivities. And we already have our hotel rooms reserved for May, 2000!
THE MILLENNIUM AND A COMMENT ON AGING
I am a pragmatist and a numbers guy. When my age turned from 59 to 60 (many years ago), I could compete in a new age group and even win a road race occasionally. When my car odometer rolled from 29999 to 30000 I took it to the mechanic for a check up. And when my computer clock went from 11:59 PM 12/31/99 to 12:00 AM 1/1/00, I said, "The Millennium is here and I am grateful for my Macintosh."
SOME POLITICAL PHILISOPHY FROM THE COMICS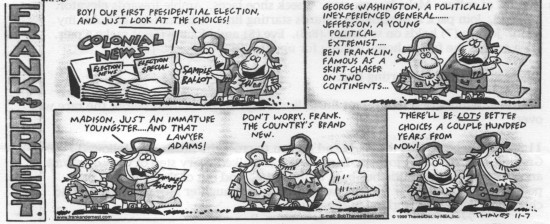 Regardless of your politics or your age, regardless of whether you run or walk, regardless of whether you prefer opera or opry, and regardless of your religion or lack thereof, may you find happiness in this (first/last) year of the (new/old) millennium.