Ground Hog Day, 2007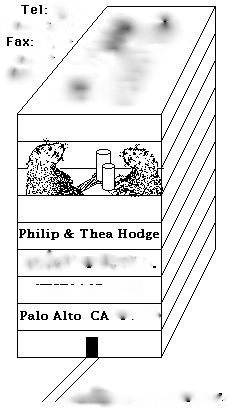 Dear Friends-and-relations:
"I am honored and greatly moved by my granddaughter Myriam's invitation to say a few words at this beautiful ceremony, even though I am not of her religion.
"I am her oldest living ancestor, and my ancestry represents one quarter of Myriam's ancestry.  On behalf of all of these ancestors, I give Myriam and Mikey our blessing on this joyous occasion of their wedding.  May their marriage be as long and as happy as mine has been, and, in the fullness of time, may they someday have a granddaughter as wonderful and precious to them as Myriam is to us – and may she marry a guy as great as Mikey!"
A traditional Jewish wedding contains a section listing the seven blessings.  Well, the wedding of Myriam and Michael made various changes in tradition, and one of them was adding the eighth blessing as quoted above.
Near the end of that beautiful day, arms around each other's shoulders, Thea and I leaned on the porch railing at the Pescadero resort and swayed gently to the music as we looked at the dancers on the grass below.  Our radiant granddaughter had both arms wrapped around her brand-new husband; other dancers included our three children with their spouses and our eldest granddaughter with her lifelong partner.  Our four teenage grandchildren were all bouncing on the trampoline a short distance away.  It was a golden moment in our 63-plus years of marriage.  And it brought back memories of another golden moment 34 years earlier when Myriam's mother, our daughter Sue, was married in our backyard.  The bride's gown has been dyed a different color, but, yes, it is the same gown Now as Then.
That wedding was the high point of our year.  It was a wonderful occasion in August when it happened and it's been easy and fun to write about it now.
Not so easy or fun to write about is the continuing low of the year.  Many of you already know that Thea has Alzheimer's.  There is no need to lay the details on you.  If you have a loved one with this dread disease, you already know; if you don't, you would have trouble understanding.  And I, of course, can't understand what it must be like to be Thea.  I can only say that despite all of the down-side of her limitations, she is still the same warm, sweet, wonderful person that I married 64 years ago . . .
. . . The paragraph above has sat in my computer for over a week.  I have little time to write, and I can't come up with the words to continue.  Forgive me for just stopping here with a shorter-than-usual letter, and with no personal additions.  Believe me, your letters, both circular and personal, mean a lot to me.  I only wish I could find the time and energy to respond to each of them individually.
With love to you all,
Philip
PS. Please note my new email address:    (deleted – ed.)