Ruddigore is not as well known as some of the other Gilbert and Sullivan operas — which is a shame, because it is full of catchy tunes, clever words, and a comic twist to provide a happy ending.  I enjoyed the production at Dinkelspiel Auditorium on Saturday May 12 2012 so much that I went again for the final performance on Sunday. 
G&S were noted for coming up with interesting categories for the female chorus: "His sisters and his cousins and his aunts" (Pinafore), "Major-General Stanley's daughters" (Pirates of Penzance), "Twenty love-sick maidens" (Patience), etc.  In Ruddigore they are "the only . . . endowed corps of professional bridesmaids" who sing
Hail the Bridegroom — hail the Bride!
Let the nuptial knot be tied.
on the slightest provocation.  They are unhappy because they must assemble every day dressed for a wedding, but the town has been more than six months without one.  The problem is that every lad in town is in love with Rose Maybud (Sophie Christel) and until she picks one to marry they won't look at anyone else.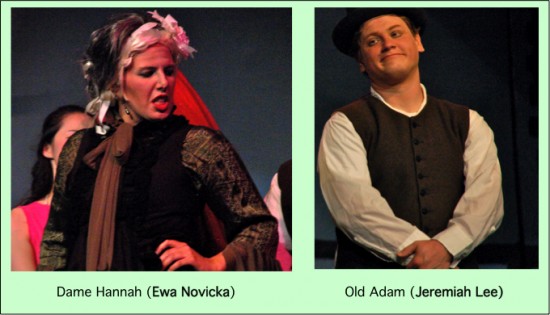 Rose's aunt Hannah (Ewa Novicka) appears and explains why she will never marry. Years ago she had been betrothed to a beautiful youth who was masquerading under a false name and was really Sir Roderic Murgatroyd, (Graham Roth) the Twenty-First Baronet of Ruddigore.   Marriage was now impossible, since he had inherited the family Curse – he must commit a crime a day or perish in agony.
Rose Maybud (Sophie Christel) comes on stage and has a téªte-é -téªte with her aunt, explaining that she favors Robin Oakapple (Richard Copperwaite) but he is too shy to propose and she is a slave to her old-fashioned book of etiquette and all its rules about things a maiden shouldn't do.
G&S are experts at experts at letting a story tell itself, and nowhere do they do it better than in Ruddigore.  See how much we've learned about the plot in the first 3 ½ pages (out of 23) of the libretto.  And the next vital bit of background takes only a quarter page more.  Robin's faithful servant Old Adam (Jeremiah Lee) inadvertently calls him "Sir Ruthven Murgatroyd", and Robin tells how 20 years ago he faked his death and fled rather than inherit that dreadful title, leaving his younger brother Despard to become Baronet.  "Don't dig me up now."
Robin's shyness problem appears to be solved when Richard Dauntless (Gerar Mazarakis), Robin's foster-brother shows up from a 10-year stint as a Man-o'-war's man.  He is the antithesis of shy and promises to plead Robin's case for him.  Instead he falls in love with Rose and successfully pleads his own.  Then Robin reappears, misunderstands Richard's words "she didn't refuse": and literally sweeps Rose off her feet.  Whereupon she says, "Oh, in that case I'd rather marry you."  But of course, it's much too soon for a happy ending.
Instead we meet Mad Margaret (Lara Palanjian) in a wonderful caricature of theatrical madness — eat your heart out, Lucia.    Lara gets everything possible from the role with grimaces, exaggerated motions, and voice, aided and abetted by a fantastic appearance thanks to the Costume and Makeup designers, Rachel Whalon and Kacey Marton, respectively.  Her opening scene is worth quoting in full: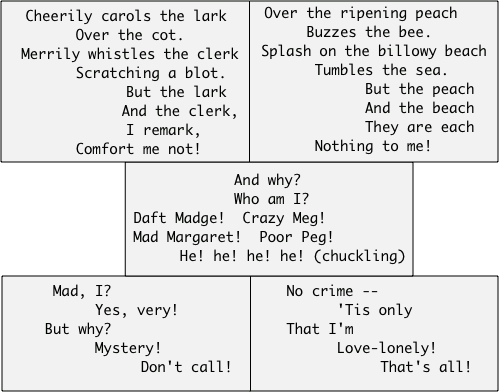 After a ballad, Margaret bursts into tears.  Rose enters and tries to comfort her.
There ensues some wonderful mad dialog, culminating with
MAR.  True.  (Whispers melodramatically.)  I have come to pinch Rose Maybud!
ROSE.  (Aside, alarmed.)  Rose Maybud!
MAR.  Aye!  I love him [Sir Despard Murgatroyd] — he loved me once.  But that's all gone. Fisht!  He gave me an Italian glance — thus (business) — and made me his.  He will give her an Italian glance, and make her his.  But it shall not be, for I'll stamp on her — stamp on her — stamp on her!  Did you ever kill anybody?  No?  Why not? Listen — I killed a fly this morning!  It buzzed, and I wouldn't have it.  So it died — pop!  So shall she!
ROSE.  But, behold, I am Rose Maybud, and I would fain not die "pop."
MAR.  You are Rose Maybud?
ROSE.  Yes, sweet Rose Maybud!
MAR.  Strange!  They told me she was beautiful!  And he loves you!  No, no!
Rose assures Margaret that she loves not Sir Despard but will be wedded to another this very day and they depart together.
Sir Despard Murgatroyd (Greg Anderson) makes a wonderfully sinister appearance and sings a delightful "line and response" song with the chorus of which I quote only the first and the last verses:
The chorus leaves and Sir Despard soliloquizes:
Poor children, how they loathe me – me whose hands are certainly steeped in infamy, but whose heart is as the heart of a little child!  But what is a poor baronet to do, when a whole picture gallery of ancestors step down from their frames and threaten him with an excruciating death if he hesitate to commit his daily crime?  But ha! ha!  I am even with them!  (mysteriously)  I get my crime over the first thing in the morning, and then, ha! ha! for the rest of the day I do good – I do good – I do good! (melodramatically)  Two days since, I stole a child and built an orphan asylum. Yesterday I robbed a bank and endowed a bishopric.  To-day I carry off Rose Maybud and atone with a cathedral!
There's dirty work afoot.  Richard arrives and tells Sir Despard that Sir Ruthven is not dead but lives in this very village under the name of Robin Oakapple.  The two men dance happily off stage, Richard dreaming of marriage to Rose and Despard of freedom from the curse.
Enter the bridesmaids to begin the Finale to Act I.  And happy they are to sing their patented Hail The BrideGroom, Hail The Bride! (hereafter to be abbreviated to HTBGHTB) to Robin and Rose.
Enter Despard:
Hold, bride and bridegroom, ere you wed each other,
I claim young Robin as my elder Brother!
Robin admits claim.  Wedding is off. Unhappy Bridesmaids.
Like many opera heroines, Rose is more beautiful than bright.  Apparently she figures that since the denouement means Robin is now the Baronet, the converse must true.  She throws herself in Despard's arms, saying "Take me — I am thy bride."  Happy Bridesmaids sing HTBGHTB.  Despard extricates himself with difficulty (unhappy Bridesmaids) saying, in effect, at last I am free to marry Margaret.  They embrace. Happy Bridesmaids sing HTBGHTB.
Rose turns to Richard:
Richard, of him I love bereft,
Through thy design,
Thou art the only one that's left,
So I am thine!
Doubly happy Bridesmaids sing HTBGHTB.  More dancing and singing.  Everyone happy except Robin who falls senseless as curtain descends.
Let's take a break.  I'll be back shortly with Act II.

Stanford Savoyards
c/o ASSU, Old Union – 1st floor
520 Lasuen Mall, Quad 2, Building 580
Stanford, CA 94305
StanfordSavoyards@gmail.com
All photos by Raen Payne
This review by Philip G Hodge appeared in sanfranciscosplash.com on May 24, 2012.