Although I had never seen or heard Idomeneo before, I knew I'd like it — I mean, it's Mozart so what else do you need to know?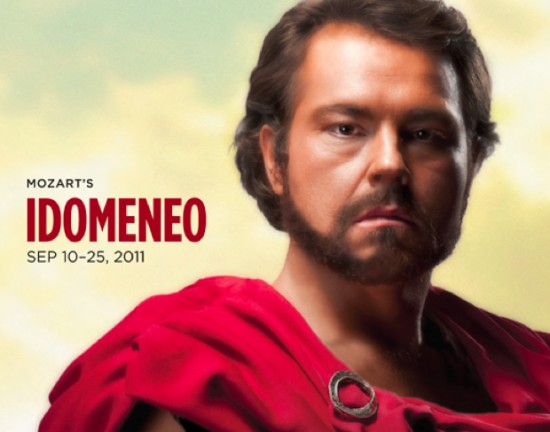 Before General Manager Larry Hancock even started his pre-opera talk, I knew I'd be impressed by the Opera San JosÉ performance I was going to see. Because, the curtain was up and there before me was a fantastic set — a three-story faé§ade complete with Doric columns, friezes, and balconies, all in brilliant color. (My one complaint with Opera San JosÉ is that nowhere on their website or in their press releases could I find a picture of this magnificent set).
Hancock's talk was particularly interesting this time because he began by placing Idomeneo in its proper historical setting as an opera seria. It was Mozart's first full-length (and then some — almost 4 hours including 2 intermissions) opera, and reputedly his favorite. This production of it endeavored to be faithfully true to Mozart's ideas and also to be true to the time and place in which it was set — the kingdom of Crete shortly after the conclusion of the Trojan war, circa 1200 BCE. In my opinion they were successful beyond any reasonable expectation. Indeed, before talking about the singers, actors, and musicians of the actual performance, I want to give credit to the designers whose work was all done before the opening night performance.
The sets were fantastic. As I recall, only the above-mentioned three-story edifice encompassed the entire stage at the beginning of Act III. For the other large scenes the full width of the stage was used, but the backdrop was a semi-circle decorated with images of genuine Mycenaean artifacts.
For other big scenes, the backdrop was a mural — again consistent with actual archaeological findings. Smaller scenes might have a smaller space delineated: semi-circular, rectangular, or triangular.
Idomeneo was actually a joint production of Opera San JosÉ and the Packard Humanities Institute. The latter team was headed by David Packard and included two Archaeological Consultants (Anne Chapin and Suzanne Murray) and two Architectural Consultants (Robert Arrigoni and Earl Wilson) to insure that all images were historically accurate.
All of the stage elements of Idomeneo were perfection, as was their overall integration. The motions were stylized and generally slow. The chorus, the principals, the ballet, and the orchestra were perfectly synchronized. My enjoyment of the opera was not emotional — there was no lump in my throat or tear in my eye as there is in Butterfly or La Bohème. It was rather an unadulterated intellectual joy in the unity of all these elements coming together in absolute harmony.
Since Idomeneo is but rarely performed, I suppose I should say something about the plot, although that is probably the least important ingredient of the performance. Idomeneo, King of Crete, is returning home after 10 years away fighting the Trojan War. Neptune (I know, the story is Greek so it should be Poseidon, but Mozart's opera is in Italian which is based on Latin where the ancient gods all have Roman names even though Rome is still more than a millennium in the future) takes exception to his hubris, sinks his ship, and is about to drown him when he pleads for his life and promises to sacrifice the first person he meets when he comes ashore.
The gods being noted for their grisly sense of humor, the first person he sees is his only son Idamante who was a 6-year old child when Papa went off to war but is now a strapping 16-year old man. In 1780 when Idomeneo was written, Idamante was to be sung by a Castrato, as were most young male leads of that era. But Castrati soon became a dying breed and such roles are now called "trouser roles" and are sung by mezzos. Mozart kept tinkering with his opera and a few years later rewrote the part for a tenor. Opera San JosÉ, loath to do anything the easy way decided that since they had two casts anyhow, they might as well do both versions. Sunday night I saw Betany Coffland nail the part as a trouser role, but when I go again on September 22 I'll see what Aaron Blake does with it.
Actually, the opera opens with the captured Trojan Princess Ilia mourning her father. She sees Prince Idamante and it is love at first sight for both of them.
This young love does not please Electra (Yes, that matricidal daughter of Agamemnon — I told you this opera had everything) who is planning to marry Idamante herself as a way to regain her royal status.
In true operatic tradition, Idomeneo tries to ignore his son and tries to weasel his way out of his promise to Neptune, but the god will have none of it and sends a giant sea monster to ravage Crete. Idamante is devastated by his father's rejection; life isn't worth living so might as well end it with a bang and die giving battle to the sea monster. Of course he kills the monster instead.
And so it goes through two plus glorious acts. Finally Idomeneo faces reality and realizes he must sacrifice his son, Idamante realizes his dad does love him and cheerfully agrees. As the sacrificial knife is raised, Ilia rushes in and says, "No, kill me instead — you know the gods would rather have an innocent virgin." The young lovers go through a few rounds of "Kill me", "No, kill me" until suddenly there is a blast of thunder and Jove's voice is heard from on high declaiming, Enough already! The gods need no more killings
Idomeneo, abdicate your throne in favor of Prince Idamante and Princess Ilia. And they all live happily ev. . . oops! Not quite all. . . .
Electra is NOT happy. She tells about it at dramatic length in the opera's most powerful aria. She threatens to kill herself but servants disarm her and hustle her off-stage and the rest of the cast all live happily ever after.
Curtain, thunderous applause in a standing ovation. A perfect evening.
The Opera Nut
CREATIVE TEAM
Conductor:
.
Stage Director:
Chorus Master:
Set Designer:
Lighting:

George Cleve
.
Brad Dalton
Andrew Whitfield
Steven C. Kemp
Christopher Ostrom

Ass't Conductor:
.
Choreographer:
.
Costumes:
Wig & Makeup:

Anthony Quartuccio
Dennis Nahat
.
Johann Stegmeir
Jeanna Parham

CAST and PERFORMANCE DATES
Role
Dates:
Ilia
Electra
Idamante
Idomeneo
Arbace
High Priest
The Voice

Cast A
9/10, 9/13, 9/18, 9/22
Rebecca Davis
Christina Major
Aaron Blake
Christopher Bengochea
Nova Safo
Mathew Edwardsen
Silas Elash

Cast 1
9/11, 9/17, 9/23, 9/25
Sandra Bengochea
Jasmina Halimic
Betany Coffland
Alexander Boyer
Nova Safo
Mathew Edwardsen
Silas Elash

This review by Philip G Hodge appeared in sanfranciscosplash.com on September 16, 2011