Last night I saw the SFO's production of Donizetti's Lucrezia Borgia with RenÉe Fleming. As I sat through the performance, I had an unfocussed memory that I had seen it before. It turns out that Pocket Opera did it back in 1997.
Unfortunately my memory of that intimate performance is greatly dimmed by time, but my view from Row T last night was that the opera seemed sort of lost in the vast War Memorial Theatre.
Lucrezia Borgia was a real person, born in 1480 and died in childbirth in 1519, an illegitimate daughter of Rodrigo Borgia (better known as Pope Alexander VI). Her father and brother (Cesare Borgia) arranged three marriages for her, the final one being to Alfonso d'Este, Duke of Ferrara by whom she had 6 children, apparently all legitimate. She also had a child (who died at age 13) by her second husband.
Her first marriage was annulled, "never having been consummated" although she was pregnant at the time of annulment. There is great dispute about that child, Giovanni Borgia. One theory is that he was the incestuous son of Lucrezia and her father the Pope, another that the incest was with her brother Cesare, and a couple more to the effect that his mother was not Lucrezia but was an unnamed mistress of her brother or of her father! As a teenager Giovanni was often seen with Lucrezia to whom he was either half-brother, son, or non-relation. Publicly she used the first title.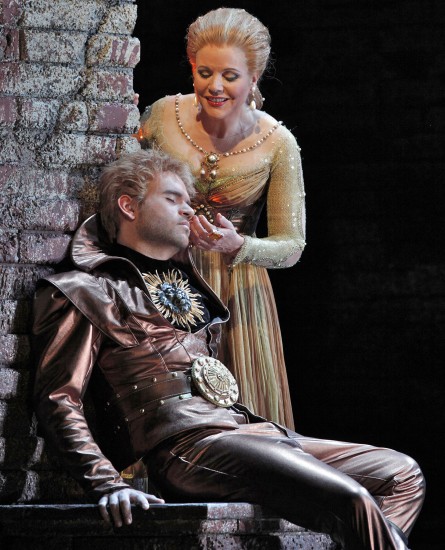 There is little correlation between the historical Lucrezia and the title character of the opera Lucrezia Borgia (RenÉe Fleming) and even less between the real Giovanni and Lucrezia's long-lost son Gennaro (Michael Fabiano). The plot, such as it is, is extremely simple. Lucrezia has finally found Gennaro and tries to befriend him. He does not know that she is his mother; in fact, he believes that she killed his mother long ago.
Her husband, Duke Alfonso (Vialij Kowaljow) misinterprets information brought to him by his spy Gubetta (Igor Vieira), thinks that Gennaro is his wife's paramour, and plans to kill him. In fact, he further punishes Lucrezia by forcing her to hand Gennaro the cup of poisoned wine. She submits, but then gives her son the antidote and warns him to get out of town.
Meanwhile, a group of Gennaro's drunken friends, led by his madcap bosom buddy Maffio Orsini (Elizabeth DeShong), think it's a great joke to tear off the first letter of the sign in front of Lucrezia's palace thus turning BORGIA into ORGIA (Italian word for orgy).
Lucrezia, incensed by this insult to her "honor" traps the whole bunch in a locked room and treats them to a bottle of special wine.
She then gloats that the wine was poisoned and they are all going to die – only to learn that Gennaro is one of the group. She says, "Quick, take the rest of the antidote." "No way," says Gennaro. "If Orsini dies, I die with him. But first I'll kill you," and he draws his sword.
"Hold on," says the lady. "You can't kill me – I'm your mother." "Mama," he cries, immediately forgetting the fact that Mama or not, she's just poisoned him and his friends. They clinch – he falls to the floor as the poison finally takes effect – we start on the grand finale – and the curtain falls.
Donizetti's music is always a joy to listen to and the voices were all excellent. It was a first-time treat for me to be in the same theatre as RenÉe Fleming. As usual, I particularly enjoyed the duets and trios.
But the production as a whole seemed uninspired, and it left me quite unmoved. To thoroughly enjoy an opera, I want good acting – and I didn't get it. First of all, from my seat in Row T I couldn't see the facial expressions. They may or may not have conveyed a lot to audience members with closer seats and/or better vision. But the only person whose body language added anything was Elizabeth DeShong in the trouser role of Orsini. The short stature, confronting stance, and swaggering gait perfectly accentuated Orsini's turkey-cock character – zero fear and slightly less intelligence. But the other people on stage brought nothing but their great voices.
Was my lack of involvement the fault of weak libretto by Felice Romani? Of the production by John Pascoe? Of viewing an intimate opera from far away Row T? Or all of the above?
I'm glad I saw it once, but I am not tempted to go again – unless you were to offer me a seat in the center section Row C!
The Opera Nut
LUCREZIA BORGIA by GAETANO DONIZETTI
September 23â- (8:00 p.m.)
September 26â- (7:30 p.m.)
September 29â- (7:30 p.m.)
October 2â- (2:00 p.m.)
October 5â- (7:30 p.m.)
October 8â- (8:00 p.m.)
October 11â- (8:00 p.m.)
Washington National Opera production
Libretto by Felice Romani
Approximate running time: 2 hours, 45 minutes, including two intermissions
Commissioned by San Francisco Opera
San Francisco Opera
301 Van Ness Avenue
San Francisco, CA 94102
(415) 861-4008
sfopera.com
Except as indicated, all photos by Cory Weaver, San Francisco Opera
CAST

LUCREZIA BORGIA
MAFFIO ORSINI
GENNARO
ALFONSO D'ESTE
RUSTIGHELLO
JEPPO LIVEROTTO
OLOFERNO VITELLOZZO
APOSTOLO GAZELLO
ASTOLFO
ASCANIO PETRUCCI
GUBETTA

PRODUCTION CREDITS

CONDUCTOR
DIRECTOR
PRODUCTION DESIGNER
CHORUS DIRECTOR

This review by Philip G Hodge appeared in sanfranciscosplash.com on September 29, 2011