Before I start my review, I want to make it clear where I am coming from. I like the music of George Frideric Handel but it does not excite me the way Verdi and Puccini do. My musical ear and training are unable to detect the subtle variations which delight some of my friends, and by the end of a Handel opera I admit that the music has become a bit boring.
That does not mean that the operas are boring. Far from it. The stories are engrossing and can be told in very different ways. In fact, the two opera performances that I have seen within the past eight days have far more differences than similarities.
Let's start with the stories. Like his Alcina and Ariodante, Handel's Orlando is based on an episode from Ludovico Ariosto's Orlando Furioso, a 2,000 page epic poem written in the early sixteenth century. In Donald Pippin's words the story is "of cosmic scope, where madness, magic, and mystery play leading roles."
In contrast, Giulio Cesare is based, however loosely, on the history of the Egyptian part of Caesar's Civil War (49-45 BC). Therefore it sticks more-or-less to the possible.
The productions are even more different. Giulio Cesare is a full-sized Met Opera spectacle. Fantastic stage sets for the Met's enormous stage – different for every scene. Elaborate costumes and many costume changes. Large choruses. Lots of action, including a couple of sword fights. Between the action and the subtitles, it is easy to follow the story.
Orlando, on the other hand, was performed concert style. The orchestra (4 strings, 3 double-reeds, 1 French horn, and Donald Pippin at the harpsichord) occupied the back half of the small stage, 5 chairs for the soloists were divided between the two sides, and the front center third was where the current singer(s) stood. No scenery. Concert semi-formal wear for the singers with male roles all wearing pants. No subtitles. Story told by Donald with his usual wry humor.
Giulio Cesare
Since I am discussing two performances in one review, I will refer you to the MetHD website for cast and synopsis. Also, I hereby state without amplification that the singing, acting, and music were all fully up to the high standards of the Met, and just mention a few things about the production that really stuck in my mind.
The stage sets, costumes, and lighting were all fantastic. A large screen with various moving pictures was prominent in many of the scenes. Frequently it portrayed the Mediterranean with ships ranging from square-riggers to battle ships to a luxury ocean liner.
In other scenes the screen shows the sky at various times of day, and such things as a gigantic war map and the ruins of war.
The design team went all out to be sure that Cleopatra (Natalie Dessay) was always dressed appropriately for the occasion. Her costume ranged from towel and soapsuds to formal gay-nineties ball gown, from a belly-dancer's outfit to extreme masculine attire to a "little black dress", with numerous stops in between. I counted 9 different outfits – and I may well have missed a few.
Natalie Dessay has one of the most expressive faces I have ever seen. In the course of the opera Cleopatra experiences joy, sorrow, apparent defeat, final victory, and personal happiness – and her face always tells you which is which.
Dessay was not the only one on stage with a face worth watching. Patricia Bardon (Cornelia) and Alice Coote (Sextus) were right up there in that department. Early in the opera they receive the news that Pompey has been treacherously slain by Ptolemy (Christophe Dumaux). From then on until near the end of the opera whenever Cornelia appears on stage her expression is one of hatred and vengeance. Sextus is more complex. He's probably only about 12 years old and believes himself capable of anything when he grabs his father's sword and solemnly vows that he will personally kill Ptolemy.
In Act III Sextus actually runs his father's sword through Ptolemy's chest. In the best-acted and most dramatic scene in the entire opera, mother and son are transformed. Cornelia gloats over the dead body, rubbing her hands in the bloody wound and smearing the blood on both of their faces. She is positively ghoulish in her joy. Sextus, on the other hand, is in a state of shock. And why not? The kid has just killed a man – a real live human being – the most powerful man in Egypt. This is not a toy soldier knocked over by a wooden sword. Can this be me? Can this be my mother dipping her hands in real blood?
And on this grisly note, we leave ancient Egypt and talk about the enchanted land of terrible monsters and beautiful princesses – the land wherein dwells
Orlando
A Pocket Opera production of a Handel opera is unlike any other opera you will ever see. The musical portion is presented concert-style by 5 young artists who are gifted singers and inveterate actors.
There are no recitatifs, but between arias Donald Pippin keeps us up to date on the progress of the improbable plot with his highly original summaries. I can't begin to reproduce his droll style, and there are plenty of standard synopses available on the web, so I'll just give an idea of his style by quoting his over-all summary:
Orlando, the invincible warrior, bred on the flesh and marrow of lions, fearless in battle, has lately been troubled by unfamiliar, unsettling and strangely unwarlike stirrings within. In short, he is in love. The heroic vanquisher of monsters is himself vanquished by the lovely Princess Angelica, who is not only the most beautiful woman alive, but the most beautiful woman who has ever lived. No wonder that he goes berserk, plunging into a boiling cauldron of anger, hurt, and jealousy, when he discovers that she, too, is in love – with another man. It takes him on a wild, hallucinated rampage of violence and destruction that eventually finds its way to sanity and redemption. All of it propelled by inspired music. "After the storm of human passion has run its course, the stars will continue to shine."
All five of the singers were very good. Even though it was concert style, they snuck in a bit of acting by their facial expressions when someone else was singing about them. According to Donald's synopsis, near the end of the opera Orlando and Angelica do battle in a duet after which he throws her over a cliff. When Tania Mandzy Inaila and Jennifer Ashworth finished singing it and were heading back to their chairs, Tania gave Jennifer a gentle shove. Both of these singers were making their debuts with Pocket Opera; I hope we'll see them again.
Maya Kherani is amazing. The week before I had seen her perform as Eurydice and had raved about it in my review of Orpheus in the Underworld. It turns out that just a few days before that event, the soprano originally scheduled to sing Orlando had announced that she would be unable to perform, and Maya had stepped up to take on the vital role of Dorinda. So two weeks in a row I had the joy of hearing her sing and seeing her mobile and expressive face.
I have seen, heard, and fallen in love with Kindra Scharich in many previous Pocket Opera performances, most recent ones being The Muse in last season's Tales of Hoffmann and Isabella in An Italian Girl in Algiers in 2011. She has a more limited role here, but she handled it perfectly.
Lee Strawn has appeared with Pocket Opera in numerous previous Handel operas and has also sung bass-baritone roles in many other performances. Zoroastro's sonorous bass was a dramatic contrast to the female voices that dominated the afternoon.
And so ends another pleasant afternoon at the opera. Donald Pippin sums it all up just before the Finale. After telling us how Angelica and Medoro head back to Cathay with everyone's blessing, Dorinda happily transforms her unrequited love back to her lambs, and Zoroastro goes back to studying the motions of the stars, he concludes with "Orlando rides forth to continue his battle against evil; if we could decipher the banner streaming behind him it would probably read Make War not Love."

P. S. There is one more chance to see both Handels. Orlando will be at the Hillside Club in Berkeley at 2 pm Sunday May 19, and Giulio Cesare will have an Encore performance at a theatre near you at 6:30 pm (local time) Wednesday May 15. In addition there are two more Pocket Operas this season,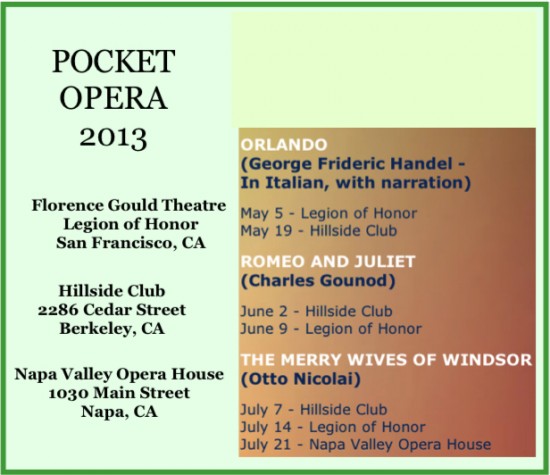 and MetHD is offering three Summer Encores on Wednesday evenings at 7 pm local time:
June 19 Carmen
June 26 Il Trovatore
July 10 Armida
Photos:
Except as stated otherwise, photos by Robert Selinske, Pocket Opera Board of Directors
Tables and photo arrangements by Philip Hodge.
Dialogue quotes from Donald Pippin.
This review by Philip G Hodge appeared in sanfranciscosplash.com on May 9, 2013.