The evening of Friday, May 20, 2011 began with Dido and Aeneas, an opera written by the English composer Henry Purcell in the late 17th century. Although it is written in three acts with a total of 5 listed scenes, it takes only about an hour and is played without a break.
Following the intermission the evening's entertainment took a huge jump to Manuel de Falla's La Vida Breve. Time wise we jump over 200 years to early 20th century, skipping all music from the 18th and 19th centuries. Geographically we go directly from Purcell's England to de Falla's Spain, ignoring France, Germany, and Italy. Musically we go from precise, sparse, intellectual Baroque to lush, romantic, emotional Flamenco, skipping bel canto, verismo, etc. And composer-wise we go between two musicians better known for their other musical forms than for their mere handful of operas, skipping over all of Gluck, Mozart, Rossini, Wagner, Verdi, and most of Puccini.
Yet, despite all these extremes, the two operas have the same mood and are both variations on the same essential plot line:
girl is unhappy over boy's absence;
boy and girl swear eternal love
boy leaves girl
girl dies of broken heart
I thoroughly enjoyed the music in both operas and thought that hearing the two very different styles in one evening was a definite plus. Judging by comments that I overheard at the reception, I gather that not everyone in the audience felt the same way. Some loved the baroque but were put off by the more jarring modern music; others loved de Falla's strong rhythms but thought Purcell rather boring! Chacun é  son goé»t.
With regard to the visuals, West Bay Opera is fortunate to have the gifted set designer Jean-Frané§ois Revon available for so many of their productions. In Dido use of drop pieces made it possible to shift seamlessly from one scene to another with no pause in the music.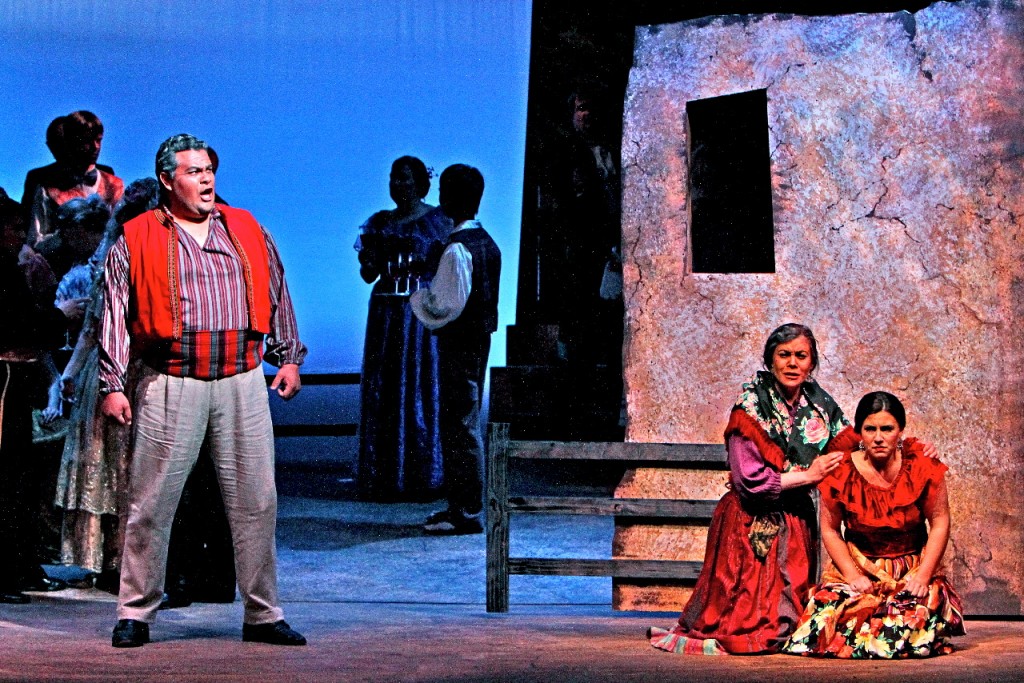 In the second part of Vida the entire stage is the interior of Carmela (Alexandra Mena)'s house where a party with dancing is occurring. But when Salud (Cathleen Candia) shows up to look through the window, a wall is quickly rolled in from stage left to give her a window to look through. Scene changes were also enhanced by lighting designer Ted Anderson's skillful use of color and intensity.
Costume designer Abra Berman was particularly imaginative in Dido. The hero's brief attire emphasizes his very male body and Dido's strapless gown is a perfect counterfoil.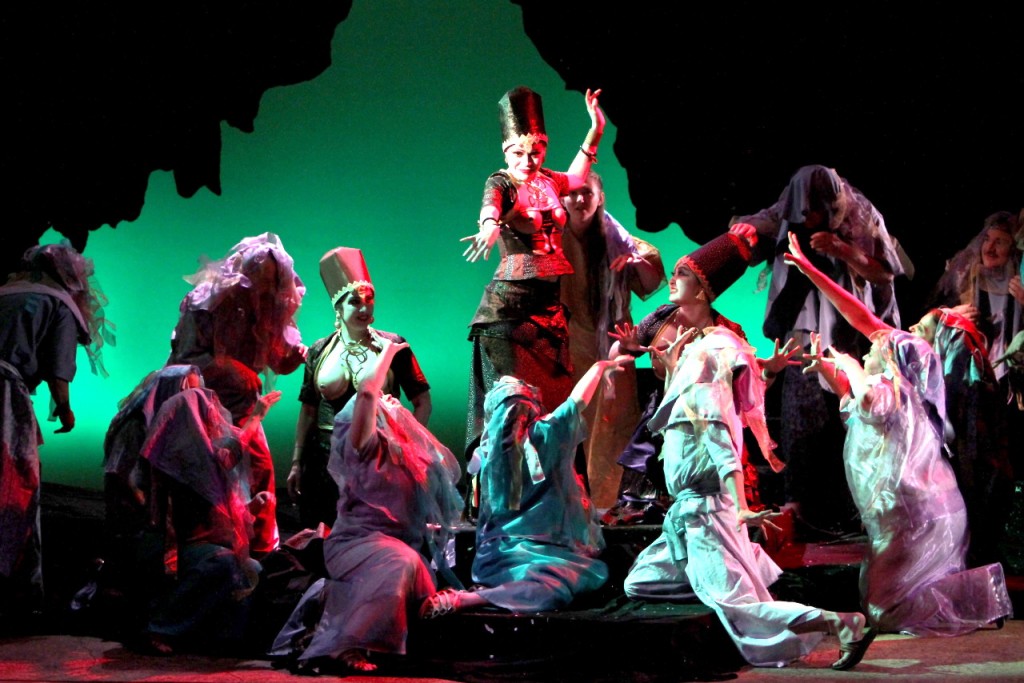 As for the three witches, let the pictures speak for themselves. Men, look without your glasses and enjoy the illusion; women, look closely and appreciate the dressmaker's art to preserve modesty. And we can all appreciate Director Ragnar Conde's economy in transforming the court ladies into the witches' chorus by the mere covering of their heads.
Despite the similarities, there is a fundamental difference in the two stories. Vida is a human tragedy caused by flawed humans Paco (Pedro Betancourt) who turns out to be a contemptible rotter and Salud (Cathleen Candia) who's something of a silly goose. Dido is more like a Greek tragedy – the humans are mere puppets of the evil witches.
The total stage time of the two operas was only about two hours, as opposed to the 2.5 – 3 hours of most full length operas. However, if a singer appears in both halves of a double bill, she has only a twenty-minute intermission to adapt her voice to a totally different musical style and to take on a totally different personality.
Mezzo Carla Lé³pez-Speziale certainly had the biggest jump to make: from the powerful, sensuous, evil Sorcerer in Dido to the sweet old Abuela (grandmother) of the gypsy in Vida. During the Q&A session after the Sunday matinee (Yes, it's now Monday morning and I've seen the performance twice), I asked a question: "How did you do it?" Carla said that it was "Challenging, but very rewarding. I throw myself completely into one personality and then the other. They are so extreme, and the real me, Carla, is somewhere in between. It's fun!"
A somewhat different problem was faced by soprano Cathleen Candia who played both lead roles: Dido and Salud. Her persona as a woman spurned was very similar in the two roles, but she had to react to two different individuals: Zachary Gordin as Aeneas and Pedro Betancourt as Paco. Her response to the question was, "It's exhausting. I've played in operas where I've done more singing on stage, but I've never felt so tired at the end."
The lead men, baritone Zachary Gordin as Aeneas in Dido and tenor Pedro Betancourt as Paco in Vida had it easier, since they each had only minor roles in the other opera. Although one of the musical highlights of the entire performance was Zachary's aria at the beginning of Act II of Vida.
I can't leave the discussion of Dido without mentioning soprano Shawnette Sulker who played the role of Belinda, Queen Dido's confidante. She filled her major singing role in Act I with her lovely voice. I still remember her charming performance here in Orfeo ed Euridice in 2009.
Finally, it was a treat to see the three Flamenco Dancers (Rose Leitner, Javier Fresquez and Julia Schmitt) who provided pleasant relief from the tension in Acts II and III of Vida.
Good news! The operas will be performed twice more this coming weekend on Saturday, May 28 and a matinee the next day. Look for me in Seat E2 if you come Saturday. These are a couple of rarely performed operas worth seeing three times!
And . . . . Mark your calendars for June 15 when tickets go on sale for next year's ambitious program:
Samson et Dalila by Camille Saint-Saé«ns
Don Giovanni by Wolfgang Amadeus Mozart
Aida by Giuseppe Verdi
Call the WBO box Office at 650-424-9999 or visit their website after June 15.
The Opera Nut
WEST BAY OPERA 221 Lambert Avenue
Lucie Stern Theatre 1305 Middlefield Road
Palo Alto CAӬ 94306 650.424.9999
Photos by Otak Jump
This review by Philip G Hodge appeared in sanfranciscosplash.com on May 24, 2011.