The house lights dim. We, the audience, grow quiet. Concertmaster Cynthia Baehr stands to direct the final pitch-giving. Conductor Bryan Nies makes his way through the orchestra to polite applause.

Applause grows as he mounts the podium, greets the orchestra, turns to the audience and bows – and stops as it cut off by a single switch as Nies turns back to the orchestra and raises his arms. Our pulses quicken in anticipation. An opera is about to start.
Down come his arms as the orchestra plays the first notes of the overture – notes which will . . . . . But wait! La Voix Humaine is not like any other opera I have ever seen. The conductor's arms do not descend; they remain upraised, poised, ready for action. The curtain rises in utter silence – not a sound from stage, orchestra , or audience. The stage is empty – stark, all black and white and shades of gray. The only color in the entire stage is the red telephone cord. The lines on the wall are double giving an out of focus appearance. I'm sorry I can't give you an actual picture of that empty set; the pastiche above, made from croppings of available photographs may give you some idea of what it looked like.
It seemed that this tableau held for an eternity, but it was probably only a handful of seconds before the woman appears from the rear. Yes, that's how the role played by Suzan Hanson is listed in the program – no name, no capital letter – just "the woman" or "elle" (French for "she") for short. She rushes in, moves jerkily as if at random one way, then another. The only sound is a muffled sob. Another eternity – and this one may have lasted almost a minute. Obviously elle is a desperately unhappy woman. She is trying to flee from something, but that something is within her – no matter which way she turns, it turns with her.
Finally she gets hold of herself. She takes a breath, the conductor tenses his raised arms and starts them down. The music starts: orchestral and vocal. And such "music"! Startling dissonances which perfectly complement the dissonance in her mind.
It doesn't take us long to realize that elle is desperately hoping that the phone will ring. Eventually it does, and for most of the remaining time she is singing into it. Hearing only her end of the conversations, we can usually figure out what the other end of the conversation is saying, and we are soon aware of the situation. Elle was living with a man for 5 years and is still totally in love with him. He, however, has grown tired of her. He has just moved out of their apartment and is planning an imminent marriage with someone else. She tries her best to please him, hoping against hope that he will come back to her. She pretends to be nonchalant and matter-of-fact in the words she uses, but we can see that she is burning up inside by the way she stumbles from one place to another, pouring and gulping a drink, nervously lighting a cigarette, popping a pill. And the music always keeping up with her – matching her every mood swing.
All in vain. After forty-some minutes we can tell that he has hung up for the last time. She lets the phone drop. Slowly, almost majestically, she stands. She walks through the French doors at the back of the apartment and leaves them open as she stands at the edge of the balcony, staring down at the street hundreds of feet below. All is silent as in the beginning. The lights fade and go out. The curtain descends. "The Comedy is Finished "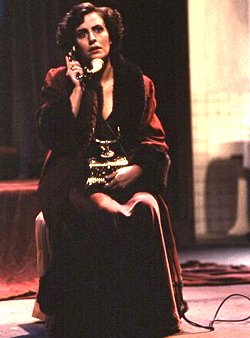 Did she jump? Composer Frances Poulenc doesn't tell us. Librettist Jean Cocteau doesn't tell us. Director Layna Chianakas was not only the director of this production, but in 1966 when OSJ last performed this opera, she sang the solo role; but she doesn't tell us. Conductor Bryan Nies doesn't tell us. Not even the woman herself, Suzan Hanson, tells us. Indeed, they cannot possibly tell us, because elle is no longer one person. She entered the stage as the creation of these 5 people, but once there she creates a thousand clones and enters into each of us, the audience. And each clone is a different person because each of us is a different person. Your elle may have taken one course; mine the other. Let's leave it at that.
La Voix Humaine opened on Saturday night, November 12, 2011. We saw the second performance, a Sunday matinee. There are two reasons I pick that performance to review. There are still six more performances over the next two weeks, so you have lots of opportunities to buy a ticket and share my enjoyment. And that first Sunday matinee is the only performance to be followed by a talk-back session with the cast and creative team. One of the much smaller audience attending that session asked Suzan Hanson if she "heard" the other side of the telephone conversation while she was on stage in the actual performance. "Definitely yes," she replied, "I hear every word he says. Sometimes he surprises me!" Conductor Bryan Nies confided that his first step when he knew he would conduct was to read the entire libretto and pencil in between the lines his imagined responses. "I had to keep erasing and changing after each rehearsal – and even after every performance. Even with the same singer, no two performances are exactly the same."
I am eagerly looking forward to seeing what Betany Coffland does with the role when I go again next Sunday, November 20. Will I see you there? I'll be in seat C106.
The Opera Nut

Opera San Jose
2149 Paragon Drive
San Jose CA 95131-1312
408-437-4450

California Theatre
345 South First Street
Betw San Carlos & San Salvador
Downtown San Jose


CREATIVE TEAM

Conductor
Assistant Conductor
Stage Director
Set Designer
Costume Designer
Wig & Makeup Designer

CAST**

Cast for 11/12, 11/17, 11/20, 11/25
Cast for 11/13, 11/19, 11/22, 11/27
Opera San JosÉ Orchestra, Chorus, Dancers and Supers
* November 20 and 27 Ҭ**Casting subject to change without notice

Post Scriptum
"What's that, ed? Oh yes. La Voix Humaine was the first half of a double bill and was followed by Leoncavallo's Pagliacci. A fine opera and well performed. But I'm still on my emotional high from La Voix. That alone provides plenty of reason for buying a ticket and going to San Jose again. Pag is a nice extra thrown in by the management. You'll like it. O.N.
This review by Philip G Hodge appeared in sanfranciscosplash.com on November 16, 2011.