Friday night, February 17, 2012, was the third and last production of Don Giovanni that I have seen and reviewed this season. Click the appropriate opera company below for the first two. Unfortunately, I missed the HD performance of the La Scala production last month.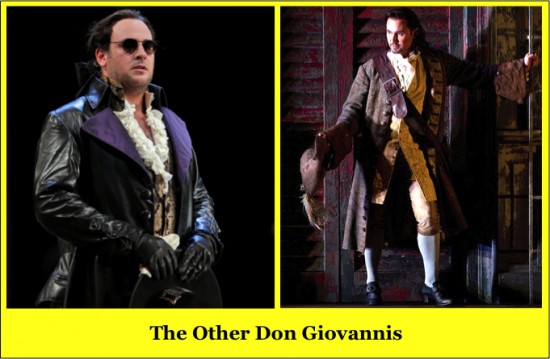 All of which presents me with a reviewing problem, since I've already pretty well covered my opinions of the music, characters, and plot. Also, since I realize you may be a busy person and don't have time to read a lengthy review, let me start by giving you the Twitter version (140 characters maximum):
Director David Cox puts Giovanni in a modern setting and it works!
See it Feb 25 at 8 and/or Feb 26 at 2.
If you'd like to follow my meanderings as I put them down, you might want to read either or both of my previous Don G reviews either now or after finishing this one. I've just reread them, so they are definitely in my mind as I write.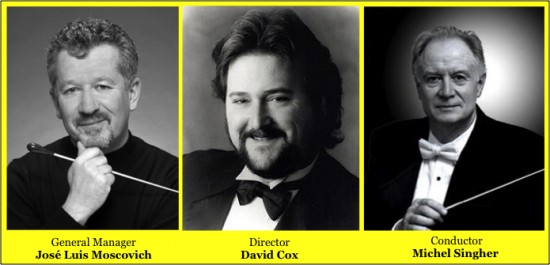 Director David Cox, Conductor Michel Singher, Set Designer Jean-Frané§ois Revon, Lighting Designer Robert Ted Anderson, Sound Designer Tod Nixon, and current Costume Designer Callie Floor – Not exactly household names, but for opera-lovers who live anywhere near Palo Alto, California, they should be. Throw in General Manager JosÉ Luis Moscovich, the intimate Lucie Stern Theatre, a remarkably good volunteer chorus currently directed by Bruce Olmstead, and the dedicated volunteers of the West Bay Opera Guild and you have a recipe for three of the most rewarding opera experiences I have had in many a year.
The Carmen I saw in 2008 was outstanding. I can't expect anything to match the Turandot they produced last year, but their Don Giovanni last Friday sure came close. Cox was particularly qualified to direct this because in previous years he had sung the roles of both Leporello and Giovanni.
The most obvious difference between this production and the other two I've seen was the setting. In the director's words:
Putting the opera in an old East Coast neighborhood brings a sense of a community being upset by outsiders. Further, with the One Percent and presidential candidates' sexual peccadilloes in the news, the idea of a spoiled trust fund brat who has never worked a day in his life having his way with whomever he pleases seemed to resonate with today's headlines. What it boils down to is that the legend of Don Giovanni will be told in modern times, with modern dress and a timeless sensibility.
And told it was, in fine rich voices, expressive faces, and good acting. We were warned even before the lights went down by the parenthetical descriptions in the cast list:
Cast (in order of appearance)
Leporello (Don Giovanni's posse) : Adam Paul Lau
Donna Anna (daughter of a respected member of the community) : Christina Major*
Giovanni (scion of the 1%) : Daniel Cilli
Commendatore (a retired military officer) : John Bischoff
Don Ottavio (police detective engaged to Anna) : Jonathan Smucker
Donna Elvira (a lady from the Hampshires) : Liisa Dé¡vila
Zerlina (a local girl) : Kristen Choi
Masetto (a local guy) : Carlos Aguilar
* First appearance with West Bay Opera
Leporello and Giovanni were a wonderfully contrasting pair of rogues. The "boss" young, good-looking, suave, used to getting his own way. His go-to man indeterminate age, seedy-looking, street-smart. Adam Paul Lau demonstrated his acting ability in a role totally different from his appearance as the ancient Timor in last year's Turandot.
Giovanni's first attempted conquest, Anna, showed a little more emotion than the usual Donna Anna, but her fiancÉ was the perfect wimp. Their voices were beautiful in their solos and matched well in their duets.
Elvira's costume showed clearly that she'd been looking for Giovanni for about eight months. She well-portrayed her conflicting emotions of hate and love towards him, leaving absolutely no room for the slightest trace of humor.
The young peasant couple were marvelously cast. Zerlina is one of my favorite personas in all of opera, and Kristen Choi played her delightfully – again, so different from Liu in Turandot. Carlos Aguilar has appeared in almost every West Bay Opera for the last couple of years. He has a wonderful deep bass voice, and I'm delighted to see him getting the substantial role of Masetto. And such a cute couple together. It would take at least four of her to lift him off the ground on a playground seesaw.
Before I get to the final principal, let me talk about the set. In conformity with WBO's policy of putting on a high-quality performance at a minimum cost, the decision was made to construct one elaborate street scene and make it do for all of the settings. Thus instead of Giovanni inviting everyone to his home for a party, he invites them to a street-party, etc. On the whole it works well – better for some scenes than others of course.
Da Ponte's libretto has the Commendatore coming out with drawn sword to repel his daughter Anna's attacker; Cox replaces it with a baseball bat. In response, Leporello picks up a 2-by-4 from the street and hands it to Giovanni. When the old man knocks that away, Giovanni pulls out a switch-blade and kills him. Very different from the usual sword fight, but equally effective.
When the curtain goes up after the one intermission, we see that a roadside shrine has been added in honor of the Commendatore, and it includes a life-sized framed portrait. This is the only set change in the entire opera, and it remains there during the rest of the performance. Almost. You may recall that in the penultimate scene – the graveyard scene – the statue of the Commendatore speaks and nods his head. Cox has replaced the statue with the portrait and at the appropriate moment the fine base voice of John Bischoff issues from the frame and the "portrait" nods his head. My reason tells me that there is no way Bischoff could have remained totally motionless during the preceding hour; up until now we must have been seeing a camera shot of him projected onto a scrim. But the transition from projection to person was so seamlessly done that I couldn't detect it!
You ain't seen nothin' yet. Final scene according to the libretto: Giovanni's solo banquet served in banquet hall. Elvira makes her final plea for him to reform and is rejected. A portentous knocking on the door. The door opens and the statue lurches in.
Final scene as seen on stage: Giovanni's solo banquet served in the street with take-out dishes from a Chinese restaurant. Elvira makes her final plea for him to reform and is rejected. The portrait frame is visibly rocked back and forth, banging on the floor. The Commendatore dramatically rips the frame apart and strides forth.
Commendatore declines food, offers counter-invitation and grasps Giovanni's hand. Giovanni screams with pain, sinks to floor, refuses to repent. Leporello cowers in terror.
Libretto: Flames rise up; trapdoor opens; Giovanni goes to down to Hell.
On stage: Red mist rolls in, she-demons appear; Giovanni is dragged offstage to Hell.
I have never seen a more dramatic ending to Don Giovanni.
Unfortunately David Cox had used up all of his genius by now. Without even a momentary drop of the curtain or time for the first clap of applause, the principals all burst on stage and sing their beautiful, but mood-shattering sextet. Oh well, nobody's perfect.

WEST BAY OPERA
Lucie Stern Theatre
Palo Alto CAӬ 94306

221 Lambert Avenue
1305 Middlefield Road
650.424.9999

Future performances:
Feb 25m 26m Don Giovanni by Wolfgang Amadeus Mozart
May 25, 27m Jun 2, 3m Aida by Giuseppe Verdi
Except as noted otherwise, all photos by Otak Jump
This review by Philip G Hodge appeared in sanfranciscosplash.com on February 22, 2012.