It seemed like old home week as I settled into my comfortable seat at CinÉArts @ Palo Alto Square Theatre at 8:55 AM Saturday morning, February 11, 2012 to begin six hours of immersion in wonderful music and cosmic story-telling. Sara, Letha Ann, Bruce, and Ellen were with me, as they had been for most of the first three installments of The Ring of the Nibelung: Das Rheingold, Die Walké¼re, and Siegfried.
In the coming six hours we would see several familiar faces on the giant screen in front of us: stars Deborah Voigt as Bré¼nnhilde, the same role she played in Siegfried and Die Walké¼re, and Jay Hunter Morris as Siegfried, the role he'd stepped into at the last minute in Siegfried.
Although Hans-Peter Ké¶nig played the newcomer Hagen, we'd seen him in all three of the previous episodes: Fafner the Giant in Das Rheingold, Hunding in Die Walké¼re, and Fafner the Dragon in Siegfried.
Wendy Bryn Harmer, Hagen's sister Gutrune, had also played Freia (Das Rheingold) and the Valkyrie Ortlinde (Die Walké¼re).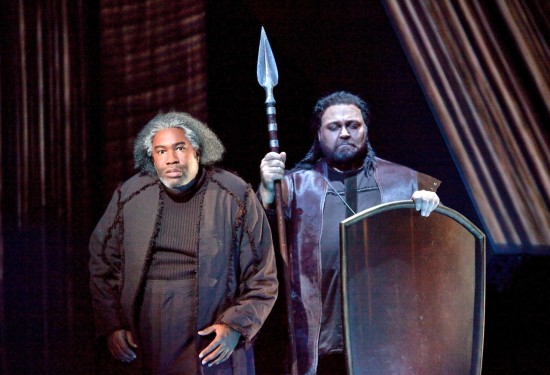 Eric Owens as Alberich the Dwarf is quite familiar by now, having previously been in Das Rheingold and Siegfried. The brief interview with him was fascinating. When he stands up straight he becomes quite a different and much nicer person.
Finally, two of the three Rhine Maidens had been in Das Rheingold last year: Tamara Mumford as Flosshilde and Jennifer Johnson Cano as Wellgunde – although last year she was just listed as Jennifer Johnson.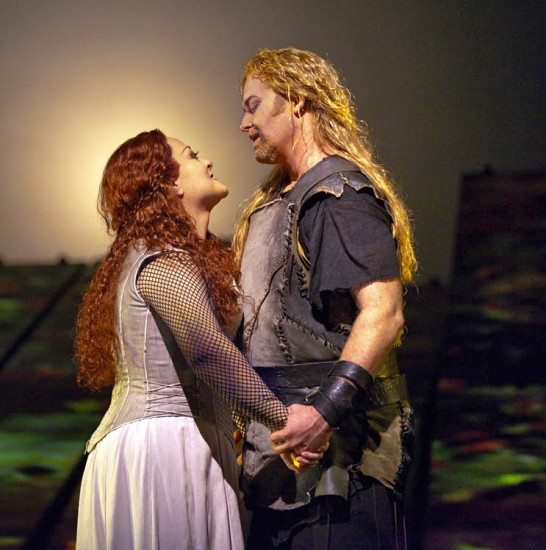 We had last seen our heroes Siegfried and Bré¼nnhilde clasped in each others arms and about to retire to their conjugal bed in Bré¼nnhilde's cave to consummate their "marriage".
In case you had missed or forgotten the three preceding Ring operas, Gé¶tterdé¤mmerung opens with a two-scene Prologue. First, Erda's daughters, the three Norns (Maria Rudner, Elizabeth Bishop, and Heidi Melton) sing a brief synopsis in a delightful mix of solos and close harmony.
Having been brought up to date, we return to the story in Scene 2 to find the two lovers emerging from their cave on a beautiful morning. Enough time has passed for Bré¼nnhilde to impart all of her wisdom and magic to Siegfried, but we have no clue (and no need-to-know) how much time has elapsed. It might have been many years and countless adventures later, or it might have been a crash course and the coming adventure will be his first.
Siegfried hasn't changed a bit. He's still as brash, self-confident, and naé¯ve as ever. But Bré¼nnhilde! Anna Russell really summed up the change in her: she belted a few bars of the Valkyrie's flight song and followed with a phrase from today's opening love duet, remarking, "Marriage has sure taken the ginger out of her." (Click Here for some youtube videos of Anna Russell on the Ring Cycle.)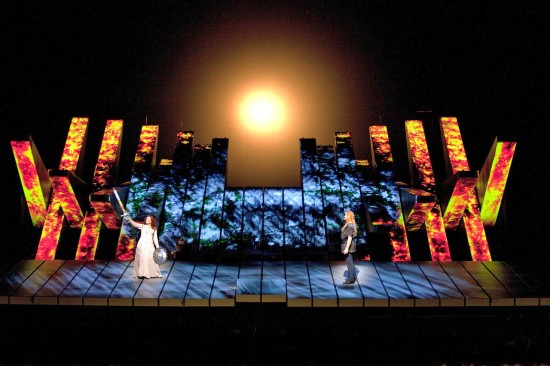 It's soon made clear that they have happily settled into a "normal" routine of married life – hubby goes off to his job in the morning and wifey stays home and tidies up the cave. Only in this case Siegfried's job is being a hero so he goes off looking for an opportunity to kill some baddies and/or rescue a damsel in distress and/or help a good guy out of his difficulties, etc. He may be gone a week, a month, a year – whatever it takes – leaving Bré¼nnhilde alone in their aerie retreat, still protected by the magic ring of fire.
Eventually Siegfried's adventure will be successfully concluded, and he'll come home for a bit of R and R. Bré¼nnhilde will bask in his reflected glory as he tells his latest tale of derring-do, and they'll make beautiful music together. Not exactly my idea of marital bliss, but whatever turns you on . . .
However, this idyllic sequence is about to be shattered. Meet the Gibiches: Gunther (Iain Paterson) a legitimate son-of-a-Gibich, his equally legitimate sister Gutrune (Wendy Bryn Harmer), and their half-brother Hagen (Hans-Peter Ké¶nig), the result of a rape by Alberich (Eric Owens) the Dwarf. The legits are pretty stupid and weak-willed and are easily manipulated by Hagen – who was conceived only because Alberich felt himself growing old and wanted a son to carry on his hatred of the Gods. Although presumably dead by now, Alberich's ghost communicates with Hagen in his dreams and fans his hatred – which is hardly necessary. Hagen hates everyone: the Gods, people, his father, and himself.
Well, no sooner have we met this delightful trio and heard Hagen's diabolical plot, than Siegfried's horn is heard in the distance, announcing to all and sundry that a hero has come looking for wrongs to be righted. And here I have a question. Why does Siegfried encounter Hagen?
(a) pure coincidence so that Wagner can tell a good story ?
(b) because there is a cosmic law that there can be no "lived happily ever after" – sort of a form of entropy?
(c) because the world is a battle-ground between good and evil, and evil engineered the meeting?
As a description of real life, I'd vote for (a), but this is opera-land. My opinion is that Wagner purposefully left his choice unclear and left it to each of us listeners to make our choice between (b) and (c). I choose (c). What about you?
And so the story plays itself out. A little slowly, perhaps, but with Wagner's music, Voigt's singing and acting, and memorable performances by Morris and Ké¶nig who cares.
It was close to 3 pm when Siegfried's funeral pyre was finally lit, "Everything burned up" (Anna Russell, again), and the Rhine maidens had reclaimed their gold.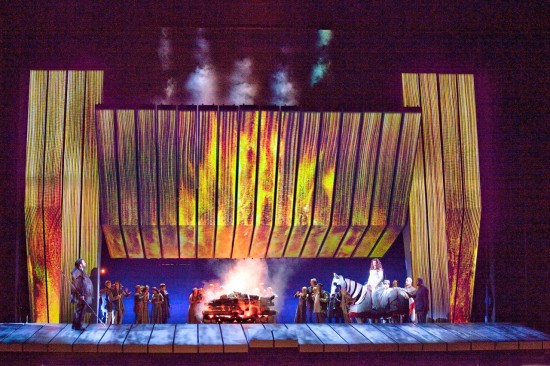 I left the theatre exhausted but thoroughly satisfied.
Alas, the Met has still not scheduled any Ring encores this season. I have heard rumors that they are planning to offer them this summer, but nothing definite as to what or when. When, as, and if I hear anything, I'll let you know.
A bit of sad news to share before I sign off. Tenor Charles Anthony passed away at his home in Tampa, Florida, on February 15, 2012. His first role at the Met was in 1954 as the Simpleton in Boris Godunov and in the next 56 years at the Met he sang 111 roles in 69 operas for a total of 2,928 performances.
Anthony's final role was as the Emperor in Turandot in 2010 – a performance that I was fortunate enough to see on MetHD. A high point of my total opera experience over the years was his interview with RenÉe Fleming. Click here if you'd like to read my review of that performance. Or click on Met Mourns to read the Met's news release.

Gé¶tterdé¤mmerung

CONDUCTOR
PRODUCTION
ASSOCIATE DIRECTOR
SET DESIGNER
COSTUME DESIGNER
LIGHTING DESIGNER
VIDEO IMAGE ARTIST
First Norn
Second Norn
Third Norn
Bré¼nnhilde
Siegfried
Gunther
Hagen
Gutrune
Waltraute
Alberich
Woglinde
Wellgunde
Flosshilde
stage horn solo

Fabio Luisi
Robert Lepage
Neilson Vignola
Carl Fillion
Frané§ois St-Aubin
Etienne Boucher
Lionel Arnould
Maria Rudner
Elizabeth Bishop
Heidi Melton
Deborah Voigt
Jay Hunter Morris
Iain Paterson
Hans-Peter Ké¶nig
Wendy Bryn Harmer *
Waltraud Meier
Eric Owens
Erin Morley *
Jennifer Johnson Cano *
Tamara Mumford *
Erik Ralske

* Graduate of the Lindemann Young Artist Development Program
This review by Philip G Hodge appeared in sanfranciscosplash.com on February 20, 2012.