I suppose in theory that I could eventually get tired of seeing and hearing Verdi's La Traviata — but it would take more than the seven performances I have seen of four different productions of it during the past year.
Some productions lead to new insights whereas others simply reinforce what I have previously experienced. The Euro HD rendition of last year's performance from the Royal Opera House in London was of the latter type. But what a strong reinforcement — and how could it be otherwise with such a star lineup in the lead roles.
RenÉe Fleming is a consummate actress with infinite stage-presence and a beautiful soprano voice. In a fascinating prologue during the overture, she is alone in her ballroom awaiting the arrival of her guests. Her facial expression and her body language convey perfectly the fact that she is a sick woman. She is looking at old pictures, and from time she coughs silently into her handkerchief.
The overture ends and is deservedly applauded, Act I begins and she immediately straightens her body, tucks away her handkerchief, puts a radiant smile on her face and greets her guests gaily and vivaciously. Exactly as I have always pictured Violetta.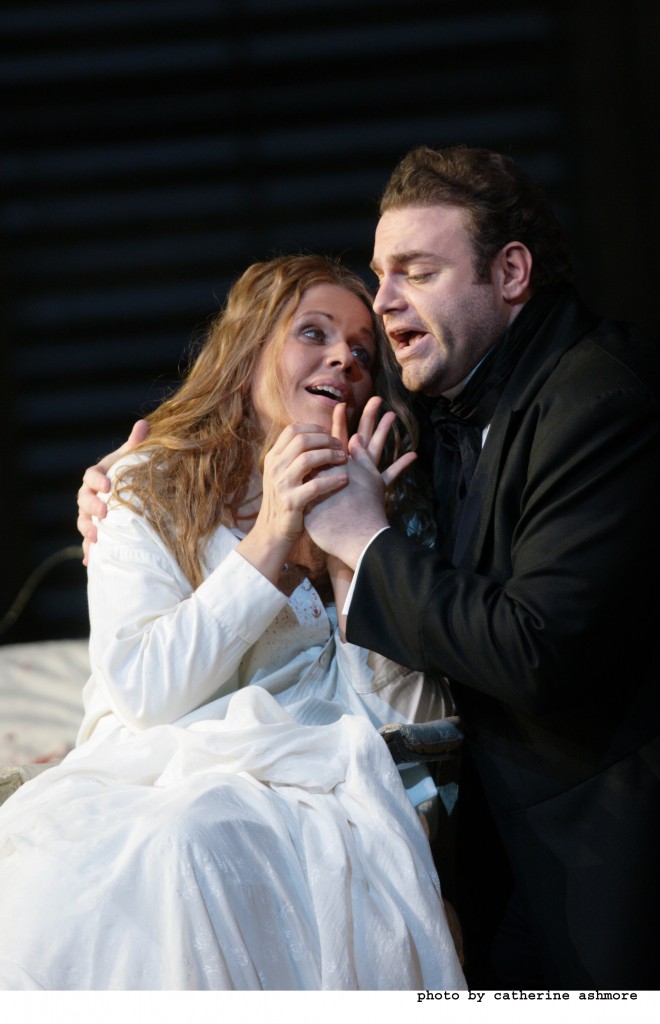 Joseph Calleja, her lover Alfredo, may not yet have the name recognition of a super star, but I predict that he soon will have. Even to my untrained ear, his voice had uncommon power and richness, whether he was musing pianissimo or belting it out. His acting ability as a lover was not exceptional but at the end of Act II Scene 1 he perfectly caught Alfredo's anger, bitterness, hurt, and childishness when he learns that Violetta had left him.
The third star, Thomas Hampson, completely restored my belief that Germont is one of the most villainous characters in all opera. He was such a completely cold, self-righteous, heartless, bigoted prig, that it was a real pleasure to hate him.
I wanted to get up there on stage and shake some sense into all three of them in Act II Scene 1 (well actually I'd rather give Germont a swift kick in the rear). But Violetta is so stupid in her "noble" sacrifice. Not only is she wrecking what is left of her own short life, but she is equally destroying that of Alfredo. Based only on the word of a mad father, she is throwing away the happiness of two lives for the sake of a spoiled young woman she has never met.
And the music. That wonderful music. It is both so wonderful in itself and so right for this performance. Orchestra, conductor (Antonio Pappano), singers, and director (Richard Eyre) were all on the same page, all telling exactly the same story.
All in all, the Encore performance I saw last Wednesday, March 2 was a perfect classic performance of La Traviata. I felt privileged that I could witness it. And yet . . . ; and yet . . .
It was a brilliant performance — but it was a performance. RenÉe Fleming is a brilliant actress — but she is an actress. I felt lucky to be in the audience — but I was in the audience. If I get a chance, I will see it again.
But for all its brilliance, it didn't move me in the way that I was moved by the Pocket Opera performance I saw last July. Heidi Moss didn't act the part of Violetta — she was Violetta. I was not witnessing a performance, I was . . . — but it's all in my review of that performance. Here I'll finish by saying that I feel truly blessed that I could see both of those performances so different but each so wonderful.
The Opera Nut
Photos: Catherine Ashmore, Royal Opera House
This review by Philip G Hodge appeared in sanfranciscosplash.com on March 14, 2011.