As I look back over my first full year of publishing opera reviews in SPLASH Magazine, January seems like a good time to reflect on some of the operatic highlights of the past year. It came as something of a shock to me when I realized that I had written and published an even fifty reviews of performances I had seen during the year. On the average, that's an opera a week with a measly two weeks off for the entire year. And "average" doesn't tell the story. For example I published only 2 reviews in March, but 8 in April.
People are always making lists of the "Ten Best . . ." so I thought I might try it. I went through my reviews one by one and just put each one in one of two piles: "Best" or "Other" without worrying how many would end up "Best". It turns out that I have sixteen "Ten Best" – no problem. I'll just use a hexadecimal definition of "Ten".
It's a pretty eclectic list, and there is no way I could rank them 1 to 10, so here they are in inverse chronological order:
MetHD
MetHD
EuroHD-ROH (London)
Opera San Jose
San Francisco Opera
Opera San Jose
Pocket Opera
San Francisco Opera
EuroHD-Mantua
MetHD
MetHD
Opera San Jose
MetHD
MetHD
West Bay Opera
MetHD

Click on the opera title if you'd like to read my review.
Which is my #1 favorite? Ask me that question every day for a week and I'd probably give at least 5 different answers. Let's make the question more specific. If a kindly Genie granted me the chance to repeat the total experience of reliving one of those opera performances, which one would I choose? It depends. All right, make it very specific. It is now 5 pm Saturday afternoon, and I can relive the performance of my choice starting at 2 pm tomorrow; I have 30 seconds to decide. 30, 29, 28, . . . 9, 8, . . . STOP! I pick Turandot. Read my review if you'd like to know my reasons.
This is fun. Let's say I do the Genie another favor and he says I can pick three more operas to see on consecutive days next June when not much else is doing, operatically. And I can take my time thinking about it.
"Hey, Genie. Can I count the Ring Cycle as one the way Wagner visualized it"? "Sure – be my guest". "Thanks." I pick the SF Opera performance over the MetHD for several reasons. First, Bré¼nnhilde: Deborah Voigt is a consummate actress, but Nina Stemme didn't just act the part – she lived it. Second, cumulative effect of seeing all four operas in six days as opposed to a span of almost 2 years. Third, the production; SF Opera's use of modern dress and settings made the gods seem more like human beings, albeit on a larger scale, whereas the Met's technological wizardry was impressive for its own sake but didn't add that much to the opera experience. And finally, the vibrancy and responsive audience of a Live performance more than made up for the lack of close-ups.
Then, I want to include one of the three bioperas. I wouldn't mind a bit going again to Heart of a Soldier or Nixon in China, but I'll pick Satyagraha because it probably has more depths that I missed the first time.
I'll start my week with the biopera and end it with the Ring. Between these two heavyweights, I need something light and the nod goes to Pocket Opera's production of Marriage of Figaro.
I wouldn't dare ask the Genie for more, but if he felt real generous, I'd go for Opera San Jose's intense 40 minute production of La Voix Humaine – and I'll toss a coin between Suzan Hanson and Betany Coffland as the soloist.

And that's it for 2011. But look what's coming up for 2012! It's mid-season for most opera companies, but Pocket Opera performs February through July:
THE ABDUCTION FROM THE SERAGLIO (Mozart) Ҭ(YANKED FROM THE HAREM)
March 4 & 11 – Marines Memorial, San Francisco
March 18 – Hillside Club, Berkeley
COUNT ORY (Rossini)
April 15 & 22 – Marines Memorial
April 29 – Hillside Club
TESEO (Handel – In Italian, with narration)
June 3 – Marines Memorial
June 10 – Hillside Club
NORMA (Bellini)
June 24 & July 1- Marines Memorial
July 8 – Hillside Club
THE TALES OF HOFFMANN (Offenbach)
July 22 & 29 – Marines Memorial
August 5 – Hillside Club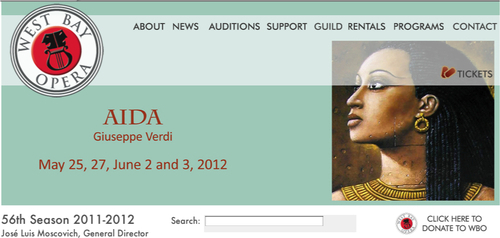 West Bay Opera:The Holt Building,Ӭ221 Lambert Avenue,
Palo Alto, CA 94306,Tel: 650-843-3900,ӬFax: 650-843-3904;
performances at Lucie Stern Theatre, 1305 Middlefield Road, Palo Alto, California, 94306
West Bay Opera has two remaining productions this season and will presumably have something scheduled for the fall of 2012:
Don Giovanni ҬFeb 17, 19, 25 and 26, 2012
Music by Wolfgang Amadeus Mozart
Libretto by Lorenzo da Ponte
AidaҬ May 25, 27, June 2 and 3, 2012
Music by Giuseppe Verdi
Libretto by Antonio Ghislanzoni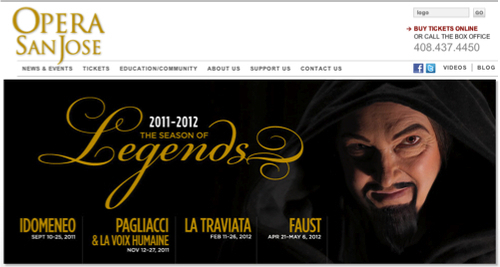 OPERA SAN JOSé‰, 2149 PARAGON DRIVE, SAN JOSE CA 95131-1312
boxoffice@operasj.org, PHONE 408.437.4450, FAX 408.437.4455
It's two down and two to go for Opera San Jose. Don't know what they will offer next fall, but looking forward to seeing these two this season:
Verdi's La Traviata February 11-26
Gounod's Faust April 21 – May 6
California Theatre
345 S. 1st Street
San Jose, California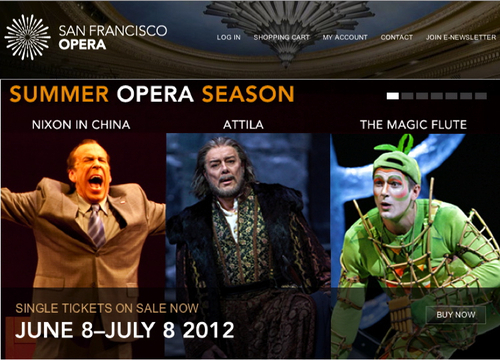 SAN FRANCISCO OPERA, 301 Van Ness Avenue,ӬSan Francisco, CA 94102,
Ticket and Patron Services ҬTelephone: (415) 864-3330,Ӭ Fax: (415) 626-1729
San Francisco Opera offers two distinct seasons each year. The 2011 Fall season had five operas, so I presume 2012 Fall will be about the same. Still to come this spring are:
Nixon in China 6 performances, June 14 – July 7
Music by John Adams
Libretto by Alice Goodman
Attila 6 performances, June 14 – July 1
Music by Guisepe Verdi
Libretto by Ternistocle Solera
The Magic Flute 9 performances, June 13 – July 8
Music by Wolfgang Amadeus Mozart
Libretto by Emanuel Schikaneder
The Metropolitan Opera, Lincoln Center, New York, New York 10023; Tickets and Customer Care 212-362-6000, Administrative Offices 212-799-3100
That looks like a pretty good line-up for Live Opera and we also have two wonderful HD series to cover. In 2011-12 the MetHD offered 11 operas of which we've already see 7. Hopefully, they'll show at least that many in 1012-13. Remaining for this season are:
The Enchanted Island– New Production
January 21, 2012, 12:55 pm ET
U.S. Encore: February 8, 2012 at 6:30 pm local time
Canada Encore: March 3, 2012 at 1 pm local time
March 26, 2012 at 6:30 pm local time
Wagner's Gé¶tterdé¤mmerung – New Production
February 11, 2012, 12 pm ET
Encore dates to be determined
Verdi's Ernani
February 25, 2012, 12:55 pm ET
U.S. Encore: March 14, 2012 at 6:30 pm local time
Canada Encore: March 31, 2012 at 1 pm local time
Verdi's La Traviata
April 14, 2012, 12:55 pm ET
U.S. Encore: May 2, 2012 at 6:30 pm local time
Canada Encores: May 26, 2012 at 1 pm local time
June 4, 2012 at 6:30 pm local time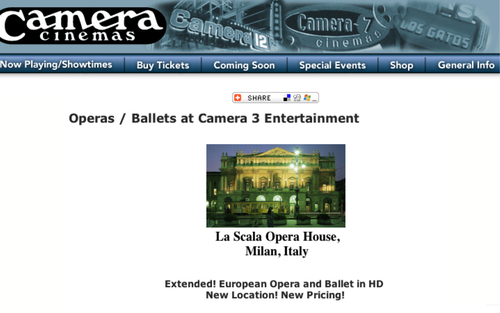 Finally, there's the EuroHD series from EmergingPictures. This series is different from the MetHD in that each of the hundred or more theatres chooses its own performance date. Furthermore, the theatres seem to vary in how far in advance they program opera performances. The list below shows what performances will be available at Camera 3 Cinema through May 1.
January 22 (12 noon) & 24 (7:30pm)
Cendrillon (Massenet) — Royal Opera House, London, England
February 5 (12 noon) & 7 (7:30pm)
Il Trittico (Puccini) — Royal Opera House, London, England
February 19 (12 noon) & 21 (7:30pm)
Faust (Charles-Francois Gounod) — Royal Opera House, London, England
March 25 (12 noon) & 27 (7:30pm)
La Boheme (Puccini) — Gran Teatro del Liceu, Barcelona, Spain
April 29 (12 noon) & May 1 (7:30pm)
Rigoletto (Verdi) — Royal Opera House, London, England
To check for other locations or later dates, go to EmergingPictures and click Titles on the menu across the top.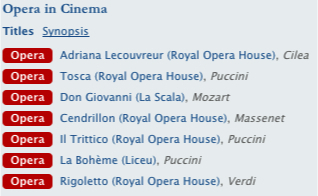 Scroll down until you see the red opera icons and click on the name of the opera of your choice. Type your Zip Code in the appropriate box and click Find Showtimes (you can change the radius of the search circle if you wish). Click on your Theatre and you will see a list of all the operas that are currently scheduled at that theatre. If you then click on Buy Tickets you may get a page controlled by that theatre with more information. Good Luck!
And there you have it. I probably won't get to ALL of these operas, but I'll be doing my best.

This review by Philip G Hodge appeared in sanfranciscosplash.com on January 16, 2012.